Business ambitions are anything but minor to this entrepreneur
News
---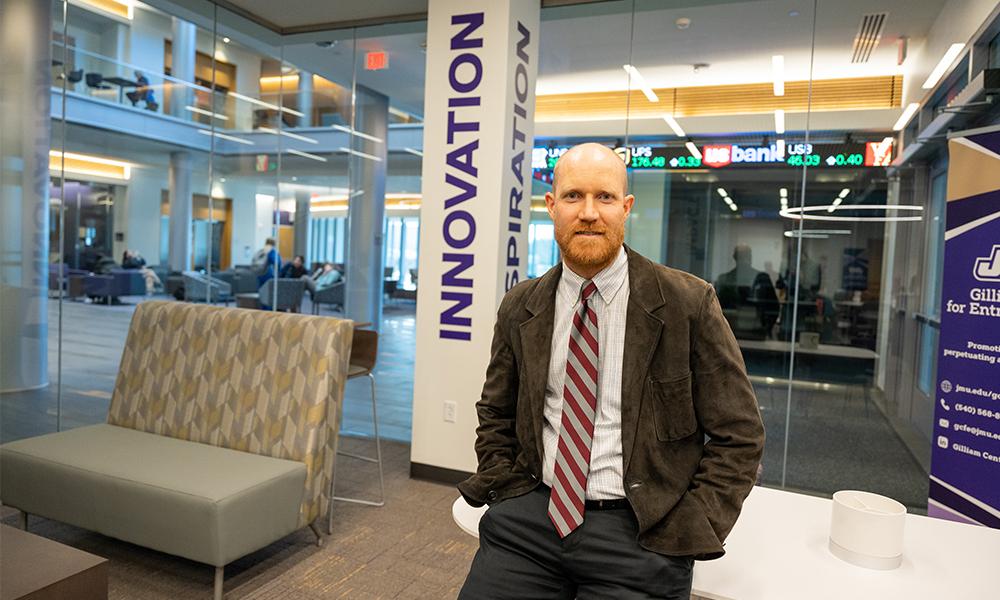 SUMMARY: Students come from every corner of campus to ground their projects in sound business principles.
---
The JMU College of Business is an energetic proponent of cross-disciplinary educational experiences and professional-development programs that enhance the career readiness of its graduates.
A notable example of the kind of engaged learning the college promotes is the Entrepreneurship minor, offered through the Department of Management and its associated network of faculty members. The minor facilitates the process by which inventions and research outcomes are transformed into market-ready products and services, by equipping aspiring business-persons with the knowledge, skills and mindset needed for the successful launch of a new venture. 
Robert Curtis is a case in point. A decidedly non-traditional student, Curtis was already in his '30s before starting college. Prior to that, he worked in the food-service industry, and through some self-directed reading became interested in the health benefits of a plant-based diet.
"I've learned from my entrepreneurship classes that a business launch is more about timing and execution, and less about the idea as such."
— Robert Curtis
Curtis's informal research led him to conclude that persuading others to change their approach to eating might provide him with a business opportunity. "That was the start for me," Curtis says, adding that since his enrollment at JMU, the Gilliam Center for Entrepreneurship's Madison Inc. program has enabled him to continue developing his business idea in parallel with the pursuit of a hybrid degree.
Madison Inc. helps student-entrepreneurs balance their schoolwork with the demands of running a start-up company, through one-on-one meetings with members of the GCFE staff that facilitate connections with peers and the setting of achievable goals. Curtis says the program introduced him to "Business Model Canvas," a tool which enumerates nine separate criteria entrepreneurs should consider in order to optimize their chances for success.
His course distribution originally consisted of a double major in Communications and Dietetics, plus the Entrepreneurship minor. When Dietetics was converted to a strictly graduate-level offering, Curtis had to tweak his plans.
His intention now is to support himself as a public-relations practitioner after graduating from college this spring, but eventually to enroll in graduate school and resume his study of Dietetics. To smooth the transition, Curtis took a job with Bluestone Communications, JMU's student-run PR agency, rising to become the firm's assistant director of operations/client relations.
A scaled-down precursor of the plant-based nutrition company Curtis hopes to operate someday already exists in the form of the "Fuel Zone" stations which supply JMU student-athletes with nutritious snacks at three locations across campus. "By adding my fresh-pressed fruit and vegetable juices to the line-up, athletes will be able to rehabilitate sooner after an injury and recover more quickly between training sessions," says Curtis.
The Entrepreneurship minor is open to students in all disciplines except those majoring in Management, which provides its own innovation-and-entrepreneurship track.
The student who completes the minor will be able to:
Pursue entrepreneurship as a career path in its own right—one that can spur economic growth with the associated social benefits.

Analyze entrepreneurial opportunities and select those which best fit her or him.

Compose a clear and concise written plan which can serve as a blueprint for the proposed venture.

Apply relevant business and finance principles to assess the need for start-up capital and calculate the cash flow needed for future growth.

Identify and evaluate possible sources of funding.

Craft an effective pitch that can attract support from investors, suppliers, customers or potential employees.

Interact and collaborate with stakeholders to develop and evaluate ideas and bring them to fruition.
"I've learned from my Entrepreneurship classes that a business launch is more about timing and execution, and less about the idea as such," Curtis says. "What's most important is assembling the right team at the right time."