JMU in the Community
Members of first Valley Scholars cohort graduate from JMU
---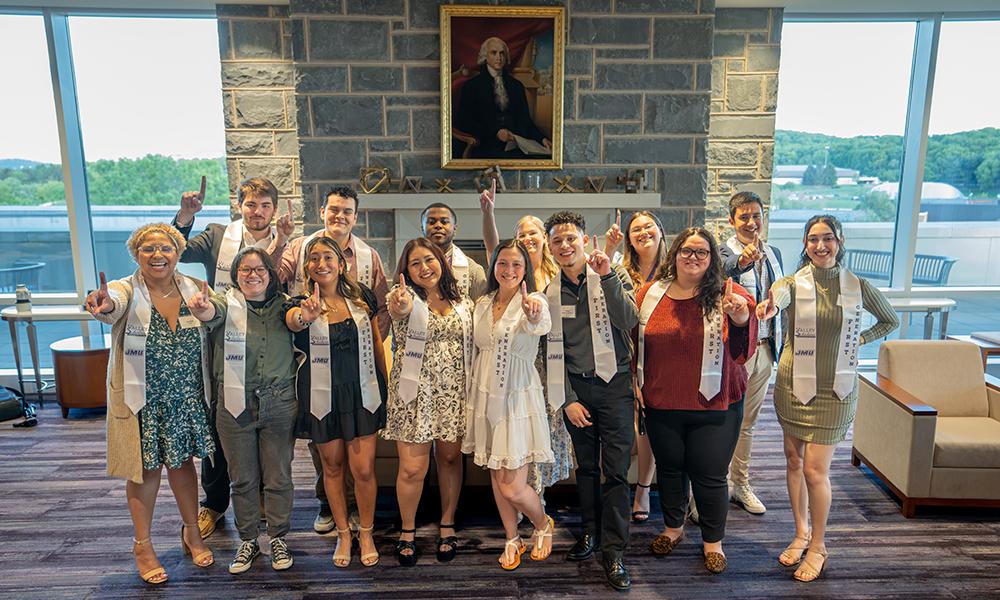 SUMMARY: Graduates of JMU's first cohort of the Valley Scholars program look back on all they've achieved as they celebrate with families, friends, mentors and donors.
---
RELATED ARTICLE:
Meet a graduate who is grateful for the opportunites offered through Valley Scholars.
Read more
While addressing graduates of the Valley Scholars program at a recent graduation celebration, JMU President Jonathan R. Alger got a little teary-eyed.
Nine years after he welcomed the first cohort of eighth graders to JMU's new Valley Scholars program, 17 students are preparing to graduate from JMU this year along with two others from the University of Virginia and Virginia State. "That was part of the success of this program," Alger said. "We wanted students to have options and opportunities."
He was also moved by the amount of support for the students represented in that room. From families and public school staff to volunteers and private donors, a strong community backing has helped lower the barriers that area students face in accessing a college education.
Alger recalled how demoralized many families felt in 2014 before their students entered the program. "'We didn't know we could even set foot on this campus,'" he said families told him when the program kicked off with its first 35 eighth-grade participants.
RELATED ARTICLE:
Proud families find the Valley Scholars program to be a welcome resource.
Read more
That is another success of Valley Scholars. "Dreams become reality when people roll up their sleeves and get to work," he emphasized to attendees at the May 4 campus dinner and ceremony. "It has been a long journey together."
"There were a lot of times that I was really struggling, and this program was the catalyst for me doing better in life."
— Joshua Morris, Valley Scholars student 
Some of the students are immigrants or refugees. Many of them come from rural or low-income households. All of them, at the time they were accepted into Valley Scholars, were set to be the first in their immediate families to graduate from a four-year college.
Not all students from the first cohort are ready to graduate yet, having switched majors or chosen programs that require five years of study. Among them is Joshua Morris of New Market, Virginia, who switched from Engineering to Computer Science and hopes to graduate in May 2024.
Still, Morris attended the celebration to support his fellow Dukes. "It's really cool seeing a lot of my friends graduate, because I honestly never thought that I'd get as far as it did," he said.
Morris, 22, credited the encouragement he's found in the Valley Scholars program with helping him pursue his academic goals. "There were a lot of times that I was really struggling, and this program was the catalyst for me doing better in life," he said. "People [were] pushing me forward to constantly better myself."
"I would not be here without them," he said. Valley Scholars "gave me an incentive to become a better version of myself."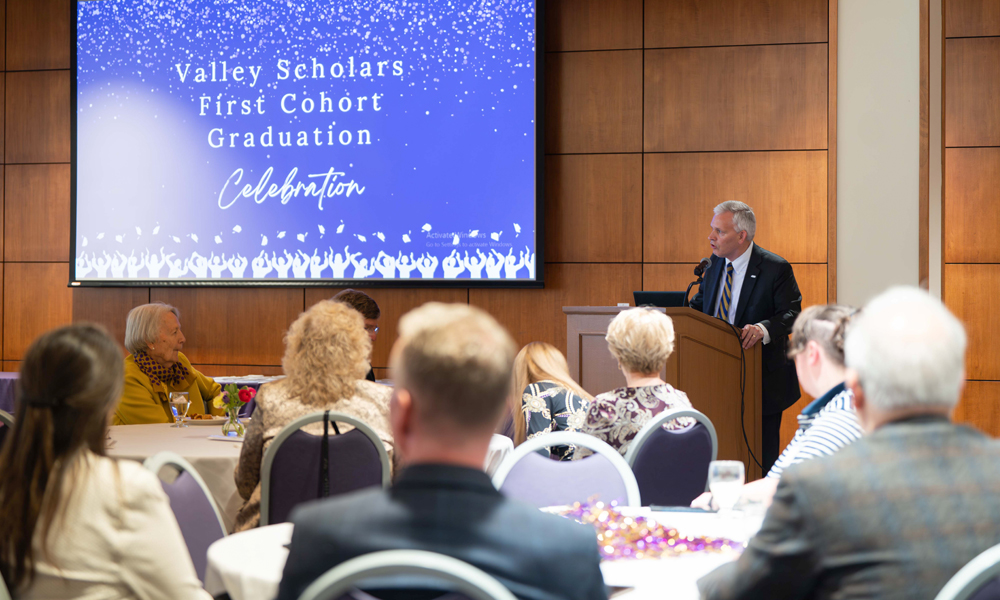 JMU President Jonathan R. Alger speaks at the Valley Scholars graduation celebration on May 4, 2023.
Alger brought the idea for Valley Scholars with him from Rutgers University, where he implemented the Rutgers Future Scholars program, which draws from five New Jersey school systems.
Valley Scholars represents 25 public middle schools in seven Virginia school divisions — Harrisonburg, Staunton, Waynesboro and the counties of Augusta, Page, Rockingham and Shenandoah — and the program now has more than 200 participants in grades eight through 12. 
Alger intended for Valley Scholars to give local students the educational opportunities they might not otherwise have because they lacked academic preparation or experienced other hurdles associated with economic hardship.
RELATED ARTICLE:
Longtime friends reunite to celebrate their Valley Scholars graduation.
Read more
Among the scholars, most are in honors programs, take Advanced Placement courses or are dually enrolled in high school and community college — and all have demonstrated financial need.
The students were identified by counselors and teachers while in seventh grade and have maintained a minimum GPA throughout high school while completing their coursework, performing community service, developing good study habits, attending monthly campus group sessions, and learning teamwork and leadership skills.
Those who fulfill the program requirements receive four-year scholarships covering tuition and fees to attend JMU — if they are accepted into the university and choose to attend.
For many, the Valley Scholars graduation celebration was the culmination of nine years of hard work and proof they could achieve something that might have seemed impossible.
"Students, you're an inspiration to all of us," said Shaun Mooney ('98, '03M), former executive director of Valley Scholars who now leads the new Reddix Center for First-Generation Students. "We did things that we never thought we could do."
Asked what lessons they've taken from the program, several students stood up to speak.
"Wherever you go in life, you should take advantage of the resources that are available," Pierre Mbala ('24) said.
"Anything is possible with the right support group," Brooklyn Kier ('23) said.
"Definitely don't take life for granted," Oscar Moreno-Tenorio ('23) said. "You will end up in the place where you want to be."
As for Mooney, "I've learned that family can come in all shapes and sizes," he said.
Valley Scholar graduate Ayam Ali ('23) thanked program leaders and donors "for taking a chance on us." She recalled people telling her that high school and college are a time when students find themselves. "What no one told us at the time is that in order to find ourselves, we have to lose ourselves first," she said.
But after personal struggles, family difficulties and a global pandemic, the group has become stronger than anyone would have expected. "Look at us now," Ali said, "living the moment that seemed questionable back then."