Valley Scholars: Longtime friends find success at rival schools
JMU in the Community
---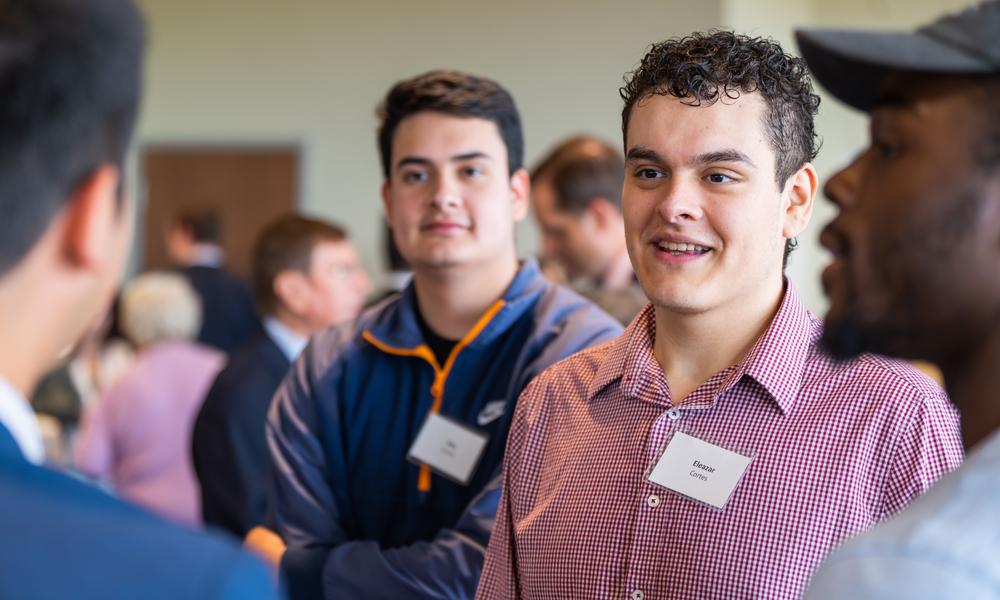 SUMMARY: Friends who met in Valley Scholars program pursue academic success at separate universities.
---
In 2019, Tim Custer ('23) of Broadway, Virginia, and Eleazar Cortes II of Weyers Cave, Virginia, had planned to room together at JMU. Then Cortes decided to attend the University of Virginia. "[H]e calls me the morning we have to choose and says, 'Hey, I'm going to UVA,'" Custer recalled with amusement. 
In retrospect, Cortes said it was probably best that he didn't room with his friend at college. "I think we would have gotten into more trouble if I wouldn't have gone to UVA," he said.
"I took a bet on UVA, and I think it panned out," Cortes explained. "I think either way would have been great."
"My parents hadn't gone to college. College was a big unknown that I didn't understand well. It was something very far away for me."
— Eleazar Cortes II ('23), Valley Scholars graduate 
Now, after attending different universities for the last four years, the two longtime friends were recently reunited on the JMU campus for a pre-graduation celebration of the inaugural cohort of Madison's Valley Scholars program.
Custer and Cortes met as eighth graders in 2014 when they joined 33 other Valley Scholars participants on a shared pathway to higher education. On May 4, the two friends were honored alongside a baker's dozen of their fellow scholars, most of whom were planning to receive their bachelor's degrees this month. 
Many from that first class went on to study at JMU, but a few, like Cortes, chose other schools. Additionally, some still have another six months to a year of study because they either switched majors or needed more course credits for their degree path.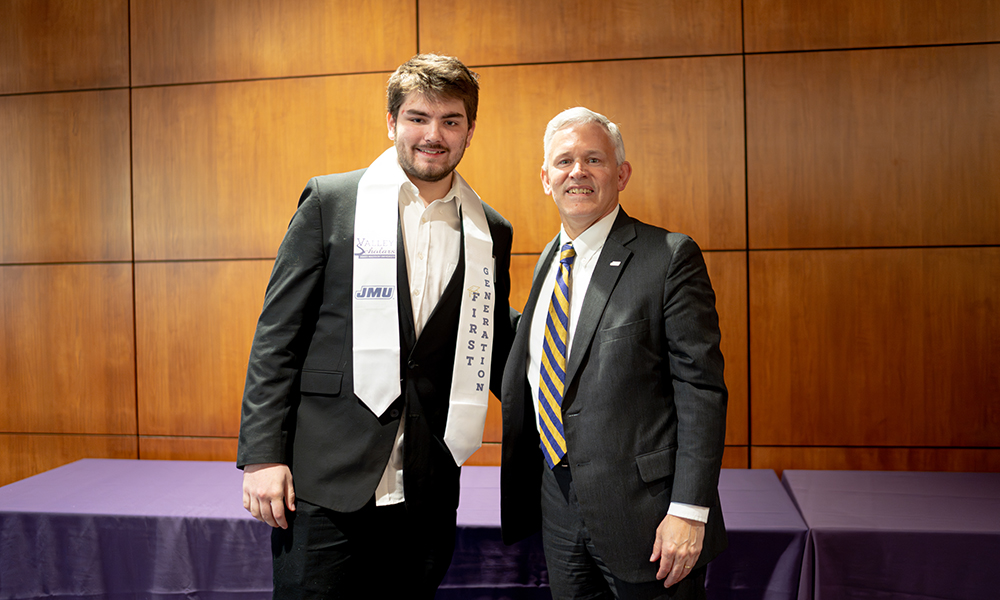 Tim Custer, shown here with President Jonathan R. Alger, is scheduled to graduate from JMU in December 2023.
Photograph by Steve Aderton ('19)
While Cortes, 22, graduated this month, Custer, 21, hopes to walk across the commencement stage in December. The friends credit the Valley Scholars program with helping them become more serious students and develop an interest in higher education. "I don't think I'd be here without the Valley Scholars program," Custer said.
An Independent Scholars major with a focus on digital and social media marketing, Custer plans to pursue a career in marketing and sales. But when he applied to be part of Valley Scholars in seventh grade, he recalled that he wasn't too focused on pursuing a college degree. Valley Scholars "gave us more to work for," Custer said. If not for the program, "I probably wouldn't have gone to college."
The program also encouraged him to pursue travel and community-service opportunities, such as a recent study abroad trip over spring break in the Dominican Republic with 28 other members of Valley Scholars, Centennial Scholars and the Honors College. Custer hopes to return to the Dominican Republic for a summer externship.
Cortes, who studied foreign affairs in Charlottesville and plans to pursue a law degree, also credits Valley Scholars with providing a road map for him to better consider his goals. "It really developed me as a human being, and then it kind of sent me off to go to college," he said. 
"I think I would have still wanted to go to college but would have felt like it was an impossible goal — something that can't be achieved," Cortes said. "I don't really have any peers or role models who had gone to college. My parents hadn't gone to college. College was a big unknown that I didn't understand well. It was something very far away for me." 
Now in its ninth year, Valley Scholars is JMU's application-based program for first-generation college students, many of whom also come from low-income families in and around Harrisonburg. Supported by private donors, the program follows students for five years, from eighth through 12th grade, as they prepare for college. If they are then accepted into JMU and choose to attend, they will receive free tuition and fees to follow their chosen course of study. 
"I think it's very needed for the Shenandoah Valley," Cortes said.