First-generation students get empowered
JMU Headlines
---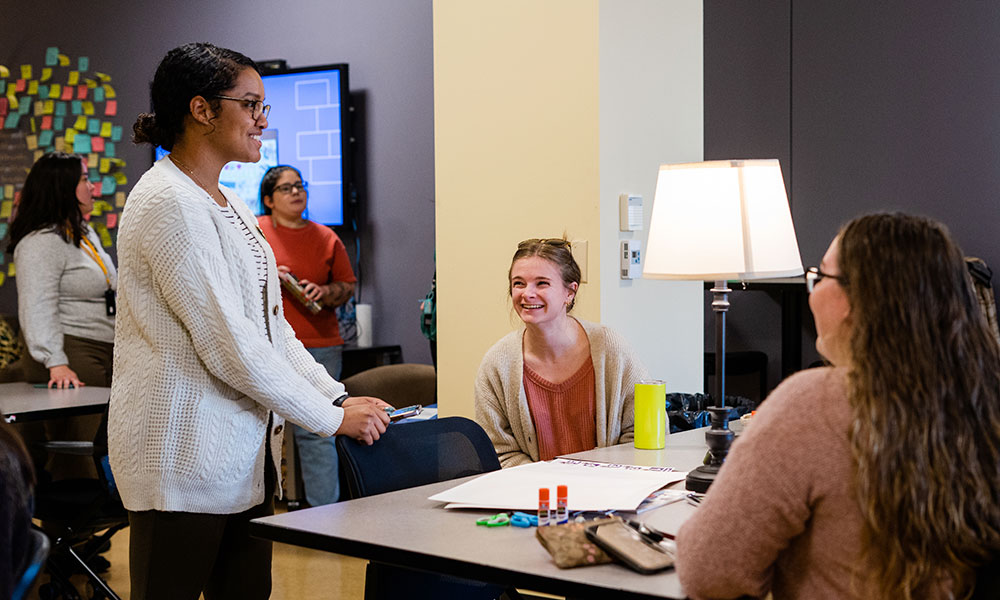 At James Madison University, it's no accident that first-generation students get connected.
According to Shaun Mooney, executive director of the Reddix Center for First Generation Students, supporting first-generation students is a natural extension of the JMU vibe that is more than a century old.
Thanks to a recent six-figure investment by Pete ('88) and Angela ('90) Reddix that named the Reddix center and also establishes the Reddix Centennial Scholarship Endowment, the lives of future Dukes are poised to be all the more improved.
"We at the Reddix Center welcome any student with limited exposure to or knowledge of the traditional college experience."
— Shaun Mooney, executive director of the Reddix Center for First Generation Students
"The idea that we're going to support you, we're going to be helpful and encouraging — those components naturally exist all across this campus," Mooney says. "The key to our success for a lot of first-generation students is to intentionally connect them to resources and programs here that can benefit them that they many not already know about, and there are a lot of people here — faculty, staff and students — who truly want the best for students."
Not surprisingly, even JMU's definition of a first-generation student goes beyond the traditional one, he says.
"The technical definition of first-generation is that your parents or guardians did not graduate from a four-year institution," Mooney says. "However, we at the Reddix Center welcome any student with limited exposure to or knowledge of the traditional college experience. In other words, the more expansive way that we approach this is to say we know that we have 12% of our population that meets the standard definition, and then there's another percentage of students here who just need the community to hear them when they say how does this place work and what are the things I need to know — and we're here for those students, too."
As Mooney sees it, "There's a natural ability here at JMU to collaborate across departments and programs university-wide that makes it a lot easier for us to get first-generation students the assistance they need — even when some of them don't know they need it."
For example, pointing first-generation students to career planning courses is often a great first step in helping them connect their own dots. And for Mooney and colleagues, the JMU approach is a lot more than just an empty offer of help.
"We are saying here is a class that you're going to get academic credit for and you're getting one hour each week in a class designed to help you figure out what you want to do. And also what you need to do here at JMU in order to make what you want to do later happen."
Another example of assistance is connecting first-generation students with JMU's plethora of excellent mentoring programs from across the university. "We have a lot of wonderful mentoring programs here already. Rather than feeling the need to rebuild those for first-generation students, we can make the necessary and appropriate connections to successful programs that we find fit individual needs of so many of our students," Mooney says. Examples include programs at the University Recreation Center, Office of Orientation and Transition, and the Madison Hispanic Caucus, just to name several.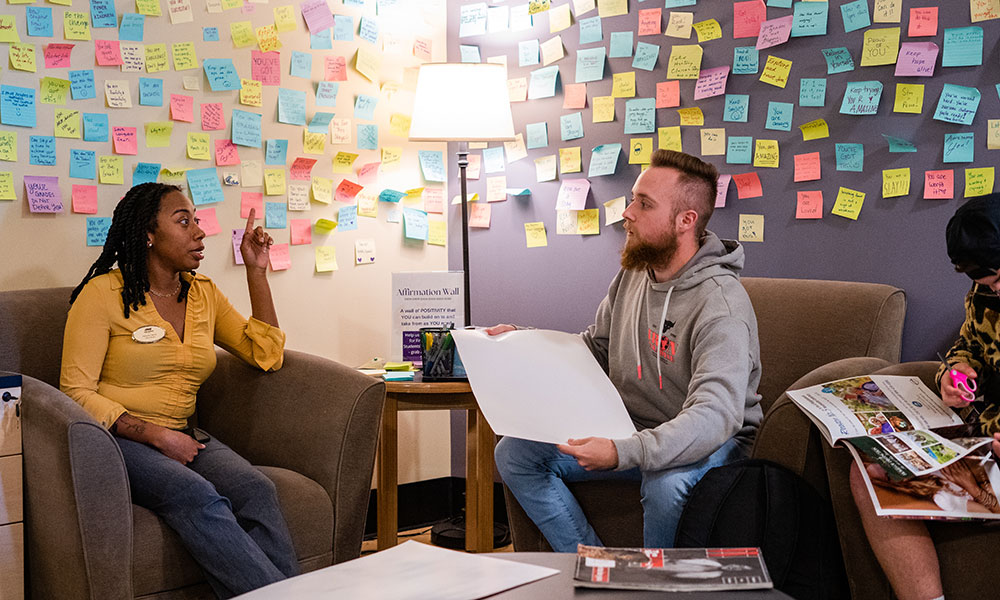 Mooney says the Reddix gift's inclusion of funding for a physical center at JMU's Student Success Center is amazing for a number of reasons, including awareness for visitors that include future JMU students and their families.
"At JMU, the term first-generation is a lot more than just a brief conversation on Admissions visit days," he says. "We have a center and there are actually people in there that you can go in and talk to. That makes it a little more real for students and family members."
When it comes to caring for first-generation students, Mooney says flexibility is paramount.
"First-generation students are not monolithic," he explains. "They're such a large and diverse subsection of students — they truly represent everyone from across socioeconomic classes, race and ethnicity classes. Because of this, we don't know everything about our first-generation population and we never will, which is why flexibility in our entire approach is vital to success.
"It is not a one-size-fits-all population here and to do this well and right, we have to be willing to say, 'We're serving a microcosm of the entire student body here, so what are these first-generation students' most specific, individualized needs?' "
In addition to increased offerings of career planning classes, other Reddix Center programming examples include more workshops run in concert with the University Career Center and partnering in sponsoring community-building social events run by TORCH, the first-generation student group that stands for Together Obtaining Resources for College Help.
"We'll study all of this and see what works and what doesn't — and remain flexible enough to always make anything that we do be about our students," Mooney says. "For me, I'm trying to look at each one of our students and say, 'I recognized that you're first-gen, and I also think of you as a human being with lots of interests, so let's explore all of that and then we can better see what we have here at JMU for you.' "