Valley Scholars a welcome resource for parents, students
JMU in the Community
---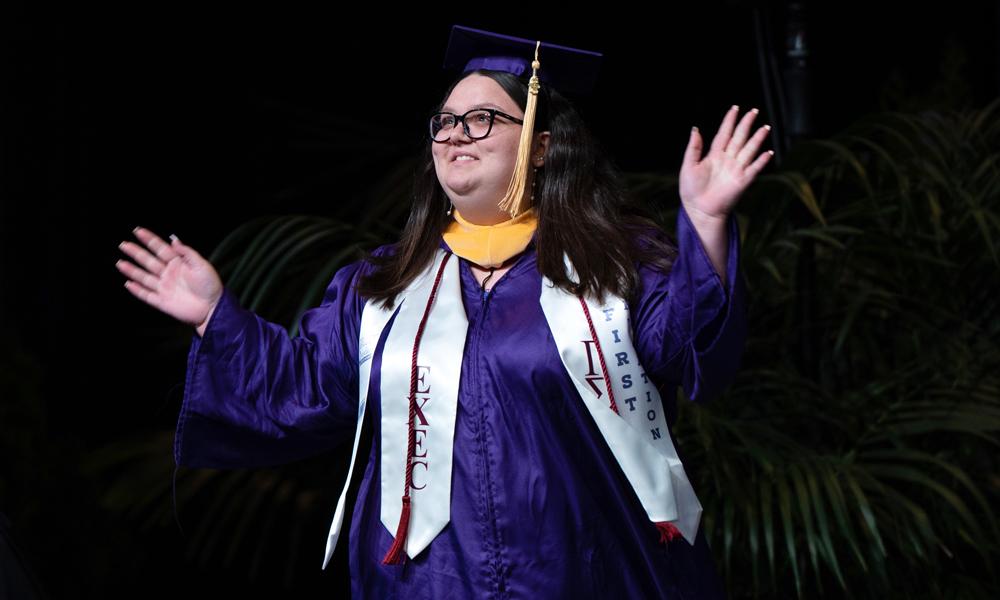 SUMMARY: As their children become first-generation college graduates, area parents celebrate the milestones achieved through Madison's Valley Scholars program.
---
One of the first things that struck Jenna Souder ('23) about JMU was its friendly, welcoming atmosphere. She frequently hears comments about how people hold doors for each other, but as common as that might be at Madison, it's never become a cliché for her. "You don't realize how important holding the doors is until you're carrying a bunch of stuff, running in late for class," she said.
"If I hadn't done the program, I probably wouldn't have gone to any college, at all."
— Jenna Souder ('23), Valley Scholars graduate 
Now a graduate of JMU with a degree in Social Work and plans to pursue a career involving foster care and child protective services, the 22-year-old New Market, Virginia, resident said the help she received through JMU's Valley Scholars program has similarly opened doors for her to succeed in her educational pursuits. A member of the first cohort of Valley Scholars, Jenna will be the first in her immediate family to graduate from college. "If I hadn't done the program, I probably wouldn't have gone to any college, at all," she said.
It's a huge milestone, but even greater because her sister, Tessa, a third-year student at JMU, plans to receive her degree in Health Sciences next year, and their brother, Alex, a Mountain View High School junior, hopes to pursue a degree in veterinary science. For their parents, Vanessa and Bo, who weren't sure they could send any of their children to college, it's nothing short of amazing. "Without the opportunity," Vanessa said, "I don't know how much assistance we could have been to her, so it's been a huge blessing that way."
This is a refrain that other area parents are singing this year as they prepare to celebrate their children graduating from JMU or other Virginia colleges.
Valley Scholars, which started in 2014, is seeing its first cohort of students graduate this month, with others planning to graduate this summer, this fall and in Spring 2024. While most program participants come from economically disadvantaged backgrounds, all demonstrated financial need and academic potential when they were accepted into the program before their eighth-grade year.
Staunton, Virginia, resident Marquita Kier said she's grateful to Valley Scholars for giving her daughter, Brooklyn Kier ('23), opportunities she didn't have in her youth. "I'm so proud of her," Marquita said. "We struggled a lot to get her to this point. Just with her getting used to being a college student and trying to live on her own." 
Like the Souders, Marquita said her main concerns were the financial assistance and the level of personal experience she couldn't offer. "I didn't have the opportunity to go to college growing up, so for her to be able to do this, it means so much more to me," she said. "[It's a] great opportunity for kids that their parents didn't get to have."
Brooklyn, 22, majored in Independent Scholars with a concentration in advocacy for children with disabilities within social systems, and will pursue a master's degree from JMU in Communication and Advocacy. "I plan to eventually get my doctorate and then kind of see where life takes me," she said. "I don't think I would have that opportunity if it wasn't for Valley Scholars."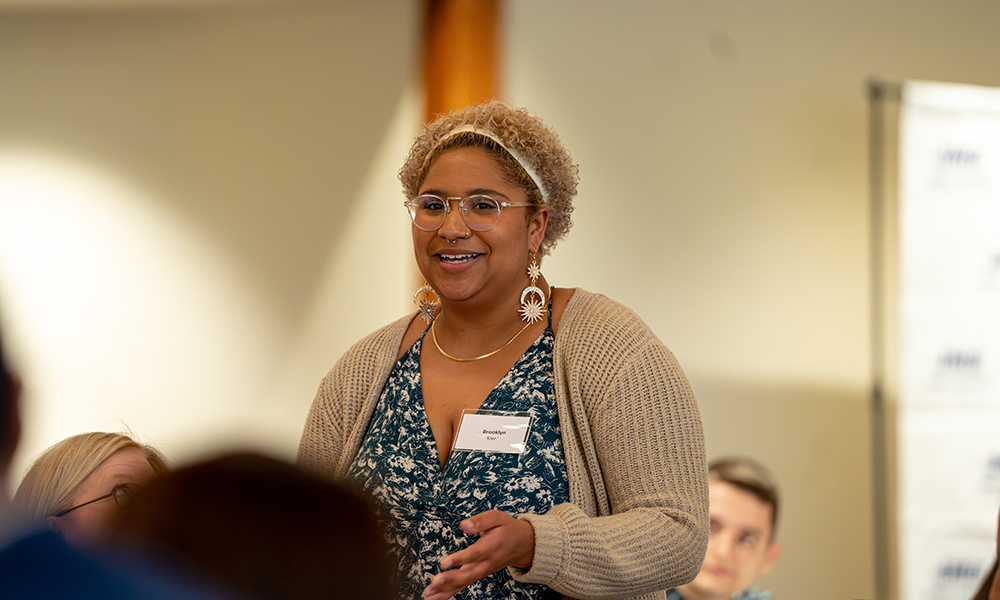 Brooklyn Kier ('23), an Independent Scholars major, at the May 4, 2023, graduation celebration for the first cohort of the Valley Scholars
Photograph by Steve Aderton ('19)
Though she still probably would have gone to college, she said it would have been a greater financial struggle and left her with far less time than she currently has. "I think I'm going further," said Brooklyn, who works in the Office of Financial Aid and Scholarships. "I'm getting a higher education."
Tessa Souder, 20, is another Valley Scholar who has benefited greatly from the connections she made with mentors, instructors and other students.
A proud father, Bo Souder said he's "happy that they get the experience and are able to do it. I knew they wanted to go to college, and it was definitely a big deal."
"The Valley Scholars team, they really need the praise," he said. "They put a lot of time, effort [and] volunteer work to have the care and the passion to put this together and stay on top of the kids."
The program also offers assistance with filling out Free Application for Federal Student Aid forms and making college application deadlines, Vanessa said. "I think Valley Scholars definitely gave them a head start on that," she said. "They're really interactive with the students."
Vanessa said her daughters will take the skills they learned in the program with them in college and in life. That knowledge "didn't stop the day they started college," she said. "It's continued throughout."
Jenna Souder works at People Places in Harrisonburg.