Unleashed
Now the world knows (thanks to you)
An Unleashed email message sent to donors on May 16, 2022
---
Dear Unleashed Donor,
Like you, we are pleased to share in JMU's remarkable success story. This university has held a special place in our hearts ever since our daughter, Carter ('16), first stepped on campus as a prospective student. Our affinity with the university has continued to grow through the Madison Experience of our son, Travis ('22), who graduated over the weekend along with the class of 2022.
Thanks to you and your giving, JMU is thriving like never before. As members of the JMU family, we're pleased to share in the excitement of our doctoral/high research classification by the Carnegie Commission, our upcoming move to the national rankings in U.S. News & World Report, and our move to the Sun Belt Conference.
JMU has been operating at a national level for a long time, and we're finally being recognized for it. Now we are being seen for who we are, and our giving has helped make it happen:
You have already made this fiscal year JMU's highest year of giving ever at more than $26 million!
The Unleashed campaign stands at more than $242 million (far surpassing our $200 million goal)
On Giving Day, 3,334 donors gave more than $1 million in 24 hours of giving.
Madison Trust's 2022 faculty innovations have drawn more than $105,500 so far from philanthropic investors. It's always one of our favorite events.
To underscore our thanks, please enjoy some videos from the Annual Stewardship Luncheon of some of the moving student stories giving has made possible. We are happy to support JMU with you.
 Warm regards,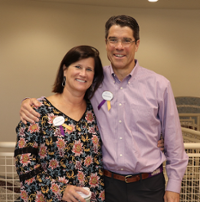 Robin and John Reifsnider ('16P,  '22P)
Unleashed Campaign Steering Committee