JMU News
Dukes lift Giving Day past $1 million — again
---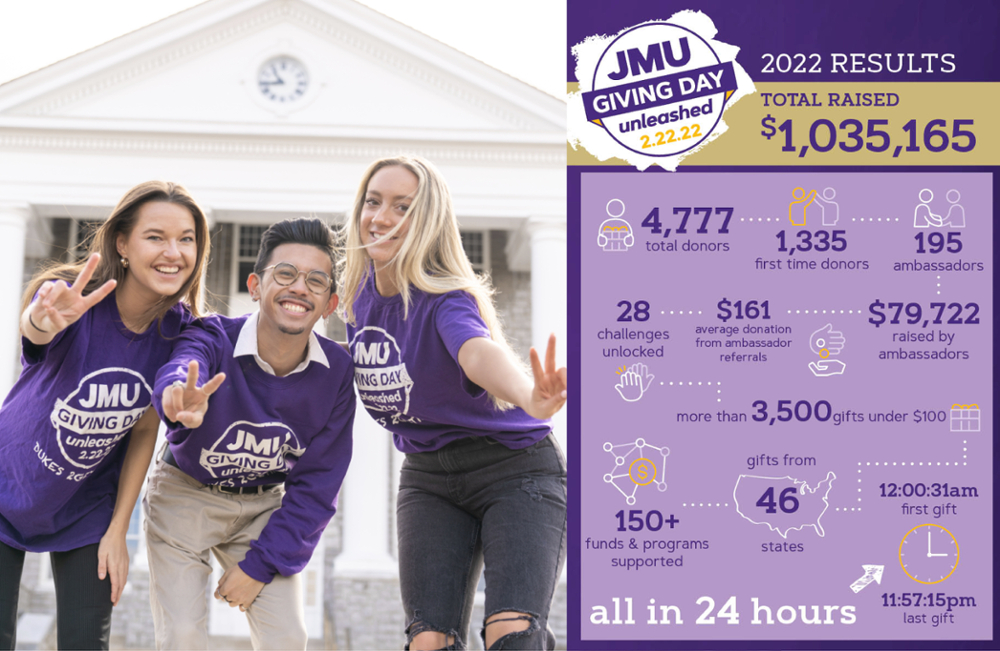 ---
On Giving Day 2022, Dukes around the world raised $1,035,165 for 152 campus causes. That's the second-highest giving total in the six-year history of JMU Giving Day and only the second time the 24-hour event's giving has surpassed $1 million.
"The generosity and enthusiasm of the JMU community are inspiring," said Nora Sutton, assistant director of Annual Giving, who helped organize the all-Dukes-on-deck occasion. "Thank you for making JMU stronger with your support. During the last year of the Unleashed campaign, this is outstanding."
To make the day a success, more than 4,700 individuals gave, reached out to their fellow Dukes to do the same, issued challenges, and participated in dozens of events and activities to cheer on giving. Dukes brought social media alive with thousands engaging on JMU channels in addition to creating custom content using #JMUGivingDay. 
Imagination and spirit at peak performance
Imagination as well as giving was at peak performance, with Duke Dog rallying the 'nation to the cause and X-Labs highlighting JMU's nascent esports program by streaming competitions.
Taking the cake—or pie—was the School of Communication Studies, whose professors goodnaturedly took pies in the face when donors hit giving milestones throughout the day.
The Honors College held five events—in Harrisonburg, Northern Virginia, Charlottesville, Richmond and on Zoom—which helped inspire 165 donors to give more than $20,000.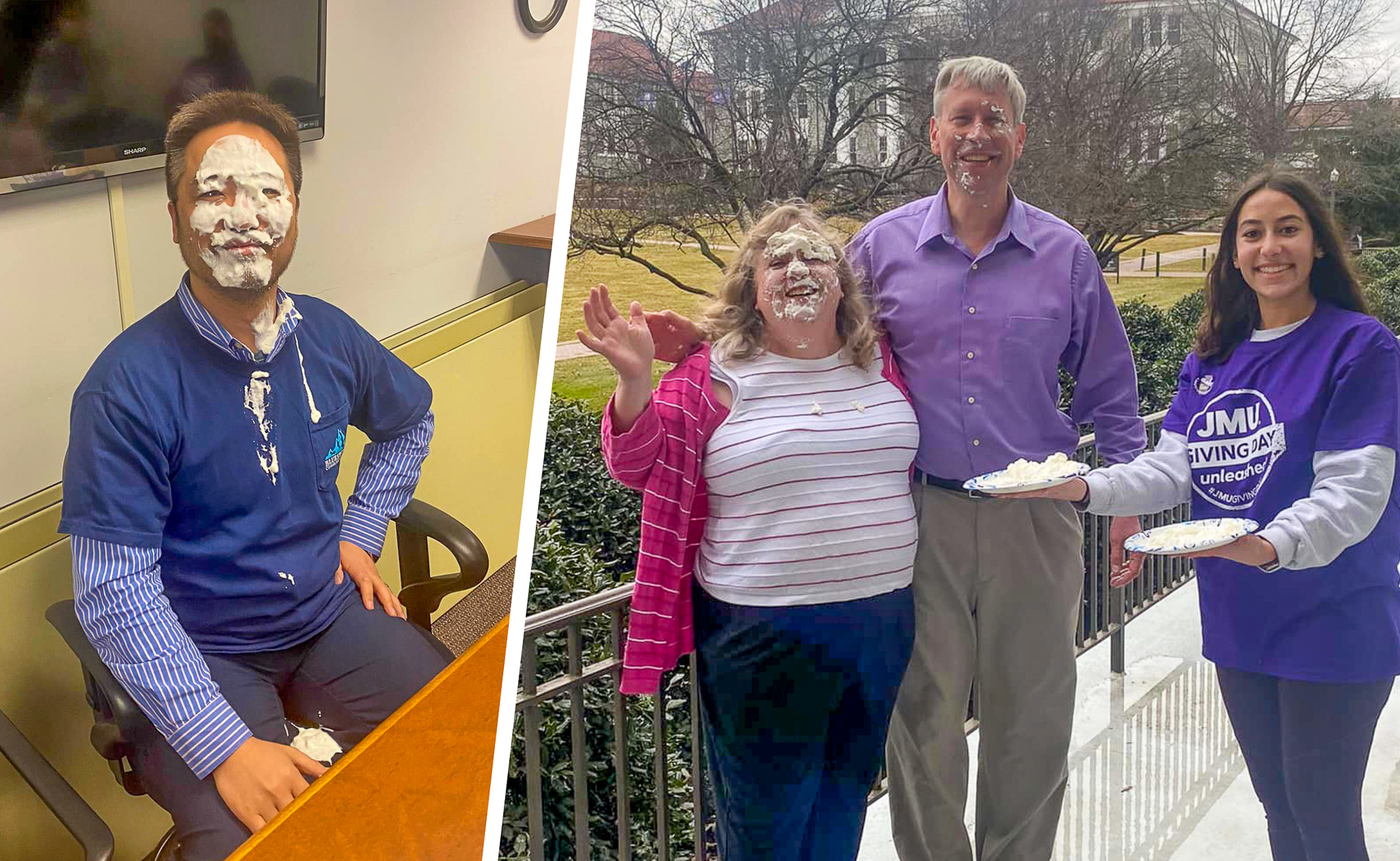 School of Communication Studies professors Isaac Woo, Leigh Nelson and Eric Fife get pies in the face on Giving Day, helping to inspire giving to SCOM.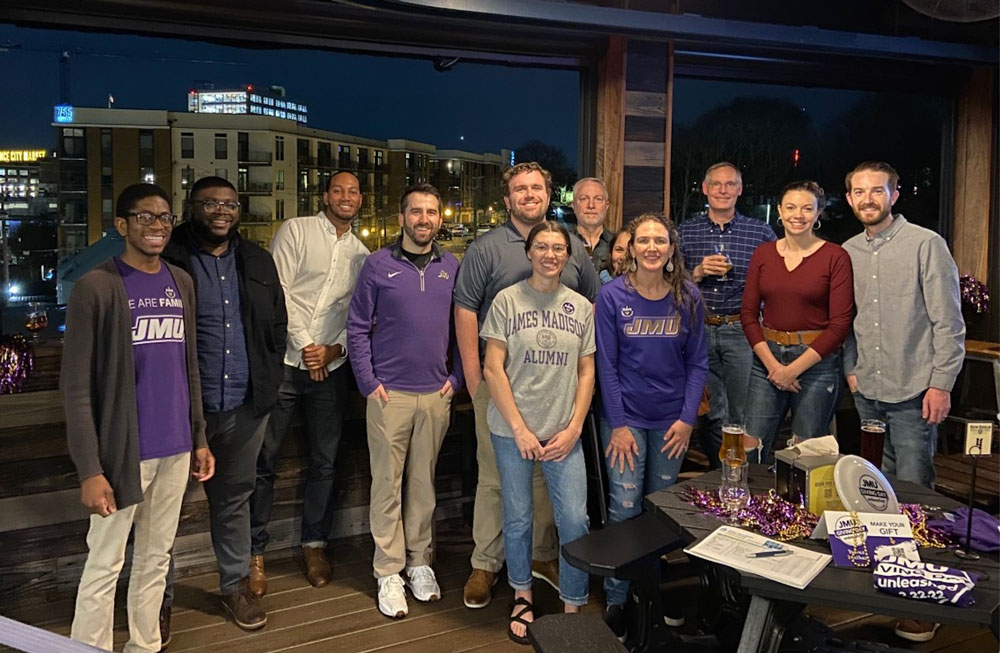 Atlanta Alumni at New Realm Brewery on the Beltline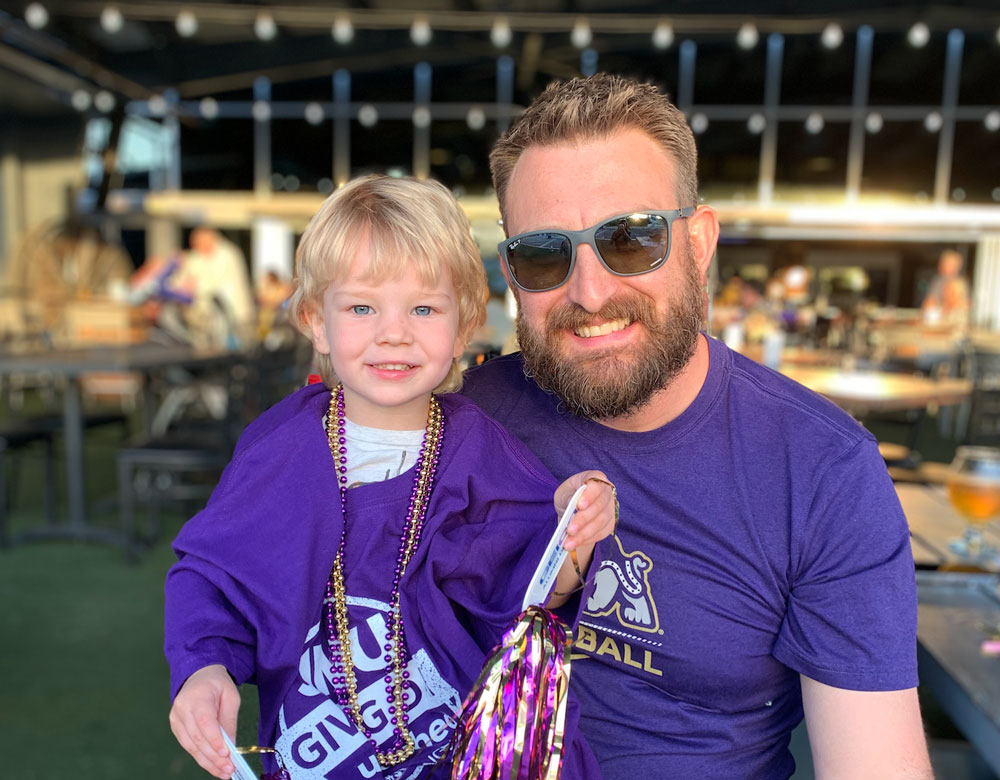 The Tampa Bay Dukes gathered at Big Storm Brewing & Distilling Co.
Alumni chapters from Boston to Texas also celebrated Giving Day with in-person and virtual events to raise funds for chapter scholarships. Highlights included an axe-throwing contest hosted by the Williamsburg Alumni Chapter at Axe Republic and a virtual Verzuz Battle hosted by the Black Alumni Chapter with dozens of alumni in attendance. BAC inspired the largest chapter scholarship fundraising effort with 105 donors giving more than $8,770.
The Tampa Bay Dukes gathered at Big Storm Brewing & Distilling Co. to spur on giving, while Atlanta Alumni competed in a ​​JMU Giving Day trivia night and happy hour at New Realm Brewery on the Beltline. The MetroDukes and SCOM Alumni Chapters combined forces and turned out at the Bierhall in Arlington to give and watch the totals climb in real time online throughout the evening.
Each gift makes an impact
"If you ever needed proof of the power of giving together, Giving Day is it, because 3,500 gifts were $100 or less," Sutton said. "Together, that's more than a quarter of a million dollars, and it goes to show how each gift makes a huge impact." 
Additionally, JMU parents gave in record numbers (1,146), for the most parent donors on Giving Day ever, while student donors doubled their numbers over Giving Day 2021.
Alumni, faculty and staff members, and students supported their academic departments around campus. They directed $391,648, or about one-third of the total raised on Giving Day, to programs and scholarships in JMU's academic colleges, like the JMU Washington Semester in the College of Arts and Letters and the Dr. George E. Sparks College of Visual and Performing Arts Scholarship Endowment.
---
Top 5 performing funds (by donors)
Proud and True Fund (866)

Madison Vision Fund (610)

College of Business Scholarships (422)

Marching Royal Dukes (416)

Counseling & Student Development Center (296)
---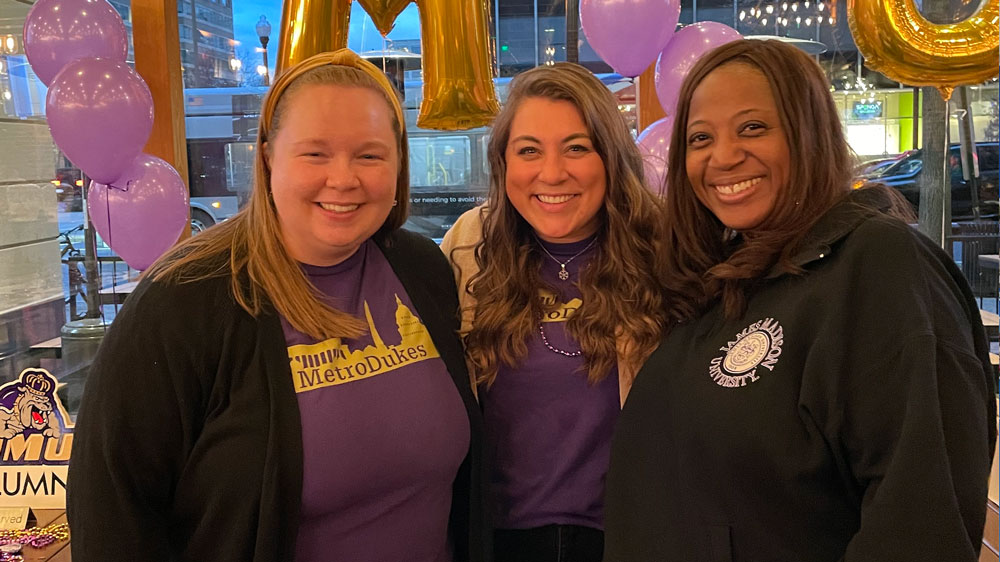 Annamarie Frost, MetroDukes Chapter President | Haley Jaeger, Social Events Chair | Tiffanie Rosier, Women for Madison Executive Advisory Council Member
Ambassadors and challengers start early
Donors who love Giving Day pitched in early, contributing more than $400,000 in challenge funds that were unlocked during the day as donors hit key giving milestones for their favorite causes.
The largest challenge of the day, the Maxine Jobst Memorial Scholarship Challenge, released $200,000 in scholarship support when the goal of 3,250 day-of donors was reached. Alumni couples Ken ('90) and Amy ('92) Kiser and Alisa ('93) and Gregory Mitchell ('93) both contributed $50,000 to student scholarships when other milestones were reached.
Giving Day Ambassadors also went the extra mile. In addition to making their own gifts, they signed on to urge others to do so, too.
"Our 195 Giving Day ambassadors played a key role, raising more than $79,000," said Jordan Williams ('16), associate director of Annual Giving, who worked with these dedicated volunteers. "Ambassadors reached out to their networks of Dukes by text, phone, social and email and encouraged them to give. The individual gifts stemming from ambassador referrals averaged $161 and totaled more than $79,000. That's fabulous."
---
Top-performing 5 alumni ambassadors
Stephanie Forbes ('92, '93M)