JMU News
James Madison joins Sun Belt Conference
---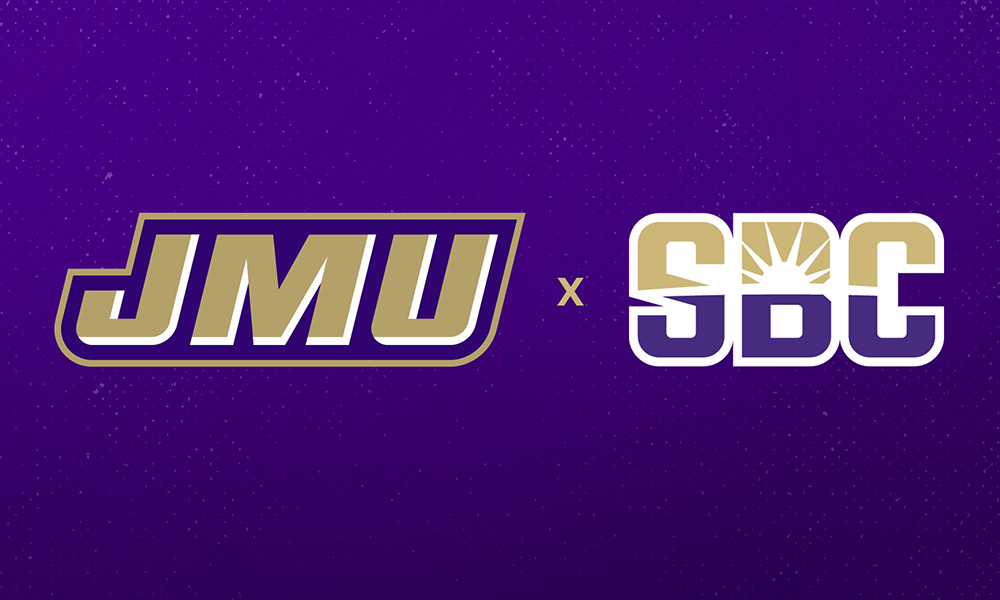 The Sun Belt Conference announced Saturday the addition of James Madison University into the league after a unanimous vote of the Sun Belt CEOs. JMU will join the Sun Belt Conference no later than July 1, 2023. 
A press conference is set for this morning (Saturday, Nov 6) at 10 a.m. ET/ 9 a.m. CT at the Atlantic Union Bank Center on the JMU campus and is open to the public. 
"We are thrilled to welcome James Madison University to the Sun Belt Conference," said Keith Gill, Sun Belt Conference Commissioner. "This move brings another strong brand and passionate fanbase into the Sun Belt and elevates the Dukes' storied football program to the highest level of NCAA competition. I am grateful to JMU President Jonathan Alger and Athletics Director Jeff Bourne for their leadership during this process and look forward to working closely with them moving forward." 
The addition of JMU will bring the number of Sun Belt members to 16, with the Dukes joining current members—App State, Little Rock, Arkansas State, Coastal Carolina, Georgia Southern, Georgia State, Louisiana, ULM, South Alabama, UTA, Texas State and Troy—and new additions Southern Miss, Old Dominion and Marshall, which were welcomed to the Sun Belt Conference last week. 
"Since July, our presidents and chancellors have expressed confidence in Sun Belt leadership and our member configuration amid national realignment conversations," said Dr. Kelly Damphousse, Arkansas State Chancellor & Chair of the Sun Belt Executive Committee. "The recent additions of Marshall, Southern Miss, and Old Dominion to the SBC aligned perfectly with our strategic goal of only adding schools that improved our conference's competitiveness. As I shared with President Alger and AD Bourne, the Sun Belt CEOs believe that JMU likewise mirrors our conference's athletics and academic missions, while also capitalizing on regionality goals. I was very impressed with JMU's beautiful campus and by their FBS-level facility investment during our visit. My colleagues and I look forward to welcoming the Dukes to the Sun Belt Conference!" 
James Madison University, founded in 1908 and located in Harrisonburg, Virginia, supports a student population of over 22,000. Athletically, the program claims four NCAA national championships—two in FCS football in 2004 and 2016, one in field hockey in 1994 and one in women's lacrosse in 2018. The football program has appeared in the FCS playoffs on 17 occasions, including each of the past seven seasons. 
The Dukes will aim to follow the path forged by a number of current Sun Belt members—most recently App State, Georgia Southern and Coastal Carolina—that have found success at the FBS level after transitioning from the FCS ranks. The Mountaineers have won six-straight bowl games from 2015-2020, the Eagles have been to four bowl games over the past six seasons and the Chanticleers have been ranked in the national polls for 21 straight weeks. 
In the last decade, the Dukes have built one of the strongest mid-major athletics departments in the country. In addition to the success in football, the last six years have seen JMU win the 2018 NCAA Championship in women's lacrosse, reach the semifinals of the 2021 Women's College World Series and the 2018 national quarterfinals in men's soccer.
JMU has continued to build its national profile, finishing inside the top 100 of the Learfield Directors' Cup each of the last six seasons, culminating at No. 67 in the country in 2020-21. All told, the Dukes have racked up 28 conference titles across 11 different sports since 2015.
"As James Madison University prepares and anticipates to earn additional national recognition for our academic programs and excellence, admission into the Sun Belt Conference is a natural and complementary next step for our institution," said JMU President Jonathan Alger. "We are thrilled to have received and accepted an invitation into this conference, with a new and visionary opportunity for high-level competition within the eastern region. We have always sought to do things the right way as a university for our students, faculty and staff, student-athletes and coaches and the time is right for JMU to move up to the highest level in D-1 athletics and enter the Sun Belt! This is an exciting and historic moment of transition for JMU, and I greatly appreciate the teamwork and diligence of so many people behind the scenes that have enabled us to reach this important milestone."
The Dukes sponsor 18 varsity sports. Men's sports include baseball, basketball, football, golf, soccer and tennis. Women's sports include basketball, cross country, field hockey, golf, indoor track & field, lacrosse, outdoor track & field, soccer, softball, swimming & diving, tennis and volleyball. 
"The Sun Belt Conference presents the right opportunity at the right time for James Madison Athletics," JMU Athletics Director Jeff Bourne said. "Our department has achieved at a tremendously high level over the last seven years and even further throughout our entire history. We have demonstrated an increased ability to succeed at the national level, and this move to the Sun Belt further enhances that to an even greater degree as we move forward. JMU is committed to providing the best student-athlete experience in the nation, and this move ensures that our focus resides on our student-athletes and balancing their competitive and off-the-field success."
The Sun Belt Conference was founded in 1976 and began sponsoring football in 2001. Over the course of the past five football seasons, the conference has posted an FBS-leading .692 winning percentage in bowl games, going 18-8 over the stretch. 
The Sun Belt sponsors 17 NCAA sports and annually awards nearly $134 million in financial aid to more than 4,600 student-athletes. App State, Arkansas State, Coastal Carolina, Georgia Southern, Georgia State, Louisiana, ULM, South Alabama, Texas State and Troy comprise the league's 10 football members. Little Rock and UTA compete as Sun Belt members in sports other than football.
SUN BELT MEMBERSHIP
South Alabama

Joined: 1976
Location: Mobile, Ala.
Enrollment: 14,505

Arkansas State

Joined: 1976
Location: Jonesboro, Ark.
Enrollment: 13,772

Little Rock

Joined: 1991
Location: Little Rock, Ark.
Enrollment: 7,006

Louisiana

Joined: 1991
Location: Lafayette, La.
Enrollment: 14,020

Troy

Joined: 2005
Location: Troy, Ala.
Enrollment: 15,552

ULM

Joined: 2006
Location: Monroe, La.
Enrollment: 6,859

Georgia State

Joined: 2013
Location: Atlanta, Ga.
Enrollment: 54,000

Texas State

Joined: 2013
Location: San Marcos, Texas
Enrollment: 33,193

UTA

Joined: 2013
Location: Arlington, Texas
Enrollment: 35,064

App State

Joined: 2014
Location: Boone, N.C.
Enrollment: 20,641

Georgia Southern

Joined:  2014
Location: Statesboro, Ga.
Enrollment: 27,000
Joining the Sun Belt Conference no later than July 1, 2023
Southern Miss - 

Hattiesburg, Miss.

Old Dominion - Norfolk, Va.
Marshall - Huntington, W.Va.
James Madison - Harrisonburg, Va.