Unleashed
Alumni advocate for JMU as Unleashed tour wraps successful trifecta of events
JMU emphasizes interpersonal relationships in learning as campaign continues
---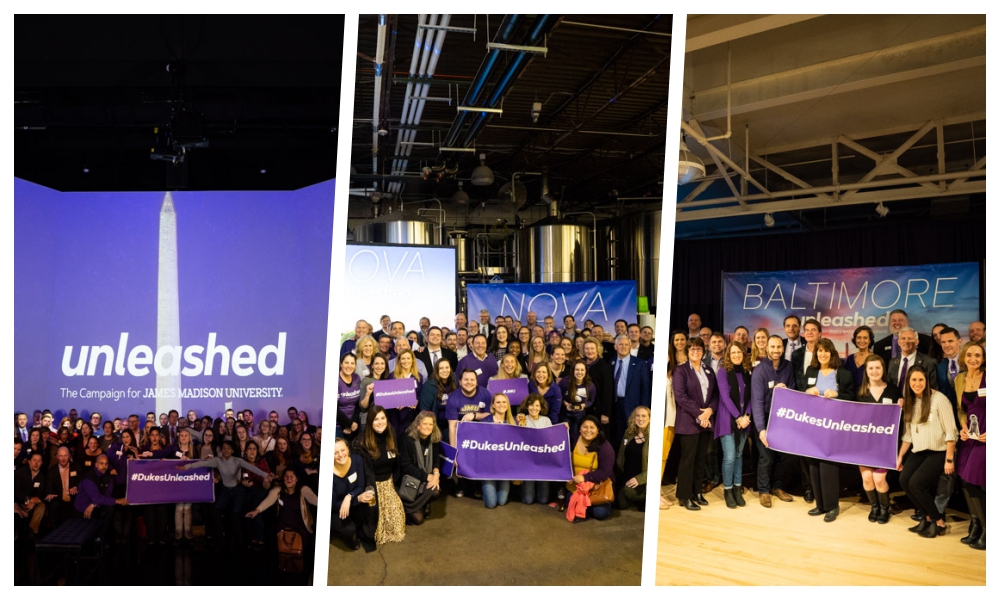 SUMMARY: Engagement at JMU is about the head and the heart, President Alger says.
---
By Khalil Garriott ('04) 
Unleashed: The Campaign for James Madison University is all about letting the world know what JMU is all about. The theme of needing all alumni and donors to contribute to an auspicious future for the university was met with resounding approval at this week's triple header of regional campaign events.
Unleashed continued its tour in Washington, D.C., Alexandria, Virginia, and Baltimore, Maryland, an area with plenty of JMU alumni and friends of the university, as it built on momentum from previous stops in Richmond, Virginia, and Atlanta, Georgia. The campaign's top priority is student scholarships.
"Scholarships are our single largest dollar goal in the Unleashed campaign at $80 million of our $200 million campaign goal," vice president for University Advancement Nick Langridge ('00, '07M, '14Ph.D.) told the crowd. "Dukes like you—and others from around the world—have already taken us to 65 percent of our goal.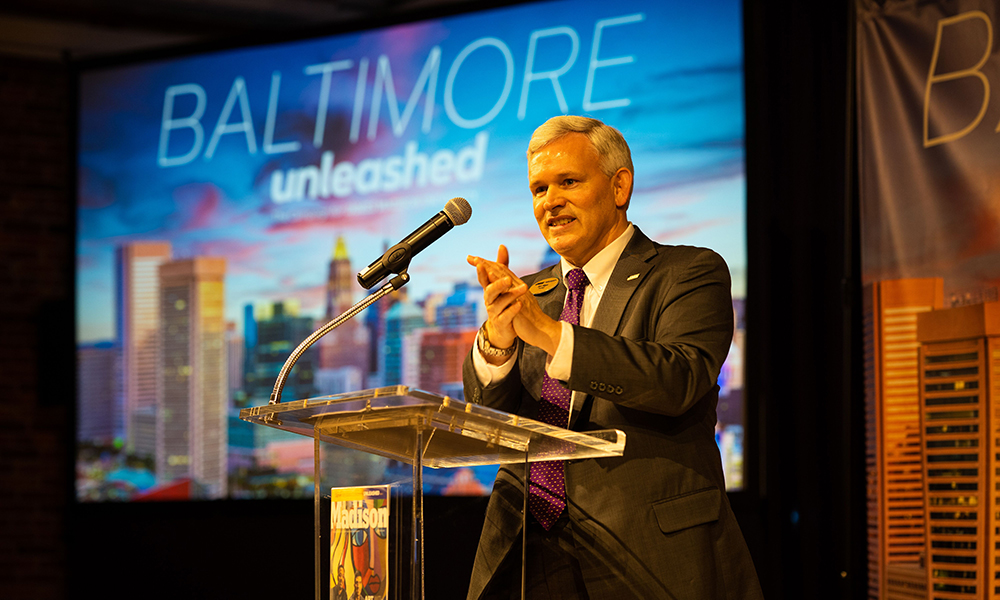 Unleashed now stands at over $131 million raised with nearly 46,000 donors. President Jonathan R. Alger emphasized the importance of giving many deserving students the opportunity to take part in the JMU experience that many in attendance know to be truly life-changing.
Alger said, "The proof is in the pudding (or in our graduates)—employers rave about JMU alumni because they bring a powerful combination of intellectual and interpersonal skills. They roll up their sleeves, they are lifelong learners, they are creative and they bring a 'can-do,' positive spirit."
All three emcees at this week's trio of events are proud JMU graduates: Larry Caudle ('82), Maribeth Herod ('82) and Jeremy Brown ('94, '96M). "Unleashed is unique among university campaigns in that alumni are especially involved in making it go and advocating on the university's behalf," Caudle told the D.C. crowd.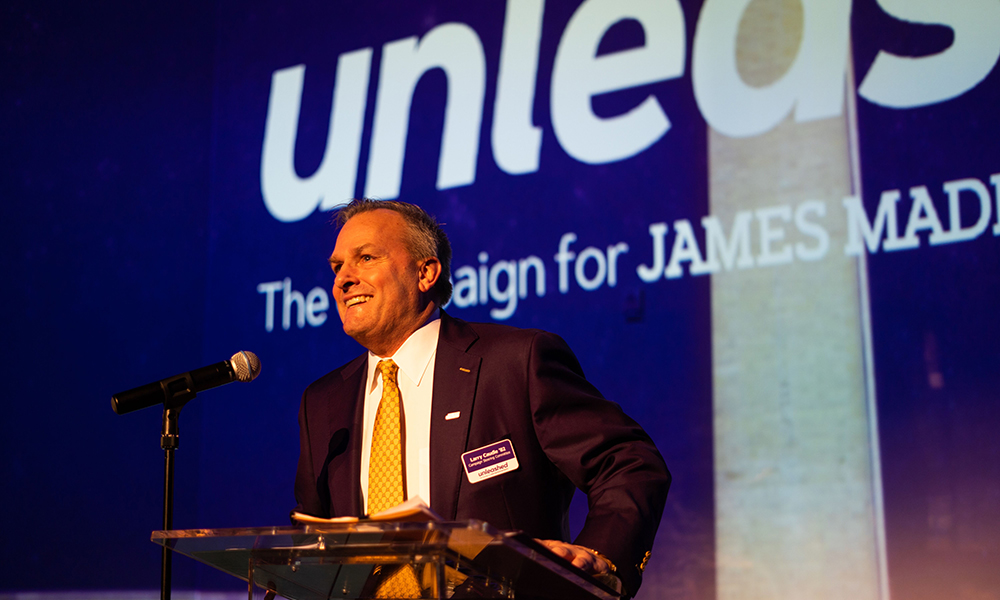 Attendance was strong at all three events. In D.C., 155 people attended, 138 attended in Alexandria and there were about 55 attendees in Baltimore. Brown encouraged all alumni to play their part in helping JMU get to the next level.
"I am on the JMU Alumni Association Board of Directors, which is a very gratifying role to play at the university," Brown told the Baltimore crowd. "Not only do I get to give back to the alma mater that gave me so much, but as a board member, I'm in the position to advocate for the university."
JMU X-Labs, an innovative program putting students in problem-solving scenarios to prepare them for the real world, took its turn in the spotlight at the D.C. event, showcasing an immersive multimedia experience. Nick Swayne, representing X-Labs/4-VA, said they are constantly developing courses to keep up with technology trends.
"The VR footage you're seeing tonight and the tour you're about to see was created by students in our virtual reality class," Swayne said. "Together we can unleash creative, confident and market-ready leaders who have experience in solving real problems."
Jim Acosta ('93), CNN's chief White House correspondent, came Monday evening to see his fellow Dukes and run into familiar faces.
"I always want to see JMU do well, I'm always happy to do what I can to support the university and I'm very proud to be a JMU graduate," Acosta said. "I think this university is a great university, and maybe not enough people know that story. I think it's important to make sure the JMU success story gets out there."
"I think it's important to make sure the JMU success story gets out there."
Jim Acosta ('93)
In Baltimore, pianist Gianne Zhu ('17), a graduate teaching assistant, entertained attendees with lively pop-jazz and classical music. Langridge later thanked donor Bill Corey ('82) for making gifts to JMU for 36 consecutive years. The relationships built during years as a student are often what inspire consistent, annual giving by Corey and many others.
"Our entire educational framework at JMU is built on recognizing the importance of interpersonal relationships in learning—relationships between students with faculty (who serve as mentors as well as educators), and with one another," Alger said.
In Alexandria, Port City Brewing Company co-founder Bill Butcher ('88) told the story of how award-winning Port City got to be successful, connected how his experience at JMU helped prepare him for success and described what motivated him to start a Dukes Pay It Forward scholarship.
Alger said, "Bill reflects the spirit of entrepreneurship that has become a theme across the entire university. Port City Brewing is a case study in entrepreneurial success—and we are working hard to cultivate that mindset in and outside the classroom at JMU."
Engagement at JMU is about the head and the heart; students apply ideas they learn in the classroom to real-world problems outside the classroom. That sense of engagement carries over when students become alumni.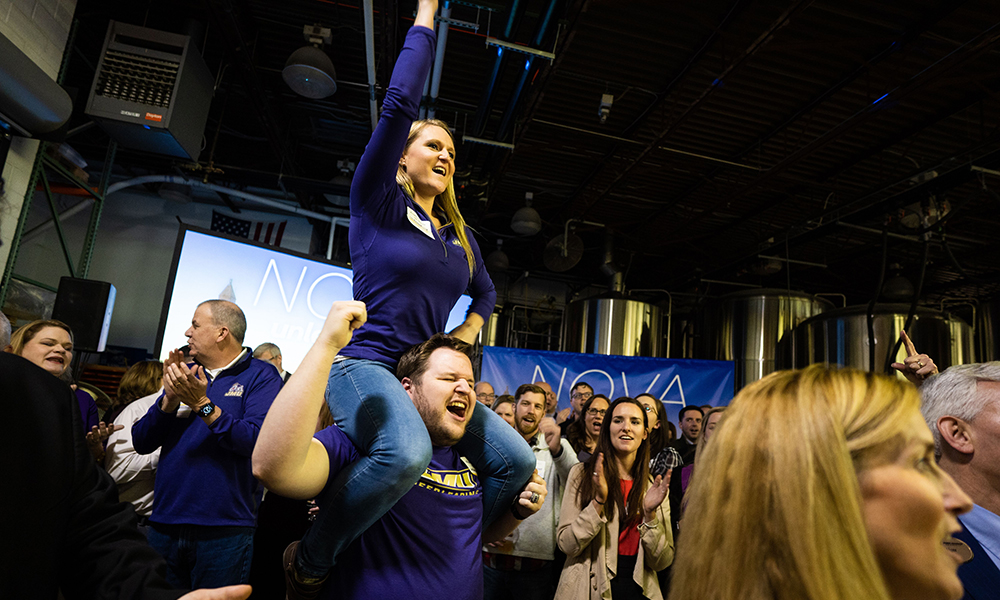 "The people are as friendly at JMU now as they were back then," Acosta said. "It's just an extremely friendly, warm and welcoming environment, and that's why I keep coming back. I made great friends at JMU. That's the thing that I remember most of all. I now have lifelong friends as a result of attending JMU."
For future tour dates and more information, visit jmu.edu/unleashed.