Unleashed
Unleashed campaign hits Atlanta as JMU surpasses $130 million mark
Making an impact on the common good takes center stage with Atlanta hosting regional event
---
SUMMARY: "It has really been a phenomenal rise," President Alger says of Madison's growth.
---
By Khalil Garriott ('04) 
ATLANTA — The flip of the calendar to a new year signals new hope, a well-defined vision for the future and a clear path to goals that lie ahead. That renewed sense of optimism and fresh outlook filled the room as James Madison University held its opening event of 2019 on the Unleashed tour in Atlanta.
Unleashed: The Campaign for James Madison University came to Georgia's capital on Jan. 24, continuing momentum built toward the end of 2018. Attendees rocked JMU purple pride attire, and JMU leadership noticed the amount of school pride that alumni from many class years still have.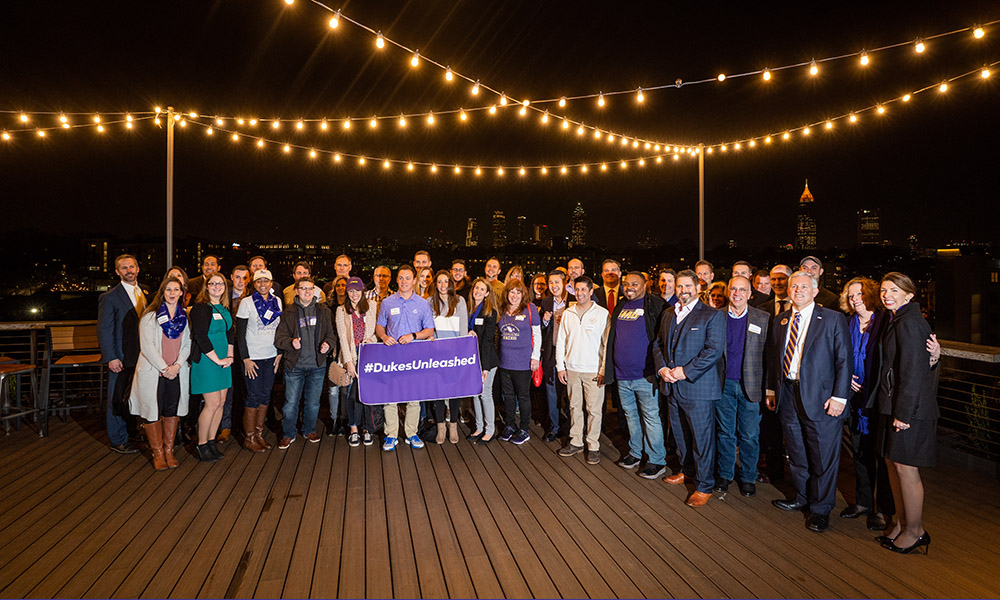 "Our Atlanta alumni in this room are each part of a large body of evidence demonstrating that the kind of experience JMU provides has unique and lasting value," JMU President Jonathan R. Alger said. "Everywhere I go when I talk to JMU alumni, they express such pride in how the university has grown in prominence over the years. It's really been a phenomenal rise."
There's no doubting the tremendous growth and expansion JMU has experienced. However, in order to take the institution to the next level of national prominence, it will take all members of the JMU community to do their part. That includes spreading the word.
"Beyond participating in the campaign ourselves, the biggest way for us to ensure success is to talk to our friends, our fellow Dukes who aren't here tonight," Paul Thompson ('80) implored the crowd.
Carey Falcone ('92), founder and CEO of New Realm Brewing, hosted the regional campaign event. Falcone's brewery seeks to push the boundaries of the industry, and his staffers also are driven to be productive and active members of the Atlanta community. More than 50 people showed their support at New Realm in Atlanta, one of whom was Gwendolyn Brantley ('07).
"I was thrilled to be a part of Unleashed in Atlanta and to share the common bond of love and gratitude for the Madison Experience with fellow alumni and parents," Brantley said. "It's our great honor to rally around Unleashed and translate that love into giving, which will yield opportunities for generations of Dukes to come."
Brantley, who has made a gift to JMU every year since graduating, was chair of the student giving program as a senior. Her gifts have supported the Madison Vision Fund and the Duke Club, among others. Brantley said that when she found out JMU was coming to her city, it was a no-brainer for her and a guest to support her alma mater.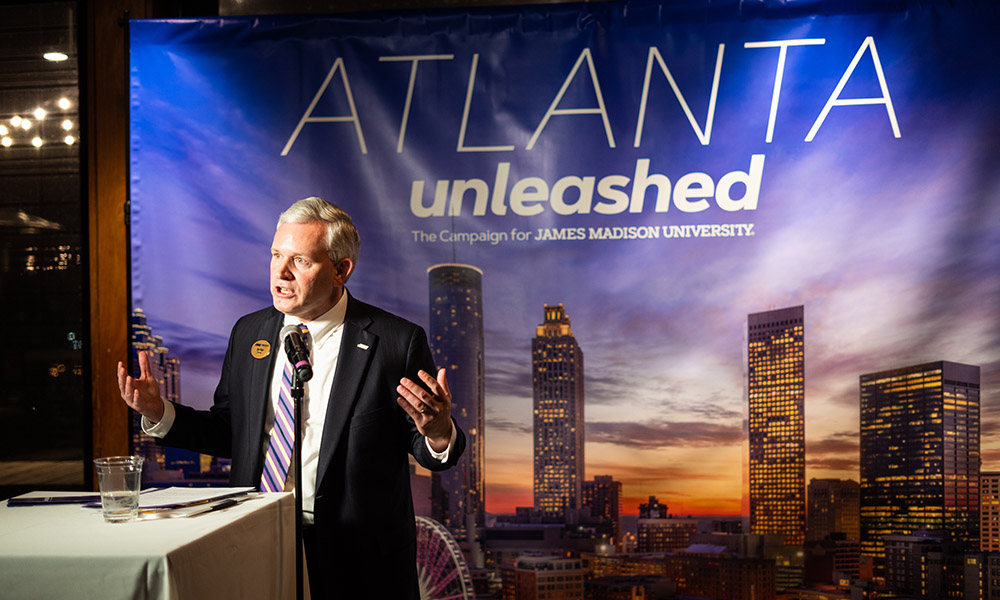 Without a vision of where you are going, you aren't going to get very far. Vice president for University Advancement Nick Langridge ('00, '07M, '14Ph.D.) told the crowd that Unleashed has raised $130,005,590 of its $200 million goal, and 45,783 donors have contributed since the quiet phase of the campaign began in July 2014. The generosity from donors goes a long way to help sustain JMU's reputation as a place where people care about one another, Langridge said.
"I encourage you to think about that JMU person [who] made a difference for you along the way," Langridge said. "Maybe it was a fellow alum or parent … a professor or a mentor you encountered at Madison."
"It's awesome to see people from so far away come to Atlanta for something like this."
— Sarah Gigantino Hogan ('04)
Langridge enjoyed catching up with a blast from his past, Nelson Pham ('99). Pham was Langridge's resident adviser, and Pham encouraged attendees to spend time with the JMU ambassadors who traveled from Harrisonburg to be there. "These are people who are shaping the future at JMU and working hard every day to create that bright future that the Unleashed campaign will make possible," Pham said.
JMU alumni are making an impact on the common good, among them Sarah Gigantino Hogan ('04). As president of JMU's Atlanta alumni chapter, Hogan is stepping up and leading by example.
"It means a lot; we love when anyone from [JMU] comes down from campus to see us," Hogan said. "I have a ton of pride in the school. It means a great deal … to hear all the stories from all the different generations of people. It's awesome to see people from so far away come to Atlanta for something like this."
It was apropos that the first donor to the campaign was recognized at the first Unleashed event of the new year. Shelly Boardman ('87, '95M), whose gift on July 1, 2014 was the first one credited to the campaign, donated in honor of a faculty member: longtime Marching Royal Dukes assistant director Bill Posey.
Thompson pointed out that among the campaign's five goals, the one that sets JMU apart is the "Renewing Our Civil Society" goal.
"I think it's very appropriate for the university named for the Father of the United States Constitution," Thompson said. "We need civility in our society today. Being civil doesn't just mean being nice to one another. Civility means concentrating on the common good," he continued.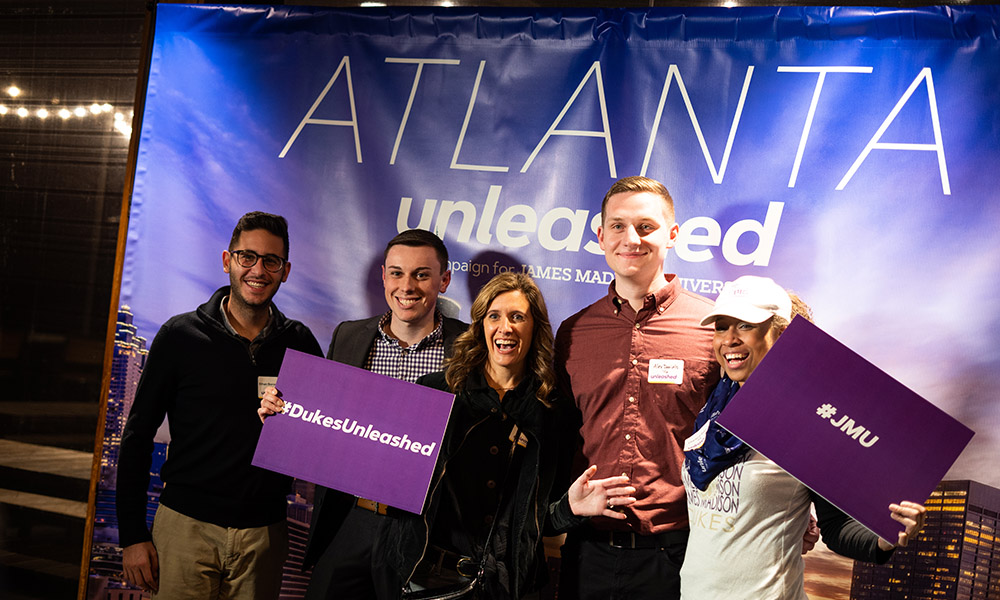 The next regional event will be Feb. 11 at ARTECHOUSE in Washington, D.C. For future tour dates and more information, visit jmu.edu/unleashed.