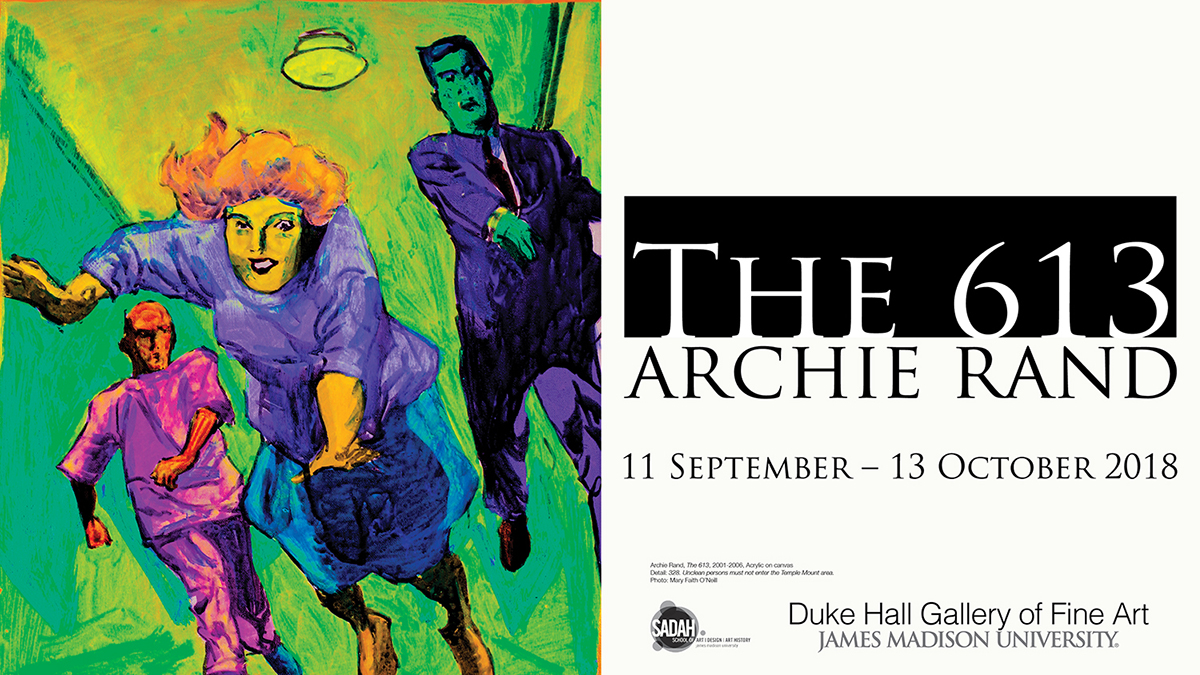 The 613 by ARCHIE RAND
11 September – 13 October 2018

Harrisonburg, VA — Duke Hall Gallery of Fine Art at James Madison University welcomes Brooklyn, NY painter and muralist Archie Rand (b. 1949) for the exhibition, The 613 by Archie Rand, which will be on view from 11 September – 13 October 2018. Rand visits the School of Art, Design and Art History as a Dorothy Liskey Wampler Distinguished Professor and will give a public lecture on Tuesday, 11 September, from 5-6pm in Duke Hall room 2036. The gallery will host Rand for an Artist Reception on Wednesday, 12 September, 2018 from 5-7pm. During his visit, Rand will meet individually with students, visit classes and engage in a public conversation with Gallery Director, John Ros on Thursday, 13 September, 2018 from 1-2pm in the gallery. 

Archie Rand forms a relentless narrative on many levels of cultural awareness, drawing on modern and contemporary art forms including, variously, pop art, children's book illustration, film noir posters, and pulp fiction graphics. The 613 is a serial painting composed of 614 individual, sequential images (613 key panel paintings plus one introductory painting) inspired by the 613 Jewish commandments (mitzvot in Hebrew) extracted from the Old Testament. Taking five years to complete, The 613 is Rand's largest non-mural work ever — and is arguably the world's largest freestanding painting on canvas.

Only the third time on view for the public, The 613 was originally displayed on a warehouse wall in New York City for a one-day event in 2008 attracting over one thousand viewers. In 2017, The 613 exhibited at the Contemporary Jewish Museum in San Francisco, CA. Duke Hall Gallery of Fine Art is thrilled to host this important artwork as the inaugural exhibition of our 2018-19 exhibition schedule and on view for the first time at a major institution on the US East Coast.

A serious and monumental work of contemporary art that grapples with and provokes contemplation on tradition, The 613 provides a simultaneous case for reverence and irreverence. It also affords an accessible vernacular iconography in its confrontation with, and homage to, belief systems and their corollary theoretical constructs. Unique and revolutionary, both magisterial and discomfiting, The 613 is a painting that is perfectly positioned to challenge the existing perimeters of discourse in its conscious relationship to Modernism and Post-modernism.

A film responding to the Kol Nidre prayer, a prayer of repentance, which is vaguely tangential to the focus of Rand's The 613, directed and animated by Tatiana McCabe, will also be on view in the gallery along with a digital interactive to allow visitors the opportunity to access each of The 613 panels up close accompanied with the English translation of each mitzvot. A hardcover book, The 613 by Archie Rand, (Blue Rider Press/Penguin Random House) with color reproductions of each of the 614 panels and an essay by the artist will be available at the gallery for purchase.


The 613 by Archie Rand is organized by Duke Hall Gallery of Fine Art in collaboration with Joan Brookbank Projects and the artist, Archie Rand.
Special thanks to Karen Gerard, Frances Flannery, Carli Toliver, Jeannine Bardo, Liz Goble, an annonymous donor and all Duke Hall Gallery of Fine Art volunteers, interns and staff. Your efforts are invaluable.
ARCHIE RAND
Archie Rand resides in Brooklyn, New York. Prior to assuming his current role of Presidential Professor of Art at Brooklyn College, Rand was the chair of the Department of Visual Arts at Columbia University. He also served as the Director of the Hoffberger School of Painting and as Assistant Director of the Mount Royal Graduate Programs, both at the Maryland Institute College of Art. From 1992–1994 he was appointed Co-Chair of the National Studio Arts Program of the College Art Association and from 1998–2003 served as Chair of the College Art Association National Committee for the Distinguished Teaching of Art Award.

Rand's work as a painter and muralist is displayed around the world, including in the collections of the San Francisco Museum of Modern Art, the Art Institute of Chicago, the Victoria and Albert Museum in London, the Bibliothèque Nationale de France in Paris, and the Tel Aviv Museum of Art. His graphic works and books are in over 400 public collections including the Metropolitan Museum of Art, The Museum of Modern Art, The Whitney Museum of American Art, The Art Institute of Chicago, The Brooklyn Museum, The Baltimore Museum of Art, the Smithsonian Institution, and The New York Public Library, and are owned by many universities, among which are Harvard, Yale, Columbia, Brown, and Johns Hopkins.


'TO HAVE NO OTHER GODS' AND OTHER MITZVOT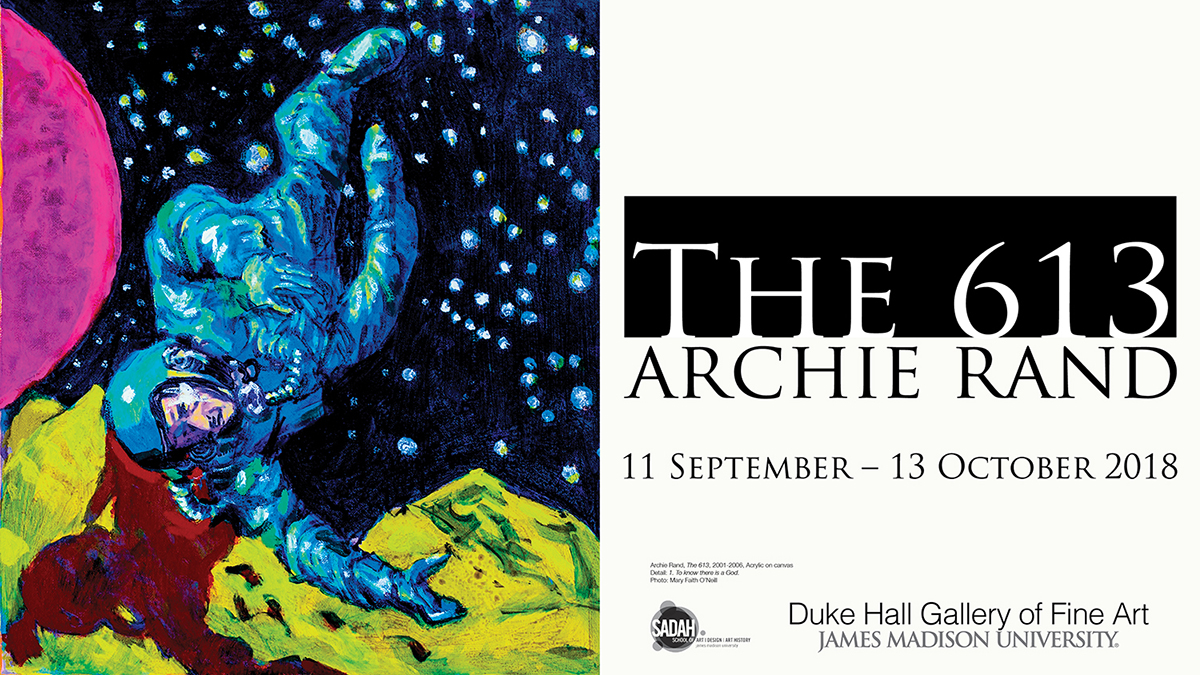 by John Ros
Director, Chief Curator, Duke Hall Gallery of Fine Art
School of Art, Design and Art History


The work of a contemporary painter is arduous. Viewers are inundated with constant visual stimuli and distractions. The tumultuous world we live in is ripe with fodder. How does the artist compete? Lineage plays a role in what makes a painter (as with all artists) but so does one's own impetus. Then there is the network, the camaraderie — the knowledge of paint and of course the history of painting. Place and space play a major role too. Place is where we are or end up. Space is what we do with the place we find ourselves.

As a painter, Archie Rand understands these basic structures. He is at once ambitious and humble; honest and pertinent. A man nearing his seventh decade, he has remained on pace with the pulse of the New York Art Scene so many young, ambitious, twenty-somethings hope to enter. He regularly shows with those same twenty-somethings in pop-up spaces and artist- run initiatives, yet boasts a nearly one hundred-page CV. His energy is admirable, dedication unsurmountable and love of the visual (and textual, musical, etc...) supersedes most.

No. 1: To have no other Gods.
No. 30: Not to make or cast an image.

This monumental work walks us through the six-hundred-thirteen commandments, or mitzvots, in the Old Testament. These good deeds transcribed for the faithful student of the Torah provide a lengthy code of conduct by which to live. Repetitive at times and perhaps (some) out-of-date, they bring us into dialogue with modern-day religion, specifically Judaism, and more broadly, the complexities of religion and the secular state. The intricacy within The 613 echoes a layered complexity interwoven throughout faiths, cultures and communities. We are confronted with moral and ethical reasoning — citizens, artists and painters alike. Rand's uncountable interests and experiences all build to form a code of visual language reflected within this knowledge. Some decipherable, some more vexing. Regardless, the viewer is entirely engaged, secular or not, in defining what The 613 means for them, through the lens of this artist. As viewers we choose how to fit the layers into our own lives. As a painter, Rand chooses this less-than-simple subject matter.

History within art and life play a major role in these images. As we approach the walls of painted surfaces we are consumed. Our eyes wander, sometimes rest, or scatter. Settling on No. 30, we take in a nude Munchian figure sitting on steps at a pillar with an approaching male figure. Upon further investigation the text from Leviticus 19:4 states, "Not to make or cast an image." Is Rand referring to Munch's Madonna (1892-1895) or Female Nude (Anna) (1920)? If the former, this delicate reference to Catholic iconography speaks directly to the text. Regardless, Rand asks a more pointed question, "Is the artist allowed to create an image?" Rand's play with art history is threaded and almost tethered throughout — as most painters are to the heavy history that precedes them.

As we continue through the walls of gridded twenty by sixteen inch squares we come to No. 420. A farmer is using a sickle for harvest. We cannot look at this image without thinking of Van Gogh's Peasant Character Studies (1881-1885). One might make immediate connections as they read the text from Leviticus 19:9, "Not to reap that corner but to leave fruit and grain for the poor." Again, we are confronted with an art historical reference, direct and layered in a way that subverts status quo thinking and develops a visually poetic translation of the ancient text.

No. 420: Not to reap that corner but to leave fruit and grain for the poor.

Rand's visual vocabulary throughout the series extends to places other than art history from the 1800's. References to comic strips, comic books and graphic novels can be seen throughout: Larson's, Far side (1980-1995); Gould's, Dick Tracy (debuted in 1931); Lee and Kirby's, Black Panther (1966); and even Spiegelman's, Garbage Pail Kids (debuted in 1985). The latter brings layers of whimsy and sarcasm evident throughout The 613. Rand also visually converses with Philip Guston, Robert Crumb and Art Spiegelman on a regular basis throughout the series. Artistic lineage plays a major role in this work, especially because for Rand, the lineage comes often with direct personal relationships with his counterparts.

The 613 meanders, ebbing and owing with color, action and sophistication. The dedication in painting such a large subject also reflects the mitzva of scribing the Torah. As we look at No. 82, "Each male must write a Torah scroll," from Deuteronomy 31:19, do we imagine a young Rand on the floor of his Brooklyn studio starting out on the journey of completing The 613? The questions Rand presents in the countless layers of meaning woven through the developed visual language of this series are not easily answered, nor are they set in stone. He invites us all the moment to become unveiled in a way that is precious and sacred. This opportunity, which is neither opportunistic nor self-serving, is a personal space for rigor in understanding. Unique discoveries will o er insight providing a depth of knowledge that will move us from place to place and ensure we build the strongest and most sustainable spaces.
THE 613 MITZVOT
Contextual material for the exhibition The 613 by Archie Rand (11 September - 13 October 2018).
The 613 refers to the 613 Jewish commandments (mitzvot in Hebrew) extracted from the Old Testament.  This immense work by Archie Rand includes one painting for each one of the 613 mitzvot.
EVENTS
11 SEP 2018, 5-6p: Wampler Lecture: Archie Rand
Coincides w/ The 613 by ARCHIE RAND
Duke Hall Gallery Court

12 SEP 2018, 5-7p: Artist Reception: The 613 by ARCHIE RAND
Director and Artist Remarks @ 5.30p
Duke Hall Gallery of Fine Art

13 SEP 2018, 1-2p: Archie Rand: In Conversation
A discussion with Gallery Director, John Ros
Coincides w/ The 613 by ARCHIE RAND
Duke Hall Gallery of Fine Art

18-30 SEP 2018: EXHIBIT / Fiona Buchanan: Close to the Ground Like a Wheel
Coincides w/ The 613 by ARCHIE RAND
Grace St Crit Space Gallery / Duke Hall Room 1031

17 SEP 2018, 6-7p: Fiona Buchanan Artist Lecture
Coincides w/ Grace St. Crit Space Gallery & The 613 by ARCHIE RAND
Duke Hall Room 1032

05 OCT 2018, 5-8p: GALLERY OPEN FOR FIRST FRIDAY
The 613 by ARCHIE RAND

07 OCT 2018, 11-5p: Extended hours (open SUN) for Family Weekend
The 613 by ARCHIE RAND