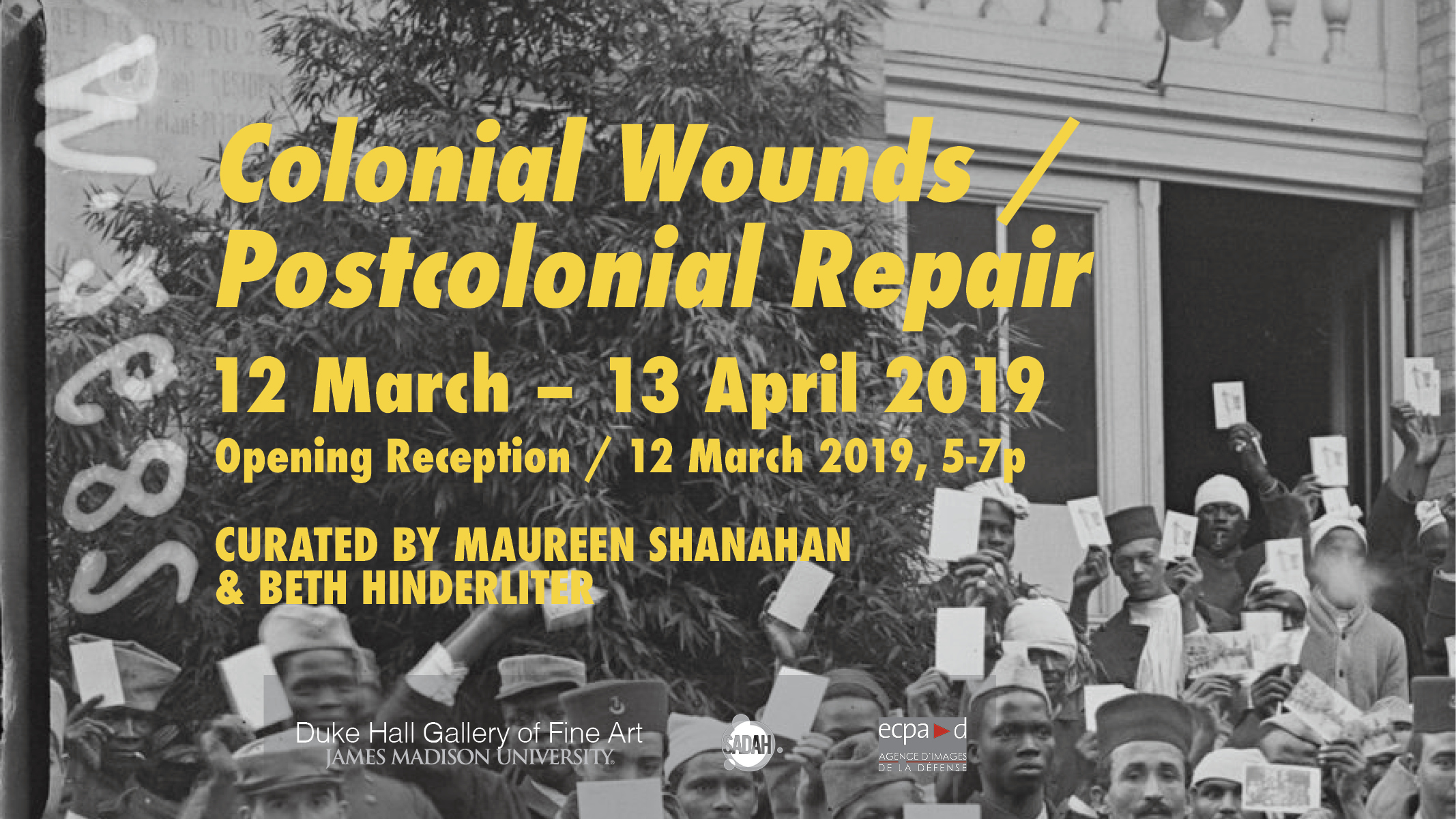 Colonial Wounds / Postcolonial Repair
12 March – 13 April 2019
curated by Maureen Shanahan & Beth Hinderliter
Wampler Visiting Professor & Cultural Connections Exhibition
Opening Reception: 12 March 2019, 5-7p
The Duke Hall Gallery of Fine Art at James Madison University welcomes Algerian artist Amina Menia to campus for a lecture and the reception of her exhibition titled Colonial Wounds/Postcolonial Repair, which will be on display from 12 March - 13 April 2019. Co-curated by art historians and JMU faculty members Maureen Shanahan and Beth Hinderliter, the exhibition traces the story of French colonialism and colonial violence through the contemporary artwork of Menia (b. 1976) as contextualized by historical materials.
Featuring Menia's photography, film and installation works, this exhibition looks at how Algerian monuments commemorating World War I and the era of French colonization (1830-1962) have been re-appropriated, demolished or left to disintegrate. Menia's artwork will be contextualized through World War I era medical illustrations, documentary photography, and film borrowed from the National Museum of Health and Medicine in Silver Spring, MD, and from archives in France.
The curators, Drs. Maureen Shanahan and Beth Hinderliter, are interested in the nexus between visual culture and trauma. Dr. Shanahan is a modernist art historian researching a book project on the French colonial soldier and worker during and after World War I, research that was supported by a Fulbright Award to France in 2017. A forthcoming article on France's first (temporary) mosque will appear in a special issue of African Arts scheduled for Summer/Fall 2019. Dr. Hinderliter specializes in contemporary art history and is working on a book project entitled More than Our Pain: Affect and Emotion in the Black Lives Matter Movement. It will consider the role of emotions from rage, joy, and mourning around that movement.
Colonial Wounds/Postcolonial Repair has been funded and supported by the following departments and programs: Access and Inclusion, Biology, Cross Disciplinary Studies (including Africana Studies, Film Studies, Middle East Communities and Migrations, Women and Gender Studies), English, Health Sciences, Justice Studies, Modern Languages, the School of Art, Design and Art History, the School of Media Arts and Design, and the College of Visual and Performing Arts.
BIOGRAPHY
Amina Menia's (b. 1976, Algiers, Algeria) work questions the relation to architectural and historical spaces, and challenges conventional notions around the exhibition space. Her artworks are a crossovers of sculptures and installations that trigger an interaction of viewers and passersby with socio-spatial configurations.
Extra-Muros (2005-ongoing) is a series of site specific installations all over Algiers. An invitation to revisit this city and thus its re-appropriation. It encountered so many obstacles that most of its chapters remain unrealised. Therefore, it intersects directly with its problematic of denouncing confiscated spaces, confiscated memory and lack of freedom.
For Chrysanthemums (2009-2011), she proposed a photographic installation in frontal relation with the viewer and documenting useless monuments charged with history.
Enclosed (2012-ongoing) is a documentary-based installation that shows how the Algerian artist M'hamed Issiakhem circumvented his commission to "hide" the former Monument to the Dead of Algiers. He encased it in a temporary cement coffering.
She spent a long-term residency in the city of Marseilles, working on the common architectural heritage of Algiers and Marseilles through the inspiring figure of the architect Fernand Pouillon.
Amina has showed her work nationally and internationally, including Museum of Modern Art (Algiers), the Royal Hibernian Academy (Dublin), the Centre Georges Pompidou in Paris, the Museum of African Design (Johannesburg), the Museum of Contemporary Art in Marseilles. She participated to the 11th Sharjah Biennial (UAE), the Dakar Biennial 2014 (Senegal) as well as Folkestone Triennial 2014 (UK) and BRUGGES Triennial 2015.
DIRECTOR'S NOTE
Duke Hall Gallery of Fine Art is a space for vibrant cultural discourse.  It is a space where the local and academic community confront contemporary art and our wider cultural experiences.  Art confronts.  Art energizes.  Art breaks barriers between languages and brings us together to be inspired and knowledgeable citizens no matter where we come from.
Gallery experiences should ask much of the viewer.  They give us the opportunity to reflect on who we are and understand better the perspectives and beliefs that have shaped us.  Though the physicality of exhibits may come and go, the lasting impression they leave on those who attend them can significantly alter the psychological and internal landscape of what was firmly believed to be the known. Thus the known shifts and expands to contain many stories and multiple voices. 
Colonial Wounds / Postcolonial Repair, co-curated by Maureen Shanahan and Beth Hinderliter is one of these important experiences.  Looking at colonial violence specifically through French World War I imperialism, the viewer will delve deeply into historical artifacts to contextualize and reframe the scope of colonial destruction.  From there, the contemporary artwork of Algerian artist Amina Menia (b. 1976) buids upon the destruction of historical imbalances to reclaim power and to mend broken social, economic and historical structures.  The poetic mix of historical and contemporary research creates a lasting experience of intertwining visual conversations. 
Special thanks to the National Museum of Health & Medicine in Silver Spring, Maryland and all other collaborators and contributors to this exhibition.  Dedication and support such as this help make Duke Hall Gallery of Fine Art's mission - to present the highest level of fine art experiences and to create an active space for robust discourse of vital issues facing our society - a reality.  Colonial Wounds / Postcolonial Repair not only brings outstanding programming to our students and the broader community, it builds on our goal to be a visionary leader of fine art for all.
— John Ros, 2019
EVENTS
12 MAR, 2019, 11a: M.G. Shanahan – Curator's Tour
12 MAR 2019, 5-7p: Opening Reception: Colonial Wounds / Postcolonial Repair
Curator Remarks at 5:30p
Duke Hall Gallery of Fine Art
13 MAR 2019, 5p: Artist Lecture: Amina Menia
Coincides w/ Colonial Wounds / Postcolonial Repair
Duke Hall Room 2036
14 MAR 2019, 4p: Poetry Reading: Jaki Shelton Green
Presented in conjunction with the Furious Flower Poetry Center
Duke Hall Gallery Court
14 MAR, 2019, 7-8p: Guest Artist Recital
Scott Rawls, viola and James Douglass, piano
Presented in conjunction with JMU's School of Music
Duke Hall Gallery Court
18 MAR 2019, 5:30p: Guest Presentation: Nefin Dinç (Antoine Köpe documentary in progress)
Coincides w/ Colonial Wounds / Postcolonial Repair
Harrison Hall Room 1261
19 MAR, 2019, 11a: M.G. Shanahan – Curator's Tour

20 MAR, 2019, 2p: Beth Hinderliter- Curator's Tour
26 MAR, 2019, 11a: M.G. Shanahan – Curator's Tour
26 MAR 2019, 6:30p: WWI Film Presentation
Curatorial remarks from Dr. Maureen Shanahan to follow
Coincides w/ Colonial Wounds / Postcolonial Repair
*HTH 100 Wellness Passport opportunity
Health and Behavioral Studies Building, Room G010
27 MAR, 2019, 2p: Beth Hinderliter- Curator's Tour
27 MAR 2019, 5:30p: Reflecting Memory Film Presentation
Introduction from Dr. Beth Hinderliter
Coincides w/ Colonial Wounds / Postcolonial Repair
*HTH 100 Wellness Passport opportunity
Health and Behavioral Studies Building, Room G010

02 APR, 2019, 11a: M.G. Shanahan – Curator's Tour
02 APR 2019, 5p: Guest Lecture: Anne Hertzog (Visiting Instructor from University of Cergy-Pontoise, France)
Coincides w/ Colonial Wounds / Postcolonial Repair
Duke Hall Room 1032
05 APR 2019, 5-8p: GALLERY OPEN FOR FIRST FRIDAY
Colonial Wounds / Postcolonial Repair
09 APR, 2019, 11a: M.G. Shanahan – Curator's Tour