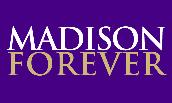 At Jonathan R. Alger's inauguration in March, 2013, he announced the creation of the Madison Forever Vision Fund to support initiatives related to the future vision for the university, including the new Madison Vision Series. This lecture series is bringing prominent speakers, thinkers and leaders to JMU as a means to help our students and the greater JMU community gain some mastery of the current civic landscape.
Thank you for your support of the Madison Forever Vision Fund for helping make new initiatives like this possible. Please join us for the inaugural event in the Madison Vision Series: Contemporary issues in an engaged society
Constitution Day Tue., Sept. 17 2013
4:30 p.m - 5:30 p.m.
Concert Hall, Forbes Center for the Performing Arts

"James Madison's Long Shadow: What Have Other Nations Gleaned from the American Constitutional Experience?"
Speaker: A.E. Dick Howard, White Burkett Miller Professor of Law and Public Affairs at the University of Virginia

This event is free and open to the public.