Visiting the John C. Wells Planetarium
The John C. Wells Planetarium is a $2 million, state-of-the-art hybrid facility, the only one of its kind in the world. It hosts both an Evans & Sutherland Digistar 5 digital projection system and a Goto Chronos opto-mechanical star projector that provides visitors with a superior and realistic night sky. Our digital system allows us to present unique full dome movies as well as project the multi-wavelength universe on the dome. Our Goto Chronos starball allows us to project an authentic night sky for any location on the Earth's surface, across the past 100,000 years.
The Planetarium has 72 seats, offers free Saturday afternoon public shows but is also available for use mid-week by school groups and community groups (i.e., church groups, girl guides/boy scouts, etc.) at no charge by reservation. View our current schedule to determine availability. Fill out the reservation request form to book your group! The planetarium is also available for private functions (i.e., weddings, birthday parties, etc.). Please email the planetarium director for further details.
ALL PUBLIC SHOWS ARE FREE!
NO TICKETS! NO RESERVATIONS!

Following each full-dome film presentation on Saturdays at 1pm, 2:15pm & 3:30pm, we will raise our incredible Goto Chronos starball and highlight the Valley sky! We will show you the stars, planets and constellations you can see in your backyard sky later that night! If it is sunny, we will also have our solar telescopes set-up outside! See the Sun as the active, dynamic star that it is instead of the pale yellow dot drawn by kids! Don't miss out on seeing our STAR in a safe way that will leave in mesmerized! ALL FREE!
Saturday Matinées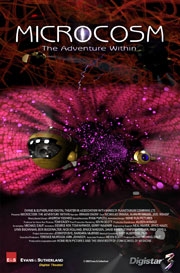 Microcosm: The Adventure Within
John C. Wells Planetarium
Saturday 1 p.m. FREE!
At the Center of Miniaturized Medicine in the year 2053, you'll shrink down to the size of a microbe and get injected into a patient who is suffering an infection from a mysterious virus. Produced in cooperation with the University of Utah Medical School, this high-speed immersive adventure is not only exciting, but educational as well. Traveling from the base of the eye to the interior of the heart, you'll explore exotic ports of call in CMM Probe Alpha with its robotic outboard scout vehicle. As you piece together the clues the virus has left behind, you'll race against time to save the patient on your roller-coaster ride through the body. Laser battles, genetic weapons, and lots of surprises along the way, make this a show audiences will want to experience again and again. See the trailer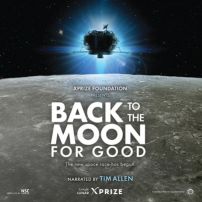 Back to the Moon For Good
John C. Wells Planetarium
Saturdays at 2:15 and 3:30 p.m. FREE!
Immerse yourself in a race to the Moon 40 years after the historic Apollo landings. Learn about the history of lunar exploration, and the Moon's resources. Discover what humanity's future on the Moon might hold. See how a competition among privately funded international teams is ushering in a new era of lunar exploration. Narrated by Tim Allen, Back To The Moon For Good presents the Google Lunar XPRIZE, and the personal stories of competition and collaboration it inspires. See the trailer