You are in the main content
Upcoming Public Science Talks
Cosmochemistry: Understanding Our Origins
Dr. Myriam Telus, Carnegie Institution of Washington 
Thursday, April 7 at 7pm
JMU's WILSON HALL AUDITORIUM


PAST SCIENCE TALKS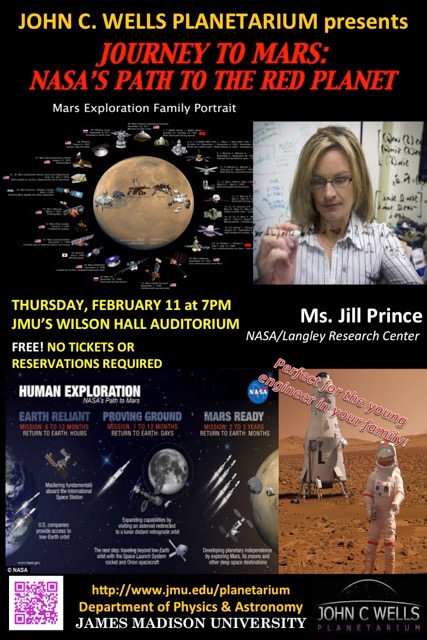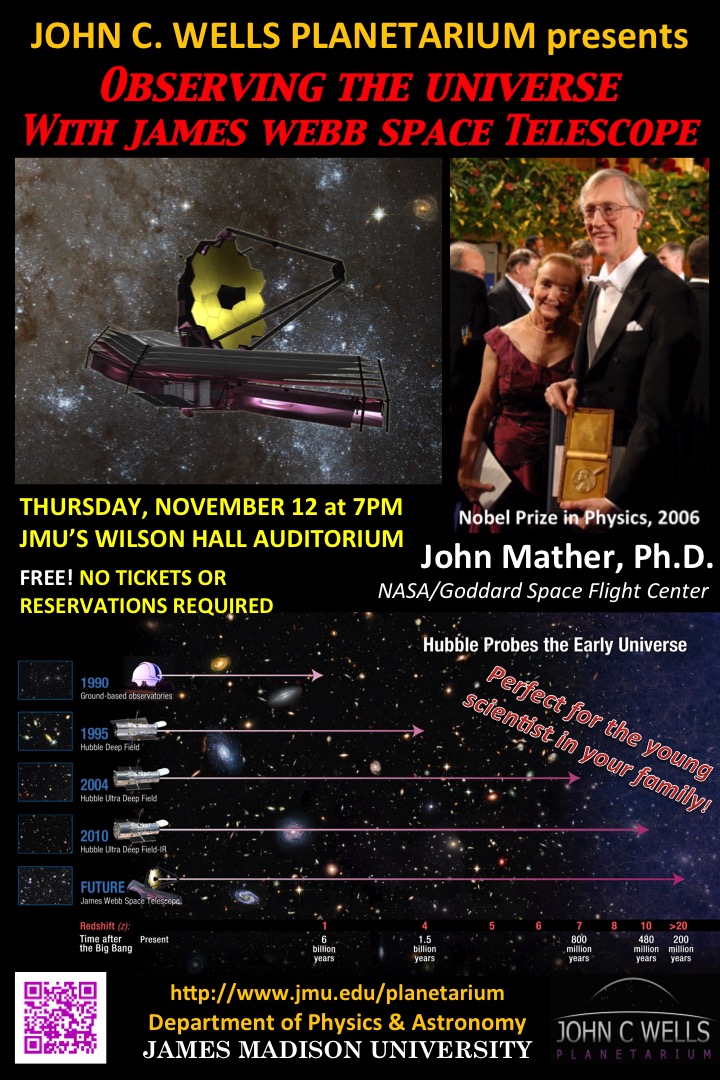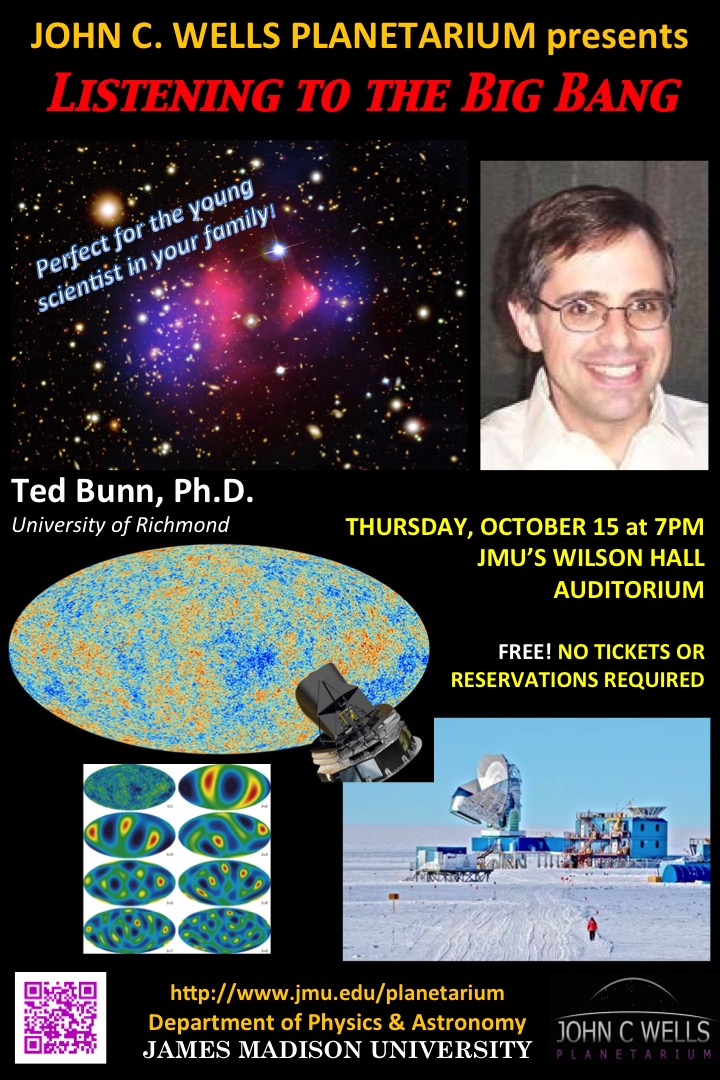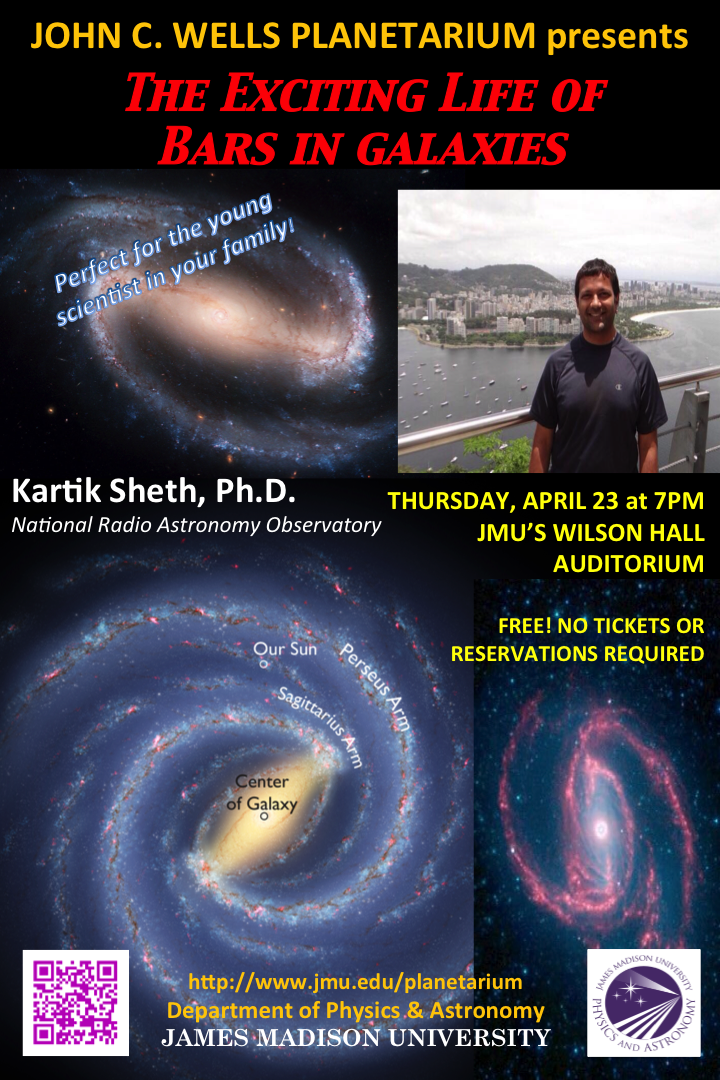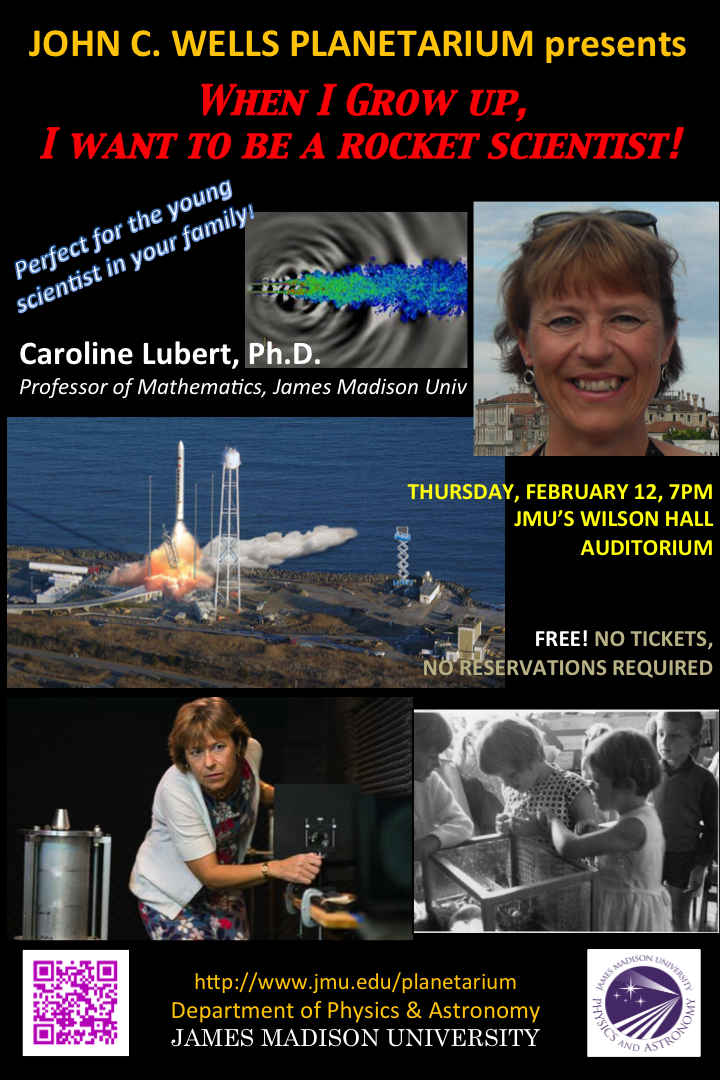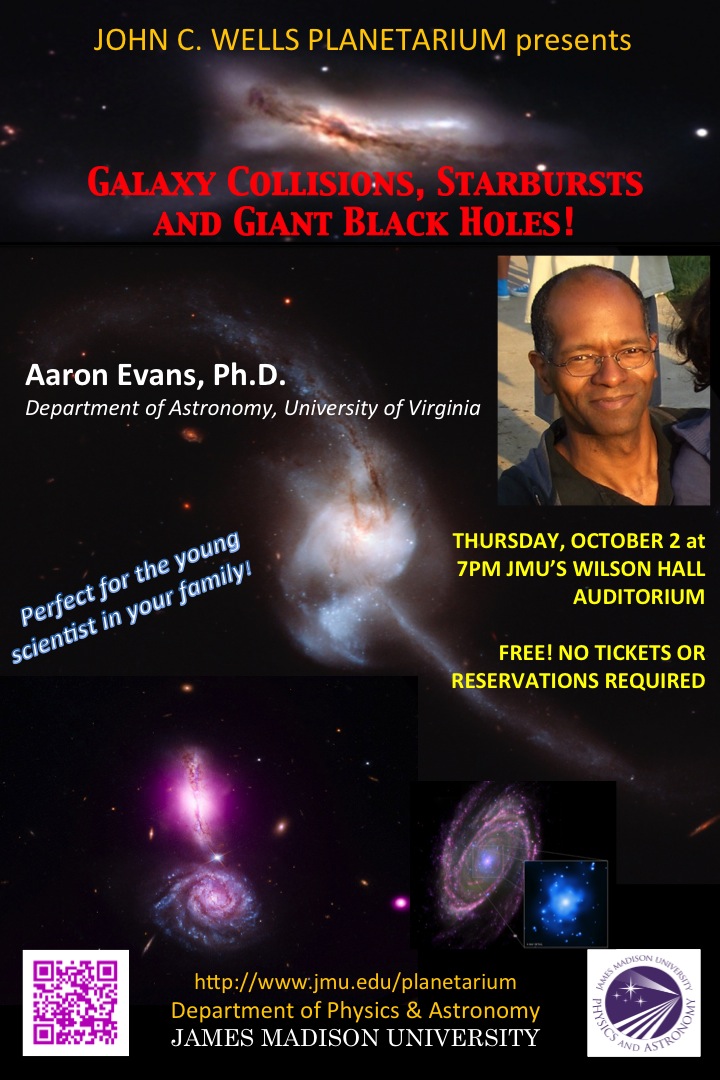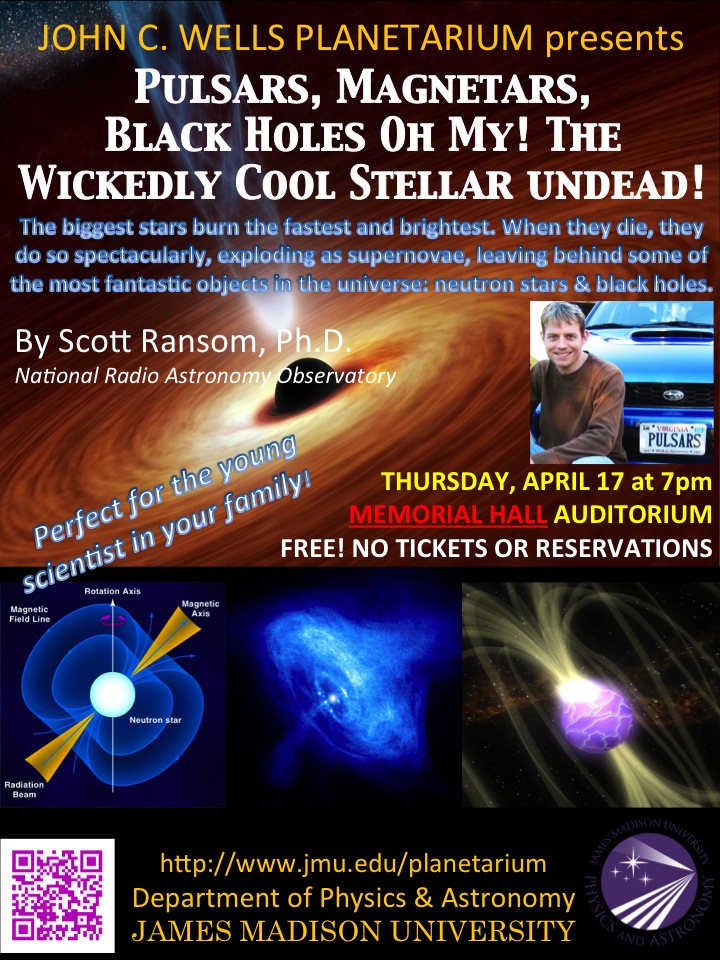 Free Screening of "Saving Hubble"
7:30 p.m. April 4, Wilson Hall Auditorium
A free screening of the documentary, Saving Hubble, will be shown at 7:30 p.m. Thursday, April 4 at the Wilson Hall auditorium. Following the screening, David Gaynes, director of the documentary, will participate in a discussion moderated by Shanil Virani, director of the John C. Wells Planetarium at JMU.
"Saving Hubble" documents the successful grassroots fight to save the Hubble Space Telescope program after Congress voted in 2004 to end it.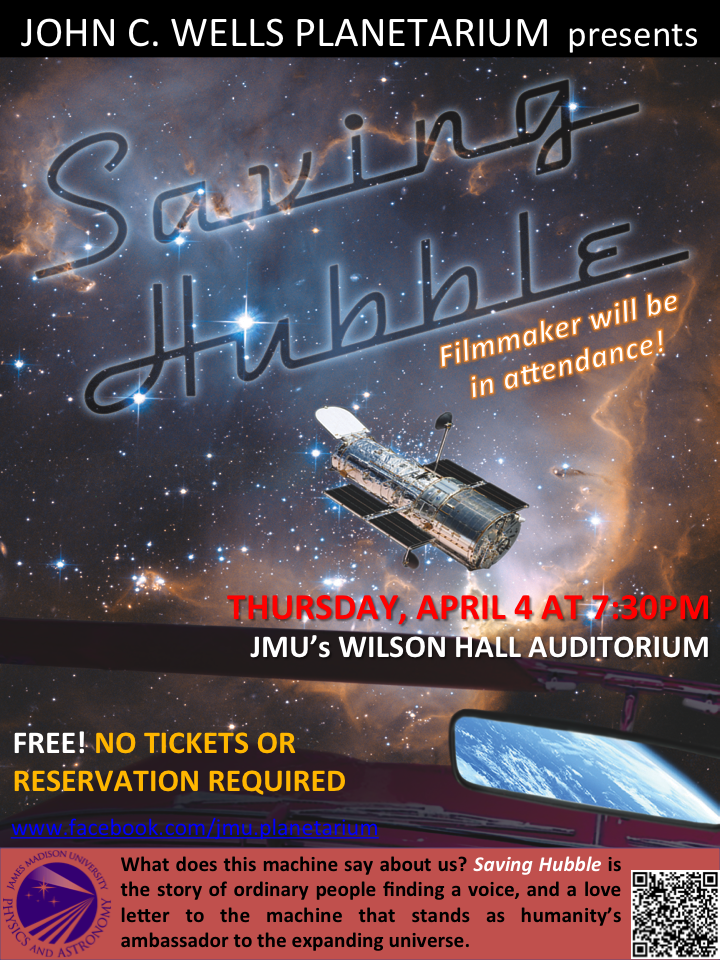 ---
What happens after the Hubble Telescope? Find out on Jan. 24
The Hubble Space Telescope has been in operation for more than 20 years. What comes next? The James Webb Space Telescope! Come hear Dr. Jason Kalirai, the deputy project scientist for the JWST, 7 p.m., Thursday, Jan. 24 in the Wilson Hall Auditorium speak about the enormous contributions that Hubble has made to our understanding of our cosmos, and how JWST will add to it! The program is free and open to the public.
Free parking is available at the Warsaw Parking Deck off of South Main Street. Click here for a map. Green stars on the map show the parking deck and Wilson Hall.

---
Guest Speaker: Dr. Phil Plait, the"Bad Astronomer"
7 p.m. Thursday, Sept. 27 in the Wilson Hall Auditorium.
You've heard the rumors, the conspiracy theories, the internet scuttlebutt: the Mayans predicted the end of the world will occur on December 21, 2012. Books have been written, documentaries aired, even a major motion picture was made based on this idea. But is it real? In a word: nope. Astronomer and author Phil Plait will take you through the claims made by the doomsday-mongers and show why there's nothing to fear. No mega solar flares, no galactic alignment, no giant asteroid impact… and, in fact, the Mayans didn't even really predict the end of the world at all! Dr. Plait will use firm science and lots of humor to describe just why December 2012 will be pretty much like every other December on the calendar.
Dr. Plait began a career in public outreach and education with the Bad Astronomy website and blog, debunking bad science and popular misconceptions. The book, "Bad Astronomy," was released in 2002, followed in 2008 by "Death From The Skies!" Dr. Plait's television show, "Phil Plait's Bad Universe," premiered on the Discovery Channel in September 2010. The title of his presentation at JMU is "2012: We're All (Not) Gonna Die!" which focuses on the Mayan apocalypse myth.
Sponsored by the John C. Wells Planetarium, JMU Department of Physics & Astronomy, College of Science & Mathematics, and the JMU Center for STEM Education & Outreach.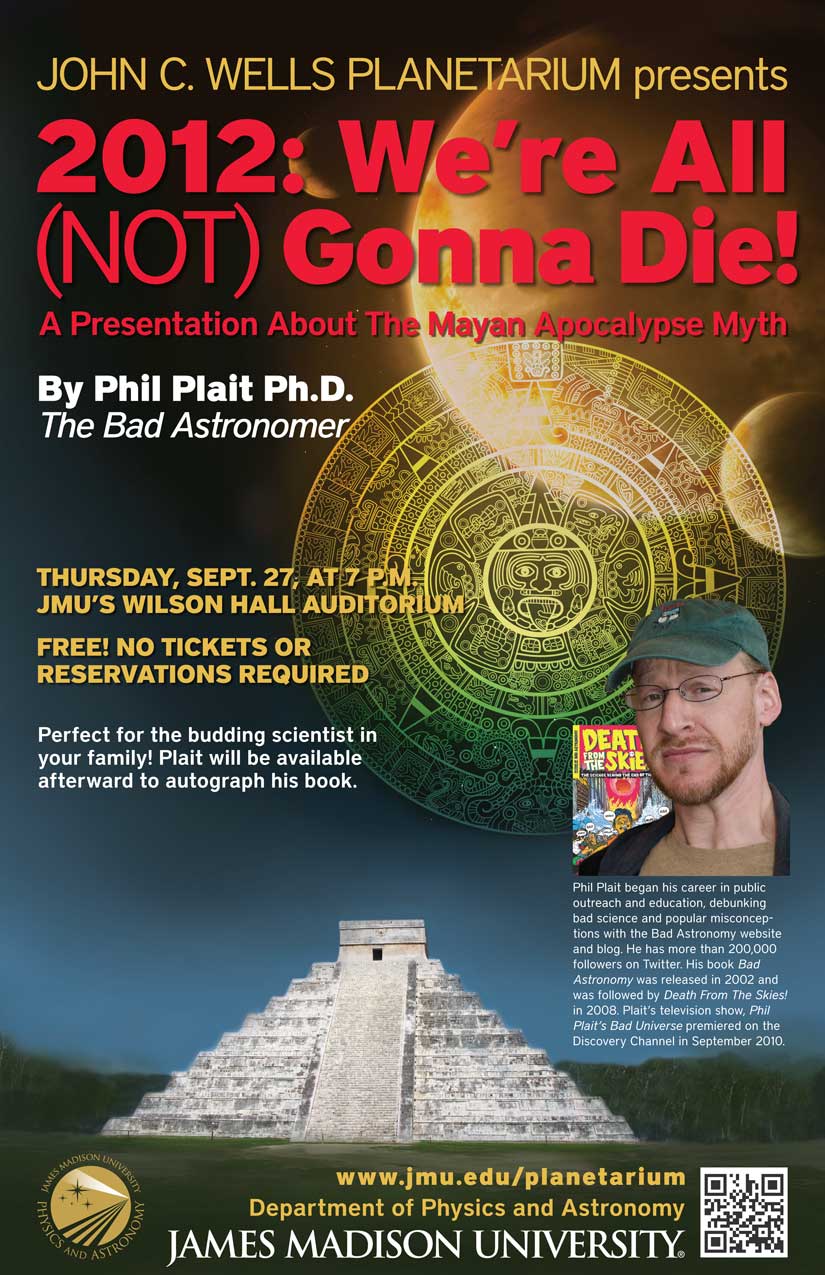 ---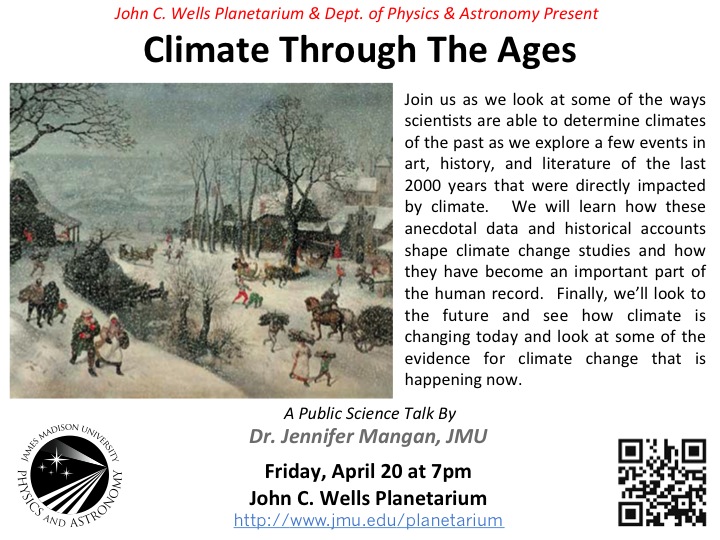 ---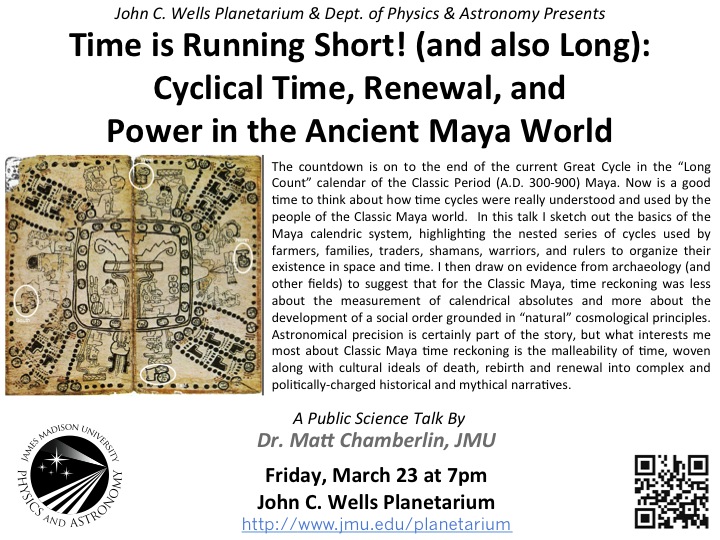 ---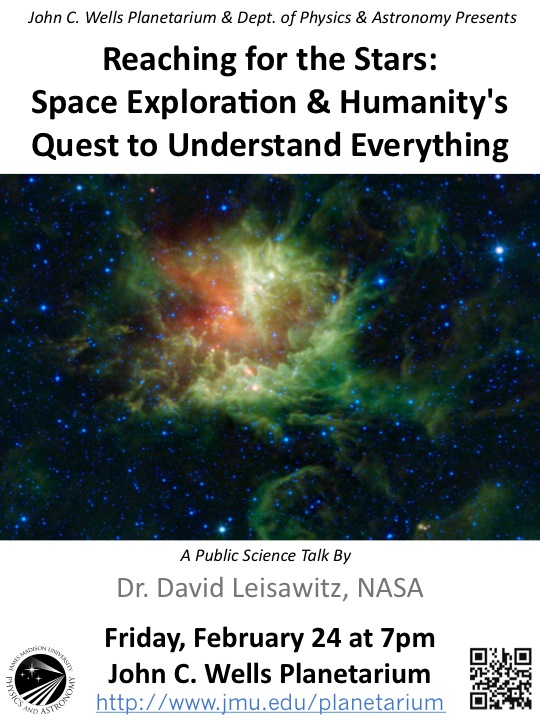 How are innate human qualities reflected in our quest to explore and comprehend the universe? Our Nation's space science endeavors have practical and sometimes hidden benefits, and can be inspiring, but fundamentally they are a manifestation of human nature, and something in which we can all take pride. Using NASA's Wide-field Infrared Survey Explorer mission as an example, I'd like to bring a space mission "down to Earth." My goals are to demystify the machines that help us answer some of the deepest questions we've thought to ask, to share the joy of scientific discovery, and to shed a bit of light on the path that lies ahead.—Dave Leisawitz