Center for Entrepreneurship - Zane Showker Award
The Zane Showker Entrepreneurship Scholarship is awarded to a senior of any major who demonstrates entrepreneurial potential during his or her college career. Recipients are selected by a faculty panel.
2016 Winner - Chard Hard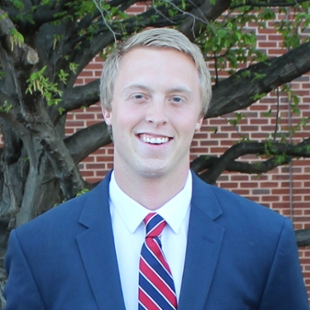 Carol Hamilton, Director of the Center for Entrepreneurship, presented the 2016 Zane Showker Entrepreneurship Award to Chadwick A. Hard (Management, '16) on Wednesday, April 20, at the Society of Entrepreneurs meeting and new member initiation, held at Capital Ale House in downtown Harrisonburg. Each year, the CFE gives the Zane Showker Entrepreneurship Award to a "high-performing student who displays entrepreneurial spirit and thinking and demonstrates the potential to be a successful entrepreneur, recognized by the Center for Entrepreneurship."
2015 Winner - Amanda Presgraves
2015 Zane Showker Entrepreneurship Award winner, Amanda Presgraves (Kinesthetics, '16), has seen her idea for a food truck, Fueled, grow from a concept developed at the Shenandoah Valley Small Business Development Center's "What's Cookin'" program, to a business model developed in the spring 2015 MGT 472: Venture Creation class and validated in the Society of Entrepreneurs, and ultimately to a JMU Dining program through Aramark and JMU faculty.
2016 - Chad Hard
2015 - Amanda Presgraves
2014 - Benjamin Stout
2013 - Matthew McKeon
2012 - Gilbert Welsford
2011 - Lawler Watkins
2010 - Ryan Carrigan
2009 - Christopher Ceccotti
2008 - Daniel J. Mahon
2007 - Jonathan D. Seastrom
2006 - Kimberly B. Tashner
2005 - Nicholas J. Tolley
2004 - Christopher S. Lux
2003 - Steven W. Schollaert
2002 - Nitin Ramlall
2001 - Leslie Inskeep
2000 - Sean MacCarthy
1999 - Terry E. Menteer, Jr.
1998 - Chris Mitchum
1997 - Timothy A. Heydon
1996 - Julie Heath
1995 - Nhan Nguyen
1994 - Robert Twells
1993 - Mark Schneider and William T. Zarotny
1992 - Grant Peregoy, Jeff Forbes, Kent Baake, and Ricky Hayback
1991 - Dr. Hal Teer and Mario Facello
1990 - Charles B. Ruscher and Scott E. Shelton
1989 - Kimberly Y. Arehart
1988 - Mary M. MacDonnell and James C. York
1987 - Beverly Goldblatt