Ask a JMU Student: Kacy Williams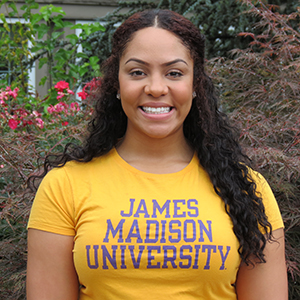 | | |
| --- | --- |
| Hometown: | Newport News, VA |
| Major/Minor:  | Marketing (concentration in Retail) |
| Graduation:       | May 2014 |
|  E-mail:        | Students4Minority@gmail.com |
Why did you choose to attend JMU?
JMU provided me with a refreshing change of scenery. I love a challenge. The social and educational background I am accustomed to represents the majority. Making the choice to attend a university where I would be a minority was a leap of faith. 
What is your favorite aspect about JMU?
The people and culture is my favorite aspect. Every day there is something beautiful to see and a complete random act of kindness to witness. Also, there is no experience like being part of a minority who bonds like family.
What are your plans after you graduate from JMU?
I will be entering the Manager in Training Program at Kohl's where I will utilize the work experience and resources to earn my MBA in Management. 
What advice could you give to students during their college search process?
My advice is to go out of your comfort zone. Be enlightened by new experiences in order to go somewhere you never been before. Try something you have never done before. Also, find some students that attend your top choice schools and interact with them to get a complete understanding of those schools. 
My Three Words (description of my feels about JMU)
"Where Success Begins!"

800 South Main Street
Harrisonburg, VA 22807
Contact Us