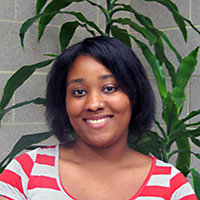 | | |
| --- | --- |
| Hometown: | Bronx, NY |
| Major/Minor:  | Criminal Justice |
| Graduation:       | 2014 |
| E-mail:        | Students4Minority@gmail.com |

Why did you choose to attend JMU?
James Madison University was such a positive environment when I visited. It made me feel welcomed and I knew it was where I wanted to attend college. 
What is your favorite aspect about JMU? Why?
My favorite aspect of JMU is the fact that we really are one big family. You can walk through the campus and speak to random people simply because they attend JMU.  
What are your plans after you graduate from JMU?
After graduation I plan to go into Law Enforcement. My ultimate plan is to become a Homicide Detective. I will start as a police officer to gain the hands on experience.
What advice could you give to students during their college search process? Why?
My advice to you is to choose what's right for you. Don't let anyone make your decision. That will leave you unhappy. Take advice from others, but the ultimate decision should be yours.
My Three Words (description of my feels about JMU)
Home, Welcoming, Strength

800 South Main Street
Harrisonburg, VA 22807
Contact Us