Unleashed: The Campaign for James Madison University
Alumni advocate for JMU at Unleashed  tour's trifecta of events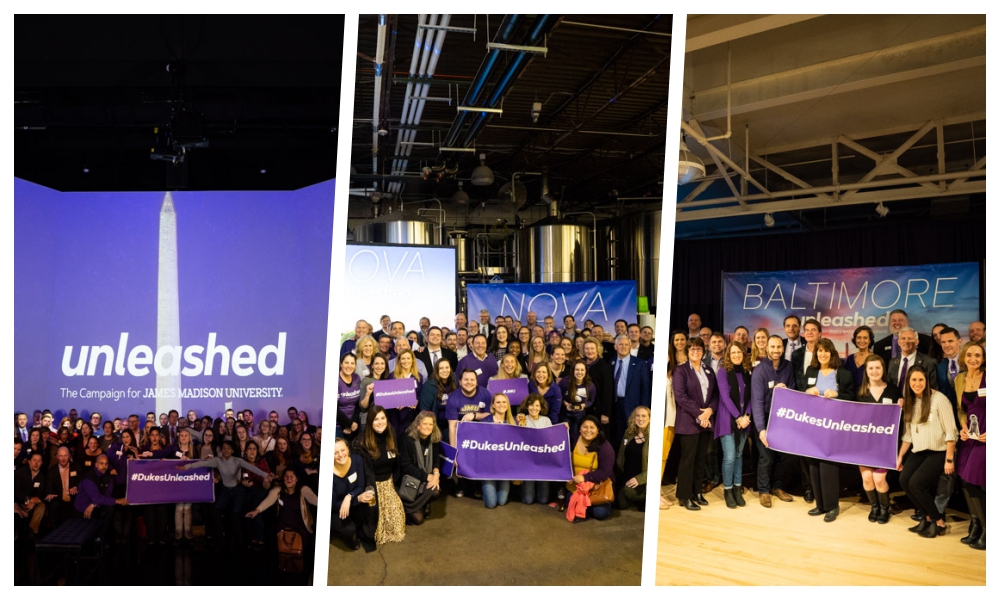 Hundreds of Dukes gather in three cities to wrap up the first leg of the Unleashed tour.

Unleashed: The Campaign for James Madison University is all about letting the world know what JMU is all about. The theme of needing all alumni and donors to contribute to an auspicious future for the university was met with resounding approval at this week's triple header of regional campaign events.
Unleashed continued its tour in Washington, D.C., Alexandria, Va., and Baltimore, Md., an area with plenty of JMU alumni and friends of the university, as it built on momentum from previous stops in Richmond, Va., and Atlanta, Ga.. The campaign's top priority is student scholarships.
JMU Unleashed Near You
JMU Dukes rocked the first leg of the Unleashed Tour this spring, so we're back on the road this fall!

Fall 2019 Tour Cities
New York City, Sept. 25
Philadelphia, Sept. 26
Charlotte, Oct. 2
Harrisonburg, Nov. 7 

Find Unleashed events near you.