Education
G.J. and Heather Hart make significant contribution to name school at JMU
---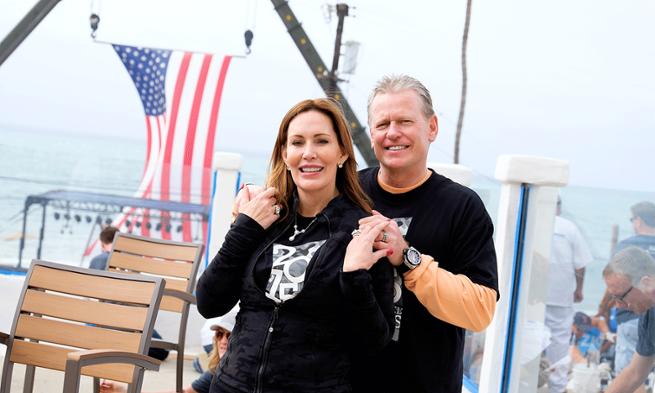 Shenandoah Valley native and James Madison University alumnus G.J. Hart and his wife, Heather, have announced a gift commitment of over $3 million to James Madison University. The Harts have designated their gift to name JMU's School of Hospitality, Sport and Recreation Management as the Hart School of Hospitality, Sport and Recreation Management.  Their gift represents the first named school at JMU. 
As a student at JMU, Hart worked full time at the Shenandoah Valley Poultry Company in Bridgewater, Va., to put himself through college and help pay the bills at home. Hart calls the experience "far from glamorous," but, he said, it was during those years toiling in the poultry plant that he learned many of the leadership lessons he has followed throughout his successful career in the hospitality industry.  Service, leadership and passion have characterized Hart's rise from poultry processor to executive chairman and chief executive officer of California Pizza Kitchen, an international chain of restaurants with more than 280 locations in the United States and 15 other countries.
"My hope for the School of Hospitality, Sport and Recreation Management is to become a world-class program, a program where we turn out students who are going to do great things in the world and they are going to do it with purpose," says G. J. Hart. 
The Harts expressed their hope that their gift would encourage others to follow suit.
"Our intention is that this gift might have others thinking about how can they give back to the university and make a long lasting imprint.  I would encourage everyone to think about it... We need to help our .young people be successful. And hopefully everyone will join with us," they said.
"James Madison University is extremely grateful for the Harts' investment in our community," said JMU President Jonathan R. Alger.  "G. J. and Heather's gift exemplifies the service, leadership and passion that they live out each day.  Their generosity will touch the lives of many in the Madison family for years to come."
Dr. Michael O'Fallon, director of the School of Hospitality, Sport and Recreation Management, says that the association with the Harts is invaluable to the university.
"G. J. Hart's investment of time and talent to James Madison University over the years has been instrumental to the success of our relatively young program," says O'Fallon.  "We are so pleased to partner with the Harts to bring even greater value and prestige to the school."
# # #