Unleashed
The Impact of Unleashed: The Campaign for James Madison University
---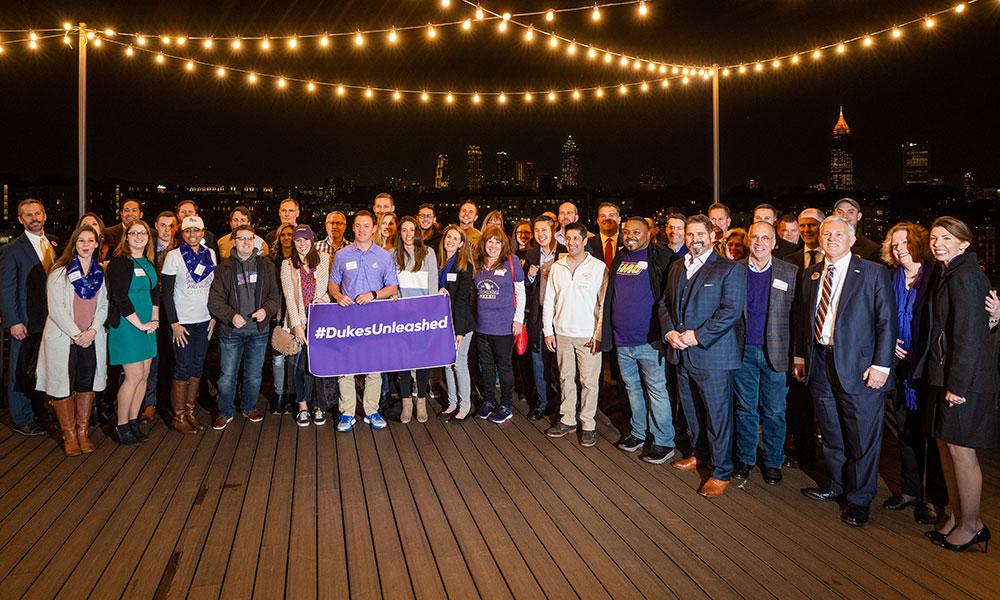 While it is often said that the most enduring tradition at James Madison University is change, one of our core principles has not changed since our founding. Our active vision statement, set forth in The Madison Plan, to become the national model of the engaged university — engaged with ideas and with the world — can be traced all the way back to this institution's inception. The first course catalog published in 1909 carries this passage written by our first president, Julian Burruss: 
" ... it is obvious that the work of the Normal School can no longer be confined to theory and books, but must seek its material in real things, in nature, in the practical activities of industry and commerce, the business, civic and social interests of life. Without depreciating the limitless stores of useful knowledge bound up in printed volumes, it must also draw from the outside world … " 
Our full lifespan as an institution of higher learning has distinguished itself in this way, uninterrupted for nearly 115 years. 
And now, JMU is at a major point of inflection in its continual evolution. During the 2021-22 academic year — the culminating year of Unleashed: The Campaign for James Madison University — we rose from a regional, master's-level institution to a national, doctoral/high research institution as established by the Carnegie Classification. In the last year of Unleashed, we arrived at the highest level of intercollegiate sports by joining the Football Bowl Subdivision and Sun Belt Conference. In the last year of Unleashed, graduates in the class of 2021 realized a positive career outcome rate of 95.8%, and student applications and enrollment for the incoming class of 2026 reached new records. And in the last year of Unleashed, generous donors smashed our previous annual fundraising record by 44% and exceeded the overall Unleashed campaign goal by 25% - generously investing more than a quarter-of-a-billion dollars in JMU! 
This miraculous confluence of accomplishments, all in one year, is no mere coincidence. Guided by a vision that our donors believe in, we've deliberately and diligently worked toward these goals. Clearly, investors saw the value and the potential ROI. 
To understand how incredible these triumphs truly are, they must be considered against the broader landscape of higher education nationally. Because of our new Carnegie Classification, JMU moved from the regional to the national category in the 2023 US News & World Report rankings, landing at #72 among public universities. At #72, we are in the company of longstanding state flagship institutions with annual operating budgets in the billions, while JMU spends just $680 million annually. Not only is this a testament to our excellence and committed stewardship, it's also a solid valuation assuring JMU benefactors — past, present and future — that their investments are wise and will pay strong dividends into the future. 
On a more human and relational level, the specific and positive impacts of those who supported Unleashed can be seen in the very real lives of students and faculty members, in gleaming new campus facilities aimed at learning, innovation, competition and convening, and in our strengthened ability to deliver programming comprising the unique and superior Madison Experience. 
And now that The Madison Plan and Unleashed have concluded successfully, what sort of future can James Madison University expect as a result? The university is now uniquely positioned in the higher education sector to truly become a national model, more fully realizing our vision. Our unshakable commitment to preserving the close relationships between students and faculty members — but now in the context of greater applied learning, research opportunities as we more fully blossom into a doctoral/high research university — is not only a strong differentiator in the higher education marketplace, it's an incredibly efficacious educational experience. So, to further guide us, initiatives such as these have begun in great earnest:
The JMU Office of Research and Scholarship is establishing a network of new interdisciplinary centers to serve and support faculty and student research and scholarship, and to be agents and advocates for faculty and student interests and secure new resources, partnerships and collaborations with industry and government. These efforts will make further gains on JMU's vision and mission. 

Premier campus learning and living environments — including Carrier Library and The Village residence halls — are being reimagined from the ground-up to accommodate new and more flexible styles of learning and living brought about by new technologies and disruptive — yet enlightening — experiences during the COVID-19 pandemic, ultimately preparing students for the new working world forever altered by these forces.

University Advancement, in concert with the Office of Admissions and the eight academic Colleges, will seek to more aggressively recruit the next generation of top students through a new series of scholarships aimed at attracting prospects who might not have previously considered (nor could afford) attending JMU. This initiative includes an elevated institutional commitment to making JMU a widely-recognized home for first-generation students.   

The James Madison Center for Civic Engagement, along with our continued involvement in numerous national organizations at the forefront of the nationwide dialogue regarding the rejuvenation of our ailing democracy, will rise to a new level of relevance and influence by implementing new, inclusive programming and establishing a unique civic learning community, the likes of which we believe are unprecedented in higher education.

The success of JMU Intercollegiate Athletics competing at the highest level will continue to distinguish the university among its new peers as an institution where strong academics and competitive athletics can complement one another and bring greater national recognition to the university.  
These are just a few of the initiatives that will be unleashed by the confidence our investors have instilled in us with their generous and necessary support during Unleashed: The Campaign for James Madison University. 
All of our recent successes, rankings and recognitions are clear data points that we are elevated as a community by the enduring trust Unleashed donors placed in us and in our efforts at JMU. While the impact of their support is everywhere you look on campus, the impact on society is even deeper and more broadly important. Impelled by our mission, "We are a community committed to preparing students to be educated and enlightened citizens who lead meaningful and productive lives," JMU is now in a stronger position to deliver to society more thoughtful and active citizens who are committed to Being the Change in everything they do.