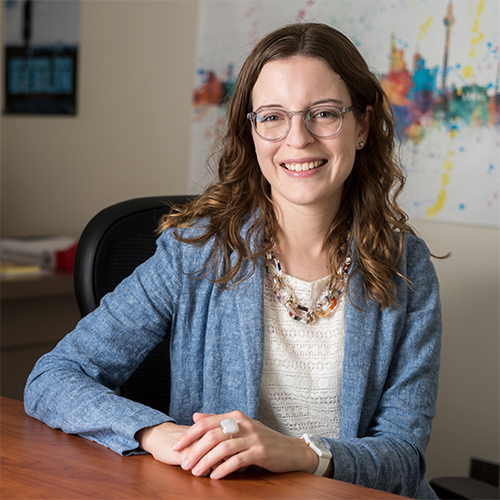 Holly Yanacek

Department: Foreign Language
Areas of expertise:
German Literature and Culture
History of Emotions
Human/Animal Studies
Robots and AI in Fiction
Historical Semantics
Holly Yanacek is assistant professor of German at JMU. Her research focuses on modern German literary and cultural history, emotion studies, gender, narrative, and human/non-human studies. She is currently completing her first monograph, provisionally titled "Rethinking Feeling: Nietzsche, Emotion, and fin-de-siècle German Literature." Yanacek is also co-editing a volume titled, "Feeling beyond the Human," which examines the affective relationships between humans and non-human animals, robots, and machines in modern German cultural history. She is a member of the Keywords Project (http://keywords.pitt.edu/) and, together with Colin MacCabe, co-edited the collaborative book Keywords for Today: A 21st-Century Vocabulary published by Oxford University Press in 2018. 
Yanacek earned her doctorate and master's in German studies at the University of Pittsburgh and her bachelor's in German at Heidelberg University. She also studied in Germany as a DAAD Undergraduate Scholar at Ruprecht-Karls-Universität Heidelberg and as a Fulbright Graduate Research Fellow at the Freie Universität Berlin.
Media contact: Ginny Cramer, cramervm@jmu.edu