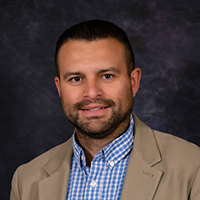 Jerry Weniger
Department: Health Professions
Areas of expertise:
Orthopedics & sports medicine
Musculoskeletal imaging
Physician assistant (PA) education and admissions
Medical malpractice
Weniger teaches graduate courses that cover sports medicine, orthopedics, emergency medicine, and diagnostic imaging techniques such as X-ray, CT, and MRI.  He also teaches clinical skills workshops on suturing, injections, venipuncture, ultrasound, splinting, and intubation.  Weniger has experience as a laboratory instructor for cadaver-based anatomy and also serves as a medico-legal consultant for malpractice cases involving PAs. 
Weniger has completed research on non-cognitive factors in PA program admissions and has secured over $960,000 in grant funding in his career.  He has been twice awarded a grant from the Health Services & Resources Administration (HRSA) to help combat opioid addiction and was also awarded a HRSA grant that facilitated a collaboration between the JMU PA program and a local free clinic. 
Weniger earned a bachelor's degree in health science/athletic training at Lock Haven University, a master's of education in sports medicine/athletic training at the University of Virginia; a master's of physician assistant studies at James Madison University; and a doctorate in higher education administration/educational leadership from Liberty University.
Media contact: Eric Gorton, gortonej@jmu.edu, 540-908-1760.