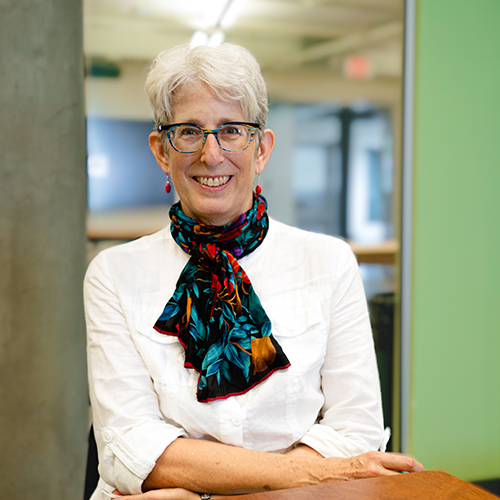 Maureen Shanahan
Department: School of Art, Design and Art History
Areas of expertise:
Twentieth century art history (especially re France)
Trauma studies (especially the legacy of World War I)
Gender, sexuality, race and anti-colonial analyses
Fernand Léger (1881-1955) – French artist
Simón Bolívar (1783-1830) – Latin American liberator, Venezuelan general
Gaëtan Gatian de Clérambault (1872-1934) – French photographer and police psychiatrist
Dr. Shanahan teaches: Modern Art to 1945 (ARTH 372); Modern Art after 1945 (ARTH 472); Survey of the History of World Art, Part II (Renaissance to Modern) (ARTH 206); topics courses that include: Women in Early Cinema (1890s-1940); Automatons, Robots & Cyborgs; Art & Trauma; Art & Activism.
Dr. Shanahan's research focuses on how the mass death, injury and shell shock produced by World War I (1914-1918) created a crisis of masculinity and a crisis in gender roles that could be felt and seen in society, especially in art and visual culture. As a lens into this experience, she has studied the French cubist artist Fernand Léger (1881-1955) who was a soldier during that war and whose postwar art (painting, book illustration, set and costume designs, film set design) imagine robotic figures and fantastical futuristic interiors. While many historians see such futurist manifestations in Léger's art and other machine modernisms as either fascistic or utopian, Dr. Shanahan's many articles and forthcoming book on Léger interpret his robotic figures from the 1920s as a means of suppressing grief and regulating feeling in order to serve the larger social goals of reconstruction.  Other machine modernisms of the era imagine impenetrable virile bodies that overcome the frailties of the organic body. Similar manifestations appear, she believes, in contemporary U.S. culture in our militarized superheroes. In a recent JMU exhibition and other scholarship, her research has expanded the inquiry about the trauma of the war to the study of French colonial soldiers and veterans, especially from North Africa. Represented in propaganda and documentary photography and film during and after the war, Africans became increasingly visible as soldiers and then workers in the Paris region and elsewhere in France. This visual culture shifts from wartime propaganda imagery and a discourse of fraternity to hierarchical and discriminatory racial practices and politics of social control. Another arena of research has been in the multiple modes of representation of Latin America's great liberator, Simón Bolívar (1783-1830), who was a symbol of liberation for Léger during World War II. Dr. Shanahan's co-edited book on Bolívar includes an international group of scholars who examine how Bolívar is both an iconic male hero and a sign whose meaning shifts according from one cultural context and era to another.
Her knowledge and analysis apply to larger themes of war, trauma, survival and resilience that are relevant to many cultural examples throughout the twentieth century and to our era. Drawing upon her depth of knowledge in trauma studies and the arts, her seminar classes have considered how Holocaust studies have expanded our understanding of historical trauma and its impact on successive generations, the conception of "founding trauma" that can forge group identity, the uses of symbolic reparations and truth and reconciliation commissions (e.g. South Africa, Chile) or lack thereof (e.g. U.S. re slavery or settler colonialism), the possibilities and limits of visual culture in representing traumatic events, the ways nation-states have or have not recognized their role in state-sanctioned terrorism or genocide (e.g. colonialism) that contradict and undermine republican values, and paradoxical cultural practices that want to honor veterans while simultaneously diminishing processes of brutalization and war's damage to dominant forms of masculinity. Throughout, her classes explore a wide range of visual culture, from monuments, museums and memorials to vanguard artistic practices to popular culture.
Dr. Shanahan earned a bachelor's degree in French and political science at Duke University, a law degree at Loyola Law School, Los Angeles, a master's degree in art history at University of Michigan, Ann Arbor and a doctorate in art history at University of Michigan, Ann Arbor.
Media contact: Ginny Cramer, cramervm@jmu.edu. (540) 568-5325.