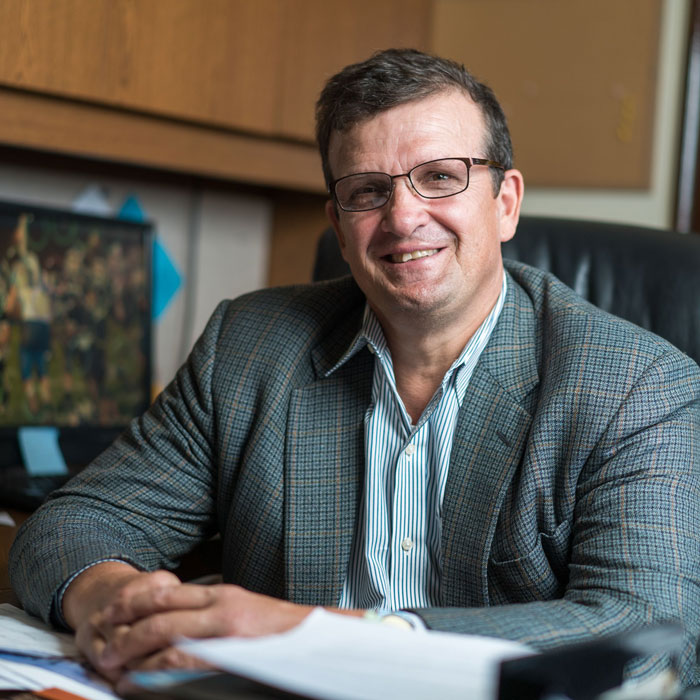 Ken Rutherford
Department: Political Science
Areas of expertise:
International Peacekeeping
International Security
African Politics
Conventional Weapons
Ken Rutherford is a professor of political science. He has served as the Director of JMU's Center for International Stabilization and Recovery, a Peace Corps Volunteer in Mauritania (1987-1989), a UNHCR Emergency Refugee Coordinator in Senegal (1989), a humanitarian emergency relief officer in northern Kenya and Somalia (1993), and as a Fulbright Scholar in Jordan (2005). 
Dr. Rutherford has delivered presentations in nearly 40 countries and has published in numerous academic and policy journals, including the Journal of International Law and Policy, World Politics and the Journal of International Politics. He has published five books:
America's Buried History: Landmines in the Civil War (Savas Beatie Press, April 2020);
Disarming States: The Global Movement to Ban Landmines, (Praeger Press, December 2010);
Humanitarianism Under Fire: The US and UN Intervention in Somalia, (Kumarian Press, 2008);
Human Security and Landmines: International Politics and War's Hidden Legacy, eds. with Richard Matthew and Bryan McDonald (State University of New York Press, 2004, paperback 2006);
Reframing the Agenda: The Impact of NGO and Middle Power Cooperation on International Security Policy, with Stefan Brem and Richard Mathew (Greenwood Press, 2003).
Dr. Rutherford teaches courses on international law, international laws of war, global disability rights, stability and recovery operations, and global politics.
He holds a doctorate in government from Georgetown University, and bachelor's and master's degrees from the University of Colorado, where he was inducted into its Hall for Distinguished alumni.  
Media contact: Ginny Cramer, cramervm@jmu.edu.