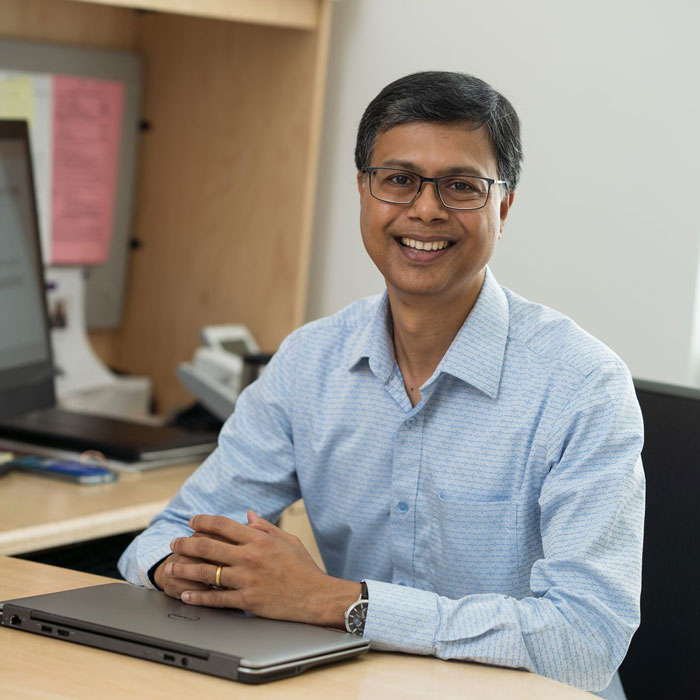 Ayasakanta Rout
Department: Communication Sciences and Disorders
Areas of expertise:
Benefit from amplification
Signal processing in hearing aids
Speech perception in individuals with hearing loss
Dr. Rout is director of the audiology program at JMU, the only doctoral Au.D. program in Virginia. His lab is the only university based lab in Virginia that researches hearing aids.

Hearing loss generally occurs gradually as people age and many people don't realize they are losing their hearing, he said. Chronic hearing loss is the third most common chronic physical condition in the U.S. behind arthritis and cardiovascular issues.

While nearly 38 million people have hearing loss, only one in five has hearing aids. Cost is the primary barrier preventing people from getting them, but new guidelines for a new category of over-the-counter hearing aids will be approved by the FDA in 2020 and are expected to cut costs from the thousands of dollars to the hundreds of dollars. These new changes could impact how and where individuals with hearing loss purchase their hearing aids.

The primary focus of the Hearing Aid Research Laboratory is to evaluate the benefits derived from high-end signal processing and user satisfaction with hearing aids. Other areas of research include perceived sound quality in individuals with cochlear hearing loss, and electroacoustic characteristics of hearing aids. The lab also works with the hearing aid industry to conduct efficacy and benchmarking studies on existing and emerging technologies.

In addition to research, the hearing aid laboratory is used for technical teaching in graduate level amplification courses.

Rout received his doctorate at Purdue University, his master's degree at All India Institute of Speech & Hearing, and his bachelor's degree at the National Institute for the Hearing Handicapped in India.
 
Media contact: Eric Gorton, gortonej@jmu.edu.