School of Professional & Continuing Education (SPCE)
Happy Anniversary, Lifelong Learning Institute!
Engaging and enriching the local community for 25 years.
---
After more than a year of distance learning, students and staff are celebrating recently announced plans to return to in-person classes in the fall. Adult students in the Lifelong Learning Institute have another reason to celebrate: this fall marks the silver anniversary of the program, which was founded at JMU in 1996.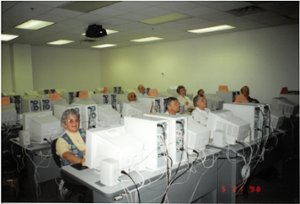 The first semester included four classes and attracted 96 participants. Today, LLI has grown to offer 100 non-credit courses per year to almost 800 students. Although designed to fulfill the educational needs of area retired adults, membership is open to all adult students, regardless of age or educational background. Curiosity and a love of learning are the only admission requirements.
PCE will kick-off a year-long celebration of the program's 25th Anniversary with a banquet hosted at the new Atlantic Union Bank Center on Thursday, October 14. Additional programs will be scheduled throughout the year, including memory parties that engage participants in looking back at photo archives while making plans for the future.
Sue Gee joined the LLI staff in 2007 and currently serves as Program Assistant. She's seen the program undergo various changes throughout the years, including relocating offices to Professional & Continuing Education in 2014. For Gee, two things have remained constant: the quality of classes and the deep sense of community and belonging among members.
"People enjoy getting to know one another as friends, co-volunteers, and classmates. I think they also feel comfortable and welcomed here," Gee said. "We're a learning community that's also very social."
For new members, Gee is the welcoming committee, the person they see and speak to first upon joining the program. She helps students navigate the registration and enrollment processes and get to know their new learning community.
Gee said people are often surprised to learn about how involved members are in the operation of the institution. "They help determine the curriculum, recruit new members, and develop plans for our social events and travel programs," Gee said. "People like having a say in how things get done." Gee said member involvement and leadership are big reasons why the program now has such a strong and stable foundation.
One of the volunteer committees that Gee supports is tasked with planning travel programs for members. Although LLI will resume in-person classes this fall, group travel will remain on hold until the spring 2022 semester.
Pat Haden, an LLI member who serves as co-chair of the planning committee, said the group is using this time to expand the capacity and reach of travel programs. "Our travel programs are very popular, so we often use every seat available. We're holding off on travel until all distancing requirements are lifted and will allow us to fill the bus. We'll still offer local walking tours and day trips, but members will be asked to provide their own transportation this fall."
Haden also expressed excitement about working with travel agencies to help expand LLI's domestic travel programs beyond regional bus tours to visiting more of the United States.
"We're excited about the prospects of our new partnerships. Our members are ready to see each other and see new places. The new program we're launching in spring will allow us to travel anywhere in the U.S. and Canada."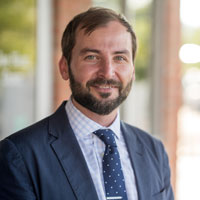 Rodney Wolfenbarger, LLI Director, said plans are also in place to resume international trips alongside the local walking tours, regional bus trips, and expanded domestic programs. He indicated that new programs would be offered in 2022 and 2023, with Greece and Ireland as leading locations. Recent destinations have included Cyprus, Turkey, and Italy.
Wolfenbarger also outlined the new approach to courses next semester. "Our members will have a choice of how they want to engage with our learning community. We will offer classes both in-person and online, so people can choose what works best for them."
"If there's anything good that resulted from the pandemic, it's that it forced us to rethink our service model. How do we reach those who can't come to campus? The sense of urgency accelerated our plans to launch online programs, and that year of practice helped us refine our process and delivery," Wolfenbarger said. "It was an investment in learning, and as a result we're more flexible and accessible than ever. We want to make sure we keep that door open even as we resume in-person classes. Many people prefer online learning, but some need that option to participate."
The fall schedule includes more than 30 classes at nominal cost and a series of noontime lectures that are free and open to the public. New additions to the curriculum include courses on the Irish famine; French Impressionists; African dance; the rise of China as a global power; Civil War, Reconstruction and Emancipation in the Shenandoah Valley; and critical race theory.
Membership is $20 per semester or $35 per year. The average course cost is $40. Classes typically meet two hours per week for five weeks. Course registration will open in July.
To learn more about the Lifelong Learning Institute, visit www.jmu.edu/lli, email lli@jmu.edu or call 540-568-2923.