Being the future
What it's like to forecast and help fund innovation as a family
News
---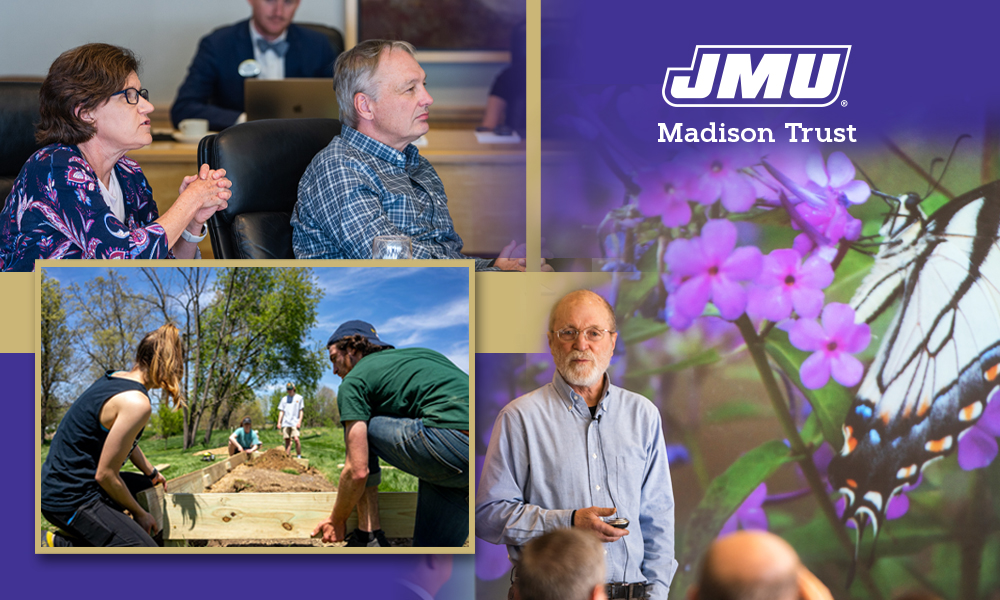 SUMMARY: Susan and Mark Sumner and their children, both JMU alumni, are shaping the university's direction and impact through Madison Trust.
---
More than 100 miles from JMU, Susan and Mark Sumner work at Virginia Tech in Blacksburg. With Mark in instructional technology and Susan serving as associate dean for the College of Agriculture and Life Sciences, the Sumners are always considering what's ahead for the science and practice of farming, both at their own school and around the world.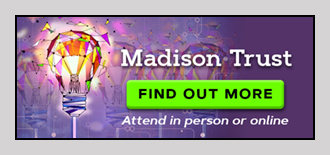 And what excited them about JMU's Madison Trust was the chance not just to see the future, but to be the future — and to do it in collaboration with the university where their children earned their undergraduate degrees.
A practical way to make a meaningful difference
"Our son and daughter benefitted immensely from JMU's emphasis on experiential learning," Susan explains. "We were impressed by the faculty's commitment. This high degree of interaction with each student built strong relationships. In fact, even into their careers, our children are still in touch with their JMU professors. We loved the concept of such dedicated faculty having the opportunity to present ideas and propose a budget for turning them into real-world innovations."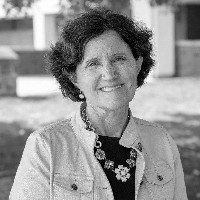 "Madison Trust keeps us connected with the school. We see tangible pieces of our donations becoming the future — helping JMU's stature grow so it can continue to attract high-caliber faculty ready to dedicate themselves to giving students experiences they'll value for the rest of their lives. Donating is exciting and it's meaningful. It's the future. So are we." 
Susan Sumner, PhD
Associate Dean and
Director of Academic Programs
Director of Agricultural Technology
Professor of Food Science & Tech.
College of Agriculture & Life Sciences
Virginia Tech
With Madison Trust, the Sumners have made a commitment to join other philanthropic investors in funding their choice (or choices) among the 10 projects presented each year. The entire family is involved in deciding which projects resonate and how much of their donation to allot to each.
The first time they attended Madison Trust, the Sumners divided their donation among many projects. Susan recalls that the Institute for Health and Human Services' Gus Bus Mobile Classroom was one of them.
"They were seeking funds to purchase 25 iPads for Harrisonburg students to use while aboard the Gus Bus. It was such a practical way to make a meaningful difference to these children's education — and future."
Over the years, the types of projects the Sumners have seen during the annual event have broadened.
"When we first became involved," Susan notes, "projects were focused on engineering a tool for doing something. Now, we're seeing projects involving leadership and taking ideas that work in the lab or classroom and showing the difference they can make out in the world as well."
Growing great ideas
In 2022, the Sumners decided to focus on just one program and put their entire contribution toward expanding the living laboratory on East Campus. The Hillside Meadow serves as a field site for studying plants, crops, soil and pollinators — all of which align with Mark and Susan's work in agriculture. Already, they're seeing last year's "seed money" for the living lab advance the study of everything from bees and monarch butterflies to how we'll feed future generations.
This spring, Madison Trust enters its 10th year. First-time donors will join with returning donors to choose among 10 merit-worthy projects to fund. The Sumners plan to be there, at the heart of innovation on campus and ready to engage with top thinkers coming at challenges and opportunities from all-new angles to enhance JMU's stature as a research university and partner to industry.
The family can't wait to see the new "crop" of projects — and where the future goes from here.
---
YOU ARE INVITED to attend the 2023 Madison Trust — to join the Sumners on our panel of philanthropic investors. We'll consider together this year's top 10 new projects proposed by JMU faculty, staff and students.
Friday, March 10, 9 a.m. to 4:30 p.m on campus or online
Since 2014, this annual funding event has launched nearly 100 innovations and is expected to surpass $1 million in total support this spring. Seats are limited, so sign up now to be a part of this major milestone.
---
Madison Trust is an initiative of University Advancement managed by the office of Corporate & Foundation Relations in collaboration with colleagues across the JMU campus.