Hart School of Hospitality, Sport and Recreation Management
The Hart School gets back in the game
---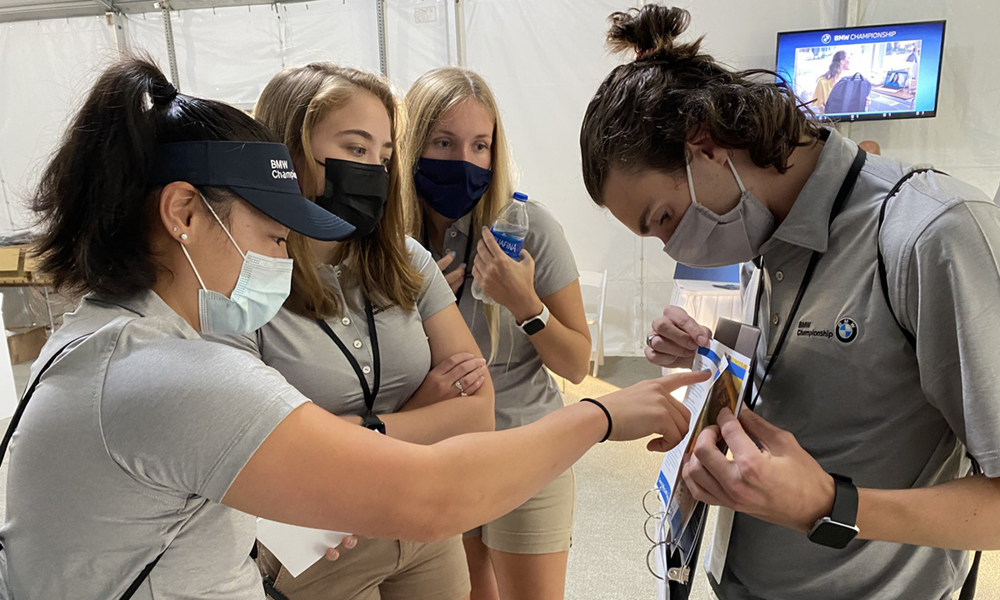 SUMMARY: Students in The Hart School of Hospitality, Sport and Recreation Management gain experience and skills from experiential learning trip.
---
(Above) Hart School students get hands-on experience as venue captains at the PGA Tour's 2021 BMW Championship
---
By Madeline Rohmeyer, student writer
The Hart School of Hospitality, Sport and Recreation Management at James Madison University is taking full advantage of the reemergence of the sports scene. Nineteen students, along with Professors Alyssa Bosley and Theresa Lind, had the opportunity to work at the PGA Tour's 2021 BMW Championship at Caves Valley Golf Club in Owings, Maryland, from August 26-29. This event was sponsored by the Western Golf Association and is one of three tournaments in the FedEx Cup Playoffs. 
The BMW Championship draws over 130,000 fans and over 100 corporate clients. Students of The Hart School had the opportunity to work behind the scenes as hospitality venue captains in order to plan and execute the event. The students acted as client service representatives, gained a broad understanding of the event's operations and built relationships with corporate clients.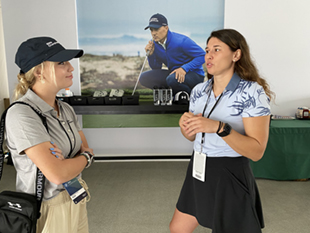 "Through my work as a venue captain, I had the opportunity to meet not just Western Golf Association employees, but corporate clients with whom I was able to network," said sport and recreation management major Jordan Weiner. "I made a great relationship with Chris Montagano with Western Golf Association/Evans Scholars Foundation, and he gave me great advice for my future as a professional and was an extremely helpful resource at the tournament." The business connections formed through this event are just as valuable as their on-the-job experiences. 
Hospitality management major Allie Selznick was one of three students placed in the corporate hospitality chalets on the 18th green. "I was able to meet with and learn from the corporate event planners from Under Armour and Western Golf Association employees while I assisted in their chalets," said Selznick. "Specifically, I met one woman from Under Armour who had the most impact. She is only three years older [than me] and is new to the job, so she was able to give advice that catered to me." 
Students were also presented with the chance to bring their classroom knowledge and abilities into a practical setting.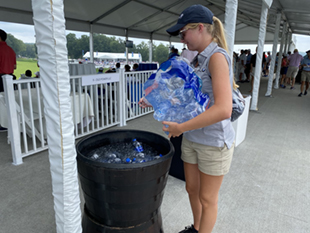 "Working with our site manager, I got to see a lot of the little things that make up the event that normal guests may not think of. I also got to see how much time and work goes into just one weekend of events. It has since made me look at other events more critically," said sports and recreation management major Erica Gratton. Gratton's ability to apply this knowledge will further benefit her in the industry and is precisely the experience students hope to gain from participating in an event such as this.
The opportunity to learn the internal operations of a sporting event of such magnitude is an example of the immeasurable value of The Hart School's experiential learning trips.
Professor Bosley said, "One of the most fulfilling parts of being an educator is seeing my students leave their comfort zone, build confidence, and make the most of opportunities. I'm proud of our students for representing themselves and the Hart School so well."