JMU Student Shares Stage with Alger in Japan
JMU Headlines
---
After an exciting week at the International Network of Universities (INU) Student Symposium in Hiroshima, Japan, Bella Santos ('25) found herself back at JMU, reflecting on all she had done. The highlight of the trip was the opportunity to speak directly to leaders of the 12 INU member universities, including JMU's own president, Jon Alger. She was selected to present after being nominated by her peers and completing a rigorous vetting process. The experience was nothing short of transformative, marking both her academic and her personal journeys.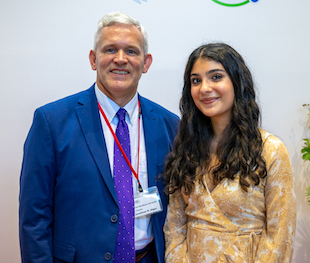 Founded in 1998, the INU is a consortium of universities from around the world that share common values, and actively seek new partnerships and experiences. JMU joined the consortium a year after its creation and has been an active participant in its programing ever since. This year, the INU's annual Student Symposium aligned with the Leader's Summit, a once-in-a-decade occurrence that happens when the INU's charter is renewed by the presidents, chancellors, and rectors of its member universities.
To take advantage of having both leaders and students together, Hiroshima University hosted a joint dialogue where a select few students, including Santos, were able to speak directly to their decision-makers. A rare platform for students to share the challenges they face, and the opportunity to express their future hopes and concerns.
Santos, a highly motivated political science and international affairs major, didn't quite know what to think about meeting Alger, "Honestly… I was like, not nervous to meet him, but I just didn't know what to expect." Her trepidation was quickly mollified once they got a chance to talk more. Santos was quick to note the interesting congruence of her experience with Alger's, "He actually shared that when he was in high school, he went abroad and studied in Japan, and that was a formative experience for him. He finds a lot of joy in being able to give students that opportunity as well." Even though this was not her first time traveling abroad, Santos was thankful for the support of JMU's Center for Global Engagement to fund her trip to Hiroshima to participate in the symposium.
"Experiences abroad in general are so transformative. Being able to learn about new cultures, or languages, or places is just so important in creating a broader worldview."
Bella Santos ('25)
Santos' experience in Japan did a lot more than bolster her resume, it changed her perspective on what students like her can accomplish around the world. That sentiment encapsulates a core goal of the INU's Student Symposium: to provide students with a working knowledge of global citizenship and peace with a focus on cross-disciplinary problem solving of political, social, and economic issues. Goals which ring true for Santos, "Experiences abroad in general are so transformative. Being able to learn about new cultures, or languages, or places is just so important in creating a broader worldview." Having a solid grasp of these concepts was especially important for Santos because it was her responsibility to distill the students' concerns, and voice them directly to the university leaders.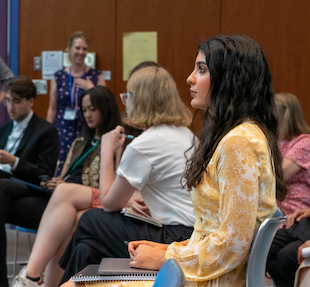 A responsibility she took very seriously. "There's a need for giving a platform to students" Santos explained, "There's only so much that we can do without university leadership to work with us and have that dialogue to be able to actually do something." For the students at the symposium, the chance to interact with university leaders was not about airing grievances, it was an opportunity for them to share their collective vision for the future with the people currently in charge of shaping it.
In addition to the INU events, this year's summit also aligned with the 78th anniversary of the atomic bombing. A time when the eyes of Japan, and the rest of the world, converged on Hiroshima to remember those who died, and to prevent another nuclear catastrophe from happening. Amid all this attention was Santos, standing as the voice of her peers, addressing the concerns they hold for the world.