M.A. in Political Science, European Union Policy Studies
Letter from the Director
---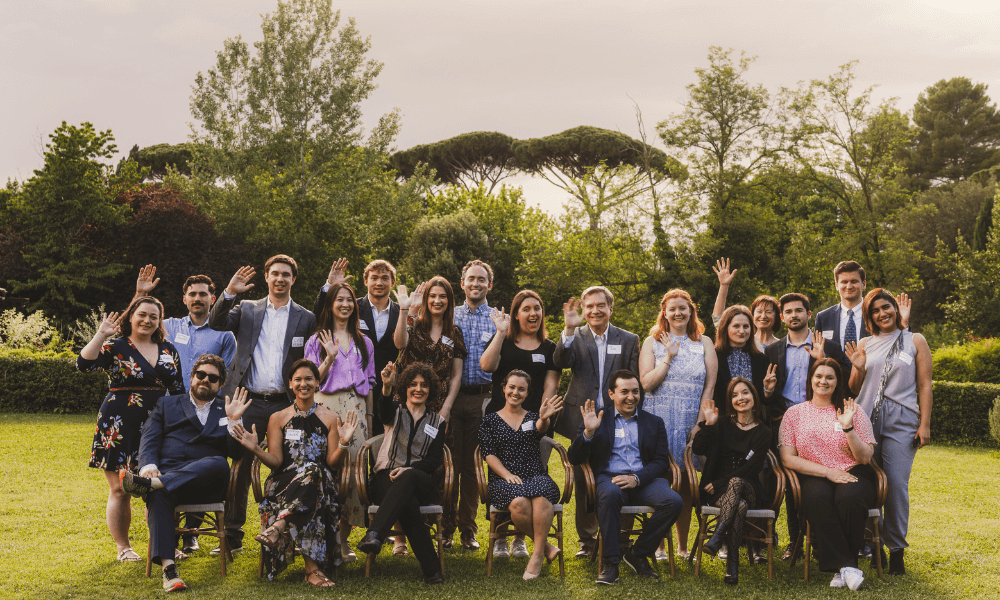 ---
Dear EUPS alumni and friends,
On May 12, we held our inaugural annual reunion events in Florence. In the afternoon, eight graduates served on two career panels in which our current students could benefit from their professional experiences. These panels reflected slices of the diverse organizational settings in which our alumni work — government agencies, contract-based consultancies, government affairs posts, research and advocacy nonprofits, social media communications, and business strategy and business development. In the early evening, these alumni and students gathered with our faculty and staff for a relaxing aperitivo at Chalet Fontana, on one of the hills between Santo Spirito and Piazzale Michelangelo. The many different conversations across the aperitivo served as a testimony to the energy and solidarity among the EUPS community that Caterina Paolucci, Chiara Martinelli, Jessica Adolino, and John Scherpereel have worked to cultivate from the start of this program forward, along with many other dedicated professionals over the initial fifteen years of this program. Please consider joining us on the second Friday of May in 2024 — or whenever you are next able to gather for this annual event.
The EUPS community continues to grow in breadth and depth. Over the past year, we had a large number of alumni working directly with our current students both online and in person. In the upcoming 2023-24 academic year, we will be holding a larger number of career panels during the first half of the program to introduce our students to more alumni even more quickly — which also provides a way for alumni in similar job sectors to expand their respective networks. In the fall 2023 semester, our program has been selected to participate in the U.S. Department of State's Diplomacy Lab initiative in which students will work with scholars in and beyond our program to support a strengthening of human rights and democracy in Montenegro. Next year we are also launching a new set of research assistantships in which ten students will each spend a few hours per week tracking policy developments on both sides of the Atlantic in various dimensions of economic and environmental policy as well as in the pursuit of democracy and transparency. Eighteen new EUPS students are now preparing to join this upcoming Class of 2024. 
The final step in their varied pre-departure orientation activities will be a pair of events with alumni on Thursday, August 17, 2023. First, we will hold a panel session in which several graduates will share their thoughts on how to make the most out of their upcoming year studying and living in Florence. That panel session will be followed by a reception for all of our program alumni and allies at the JMU Washington Center (1400 16th Street, NW, Suite 320) from 5pm to 7pm. If your geographic coordinates permit it, please go ahead and enter this on your calendar! 
This summer we are renewing and expanding the membership of our program Advisory Board. The Board supports existing programming that connects our graduates with fellow alums, with current students, with prospective students, and with social and professional events relevant to their interests — and it is also a key source of new ideas for programming to support our growing alumni network. For a description of the board's structure and of its membership expectations, visit: https://www.jmu.edu/eupolicystudies/advisory-board.shtml. That same URL has a link to the online application process. Applications to join the board for its upcoming three-year term are due by Friday, June 30, 2023.
All graduate programs rely on their faculty and staff to determine, refine, and revise curricular and co-curricular programming so that students receive an engaging and valuable set of learning experiences. These programs constitute the structure that frames and provides content to help our students grow professionally during their time in Florence. Our faculty and staff also aspire to provide the beating heart of this program by investing in our current students and in prior graduates alike. But these efforts can only come more fully to fruition when our current students and alumni also invest in the community — as our charter board members have done during their initial service on this board. I thank those who are rotating off the board and I look forward to a mix of continuing and new board members who will begin their work together this fall.
Beyond our board members, I am grateful for the many ways large and small that so many of you help each other, our current students, and our prospects for the future by sharing your professional experiences, by publicizing job openings and professional development opportunities, and by working hard in and beyond your jobs to try to contribute to the common good in your various ways throughout the year. I hope that everyone has a re-energizing summer and I hope to see as many of you as possible on August 17 in Washington. I also look forward to the valuable feedback that you can provide us with when we conduct our biannual Alumni Survey this fall.
Cordiali saluti, 
Charles Blake
---
Charles Blake has been a political science professor at JMU since 1992. He began teaching in the EUPS program in 2016 and has served as the director since January 2020. His research focuses on the politics of policymaking and on the pursuit of transparency in public administration.