News
The Beacon – 18th Edition – February 2022
Spotlighting Diversity, Equity and Inclusion at JMU
---

SUMMARY: The Beacon celebrates diversity, equity and inclusion at JMU by spotlighting upcoming engaging opportunities, highlighting campus initiatives and featuring individuals at the forefront of creating an inclusive community at JMU.
---
From the President's Desk: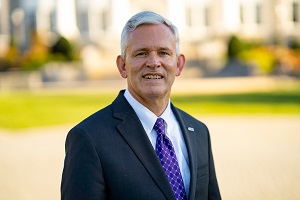 I wanted to highlight a few examples of strategic diversity, equity and inclusion (DEI) events and initiatives taking place during the 2021-22 academic year. Let me start by offering a word of heartfelt thanks to the Center for Multicultural Student Services (CMSS) for their leadership and coordination in creating another inspiring week of events celebrating the life of Dr. Martin Luther King, Jr. The MLK week events have become an important tradition at JMU as we remember the past, focus on the present and envision the future.
DEI efforts are occurring at every level across the entire university, thanks to the commitment of many individuals, offices, groups and organizations. This work is embedded in the University's Strategic Plan to ensure accountability. This past summer, for example, the Board of Visitors approved the addition of a strategic priority focused on DEI for this academic year. This priority of Embracing Diversity, Equity and Inclusion calls upon all divisions of the institution to participate actively as we "advance access and affordability for qualified students from all backgrounds, diligently removing obstacles to success." Within the Strategic Plan, there are a number of core qualities and university goals associated with this priority, including:
At the leadership level, the entire President's Cabinet has been focused on DEI work throughout the year.  Before the holiday break, the cabinet had a special meeting facilitated by members of Duke University's Truth and Racial Healing Team, led by Dr. Jayne Ifekwunigwe, to focus on team development around DEI themes and collaboration. We followed up on that meeting with another special engagement after the holiday break in which JMU alum Charles May, a member of the Task Force on Racial Equity who has worked with JMU in multiple capacities (including as a leader of the Ole School Alumni Group), led a strategic discussion based on elements of the TFRE's work to date and tied it to the Strategic Plan. We focused on how DEI transformation is occurring in every division, as well as on university-wide efforts, and on how to ensure that the emphasis on this work will continue to be prioritized in the months and years ahead.
We are especially pleased to have launched a national search for the newly configured position of Vice President for Diversity, Equity and Inclusion, which will report directly to me.  There is also a search underway for an Associate Provost for DEI in Academic Affairs.  We hope that both of these positions will be filled by this summer, which will help us to build upon the momentum from the work of the Task Force on Racial Equity and to respond to needs identified in the campus climate study that was conducted in Fall 2021.
As you can see, DEI work is a key area of focus for the entire university community, and we are making progress on multiple fronts thanks to the devotion and dedication of many people. This is a marathon, not a sprint, and I hope and expect that we will continue to keep up the good work across the entire institution so as to create a more welcoming, just, equitable and inclusive environment for individuals of all backgrounds. That is what it means to be JMU, and to live up the promise and potential of "We the People" in the fullest sense of that foundational phrase. 
With support and warm regards,
Jonathan Alger, President 
---
In this issue:
Broadening Your Horizons: 
Upcoming Events
Resources and Recent Recordings
The Beloved Community
BJ Bryson
Department of Social Work and CHBS DEI Director
Just Plain and Simple Love and Civility
Kevin White
Associate Athletic Director for Sports Programs
Finding a Solution
Ginger Barbour
SGA Diversity, Equity, Inclusion and Justice Chair
At the Forefront
Initiatives Making a Difference
Now Accepting Nominations and Applications