ESPN's College GameDay returns to JMU
Hart School students reap the benefits
News
---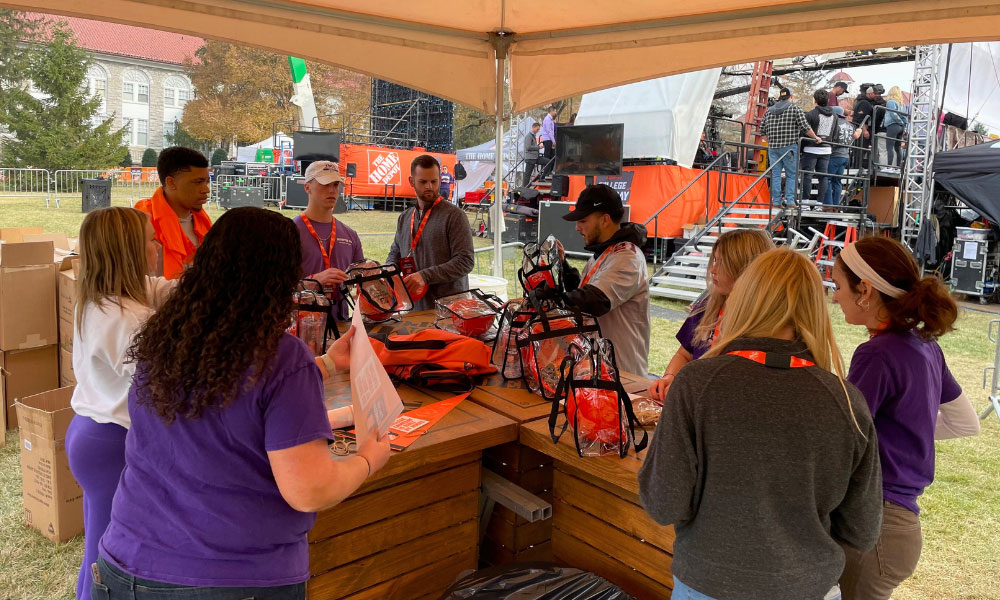 SUMMARY: Hart School students had the opportunity to volunteer and work College GameDay events, giving them a unique perspective.
---
The energy that ESPN's College GameDay brought to Harrisonburg was electric. The Dukes football team ran undefeated for ten weeks, prompting an outpouring of support across the country and driving College GameDay back to Harrisonburg for the first time since 2017. Students camped out to ensure their spot in the Pit, crafters united to make quirky, hilarious signs and the Jonas Brothers and Bailey Zimmerman performed for over 26,000 people gathered on the Quad to celebrate James Madison University and its multifaceted successes. 
While the campus was gearing up to host this massive event, Hart School of Hospitality, Sport and Recreation Management Lecturer, Alyssa Bosley ('07), sprung into action to secure her Sport and Recreation Management (SRM) students volunteer opportunities. She explained, "After learning JMU would be hosting College GameDay, I promptly reached out to J.W. Cannon ('98), a member of the Hart School Advisory Board, who…played a crucial role in the initial strategy and implementation of The Home Depot's sponsorship of ESPN's College GameDay." Leveraging his network, Cannon facilitated connections with the right individuals and within just 48 hours, Bosley successfully recruited Hart School volunteers "by utilizing social media outreach and making announcements in classes."
Twelve lucky SRM students quickly volunteered, securing their positions for both Friday and Saturday's events. Two students helped with GEICO's sponsorship activation initiatives, while the remaining 10 students assisted with The Home Depot's initiatives. "They actively participated as part of the behind-the-scenes team for college football's premiere pre-game show," said Bosley. 
"While volunteering, I helped with set up and tear down, and worked both the Pat Mcafee Show and events during GameDay Built by The Home Depot," said third-year SRM major Gaby Keppel. "During set up we helped put all of the barricade covers on, securing them with zip ties. On Friday I worked backstage setting up gift bags, on Saturday I helped with the backstage VIP/The Home Depot area and giveaway items, and on both Friday and Saturday, I worked the sign-making tent," she said.
The crowds drawn to JMU's Quad for ESPN's College GameDay were record breaking this year. With 26,000 people in attendance, the Hart School's student volunteers had no shortage of things to do or lessons to learn. SRM senior, Zach Hall, said, "The most valuable lesson I learned from this event was how important communication is. There were so many moving parts and effective communication is really needed in order for things to run smoothly." 
In a similar thread, Mackenzie Seifert, a junior SRM major, noted the sheer size of the crowd during her volunteer work. "I had to learn to work with all different kinds of people and I also learned to work in crowds of people," she said. "College GameDay is a huge event so working around all 26,000 people in attendance was kind of difficult."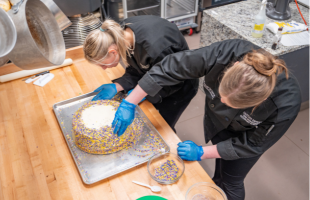 This past weekend's event also marked the 30th anniversary of College GameDay being on the road. In celebration of this milestone, the Hart School's culinary instructor, Donna Fickes, along with a few Hospitality Management students, baked a JMU-inspired cake to present to Lee Corso. 
The Hart School's student volunteers had an opportunity that allowed them to not only enjoy the arrival of College GameDay to campus, but partake in the events as students and workers. Bosely said, "The most valuable aspect for Hart School students participating in ESPN's College GameDay lies in the unique blend of experiential learning, networking opportunities and exposure to the inner workings of sport media and sponsorship. The hands-on experience and connections made during such events can significantly contribute to the students' personal and professional growth."
As College GameDay moves on, the experiences of this past weekend will continue to impact the students who volunteered as they continue their educational journeys and grow into their careers.
"Seeing how excited everyone was and their love for Harrisonburg/JMU made me realize how lucky I am to be a student at this university. This is hands down one of the top five experiences I have ever had in my life, and I am so fortunate to have received this opportunity," concluded Hall.
Friends, family, students, alumni and the whole JMU community rallied to support the Dukes and the university we call home. To call the past weekend a success would be an understatement.