Connecting the dots from major to minor
News
---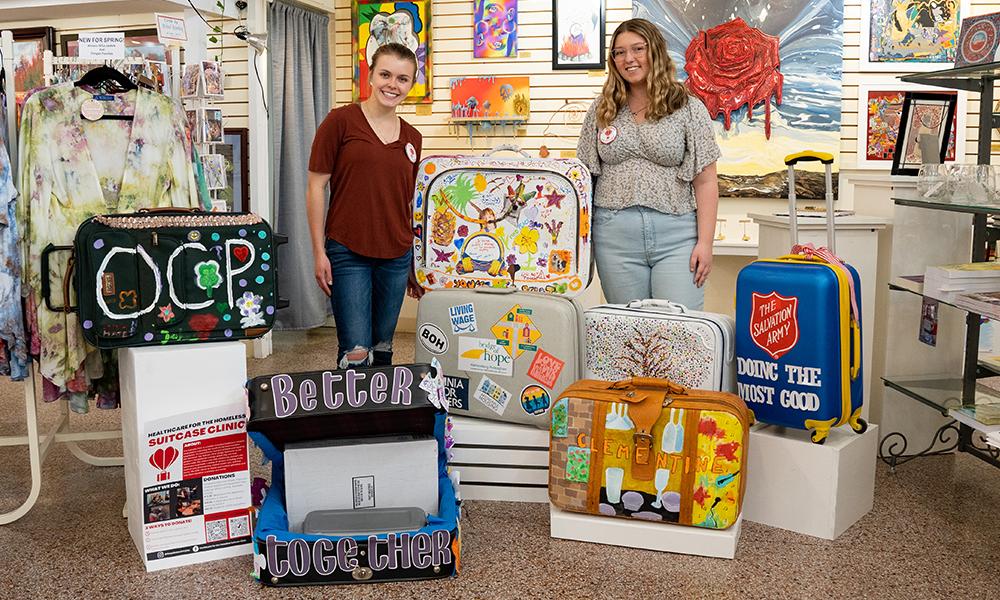 SUMMARY: Two General Business minor students are watching their class project come to life.
---
Engaged learning is key to JMU's vision, as we aim to be the national model for the engaged university. Throughout a student's time at JMU, it's likely they will encounter a class where some type of engagement with the community or a local business is required.
As a way to shape well-rounded, bright and engaged citizens, courses are sometimes combined within one interdisciplinary program of study. One example is The College of Health and Behavioral Studies' Health Services Administration major, which pairs its degree with a minor in General Business.
HSA majors, Katie Antonucci and Grayson Crow, both juniors, weren't expecting the outcome of their Principles of Marketing class (a required course in the General Business minor), but enjoyed the additional workload.
In the 2022 fall semester, professor of marketing, Steve Kozak, tasked his students with creating a marketing plan for a business. Antonucci and Crow, along with the other members of their group, decided to use the Great Community Give, a local event that promotes charitable giving directly to nonprofits in Harrisonburg and Rockingham County, as their business.
Crow said, "We interviewed Harrisonburg Downtown Renaissance and got the scoop on what could be improved with GCG. We knew how successful the event had been in past years, but knew improvements could be made." Antonucci continued, "We came up with three main goals for this year's GCG: hold events in-person; livestream the day for those who can't attend in-person but still want to participate; and recruit more volunteers from JMU's campus."
The students' semester concluded with a passing grade in their marketing course, but their work didn't end there.
Coincidentally, one of Crow and Antonucci's Health Services Administration professors, Katherine Harrison, was a board member for GCG and was intrigued by the mock-marketing work they had done the previous semester in their General Business minor course.
Harrison was quite familiar with the participants in the event, one of which is JMU's Suitcase Clinic. The Suitcase Clinic is a healthcare initiative that dedicates its time to providing the local homeless community with proper healthcare in a safe and secure setting. Their website explains, "Rather than functioning in a fixed clinical setting, the mobile services provided by the Suitcase Clinic allow clients to be seen by healthcare providers in private settings within various homeless shelter settings."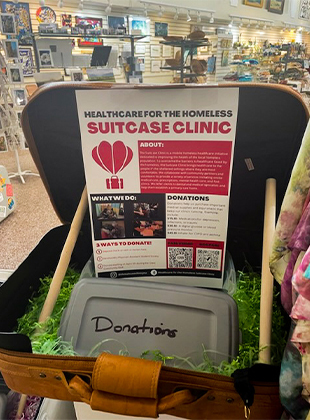 In January 2023, Harrison, Crow, Antonucci and Sharon Maiewski, director of the Suitcase Clinic, joined forces to raise awareness of the clinic's involvement in GCG. Maiewski was also familiar with the students' marketing project from the previous semester and asked them to be marketing directors for the Suitcase Clinic's campaign. Antonucci said, "We really wanted to raise awareness of the clinic's involvement and raise funds to support their efforts in providing healthcare to the homeless. We had the idea of involving the community outside of JMU by offering local businesses the opportunity to decorate their own suitcases and display them with donation bins."
Using the marketing skills they have acquired, Crow and Antonucci are managing the Suitcase Clinic's social media and promotion and have been liaisons between the clinic and participating businesses. The pair recruited 12 local businesses to decorate suitcases, giving each the creative liberty to decorate in whatever way they might choose. "It's been a lot of work, but it's been so rewarding to help the community," said Crow.
Although Crow and Antonucci aren't College of Business majors, they are getting a blend of health and business courses that will enhance the value of their degrees, while giving them a competitive edge. "It's giving us perspective into the things we will have to do in our future careers. Health administration can involve aspects of accounting and finance, like when you're doing invoices or handling a patient's insurance. You'll also need to understand aspects of marketing and management, especially when managing teams of health care providers. Learning these business principles sets us up for success no matter which path we take," said Antonucci.
Crow echoed the sentiment and said, "It's a perfect balance of the health field and supports my business interests. All of the classes in the General Business minor build upon each other and it makes it easy to 'connect the dots' from one lesson to the next. Paired with my health courses, it has made me stand out to potential employers and graduate schools."
Interdisciplinary learning allows students to explore multiple interests at the same time and the General Business minor offers students with non-BBA majors a foundation in basic business principles. The skills they develop can be applied in a myriad of disciplines to supplement credentials or increase job opportunities. 
Regardless of major, engagement values are woven throughout the Madison Experience. "It's been incredibly rewarding, despite being so busy," said Crow. "Seeing the JMU and Harrisonburg communities come together has been really cool."
Antonucci concluded, "This project has created a like-mindset around a good cause. The feedback we've received from all of the participants has been overwhelmingly positive. It went from an idea on a piece of paper to a real event that is coming to life."
The Great Community Give will take place on Wednesday, April 19 from 6:30 a.m. to 8:00 p.m., while early giving began on April 5 and continues. Participating businesses will have their decorated suitcases displayed throughout Downtown Harrisonburg until the culmination of the Great Community Give.