College of Business
Donors and dignitaries toast formal opening of CoB Learning Complex
---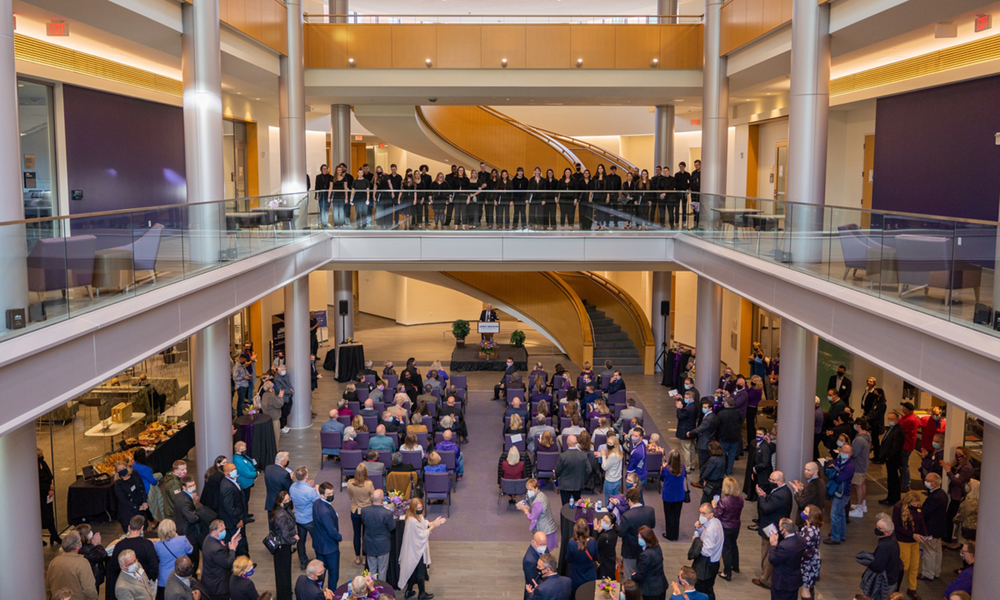 SUMMARY: Festive Homecoming Weekend ceremony marks final completion of major capital project.
---
The photographs from a decade ago are vivid evidence of how the rapid growth of James Madison University's College of Business was straining the capacity of the classrooms and offices in Showker Hall.
Named for Zane Showker–entrepreneur, philanthropist and the founder and owner of Harrisonburg Fruit and Produce (now Sysco Food Services of Virginia)–the building was designed in 1991 to accommodate 2,400 JMU business students. Twenty years later, the student census in the College of Business was more than double that, and something had to be done.
By the summer of 2020, the answer had arrived in the form of Hartman Hall, a new $66.5 million, 115,000 square-foot building that interconnects with Showker Hall. At that same time, Showker itself began to undergo a $19.9 million program of expansion and modernization.
With the November 5 Grand Opening, the two buildings now formally take their place as the twin cornerstones of the JMU College of Business Learning Complex.
"We've had a high-quality College of Business for some time–including top-notch faculty and students–and now we have the facilities to match," said JMU President Jonathan R. Alger in his remarks at the Grand Opening ceremony.
"We are open for business, and we are open to the world," Alger declared.
Many thanks go to the nearly 2,500 individuals and companies who made gifts of financial support. Among them are the "CoB 2020 Visionaries," each of whom had contributed at least $2,020 by the time Hartman Hall was ready to be occupied. At last count, total private giving for the Learning Complex project totaled some $19.7 million. 
"It feels like a give-back situation ... for all my JMU education did for me and our business."
Jim Hartman ('70, '00P), benefactor
The completed complex boasts more than 200,000 square feet of new or renovated space. Classrooms are state-of-the-art, and include desktop cameras, 4K projection screens and confidence monitors.
The eye of an arriving visitor is immediately drawn to the Gaglioti Capital Markets Laboratory. Originally installed in Showker in 2011, it has received a comprehensive makeover in the process of being moved to Hartman. Seating capacity has more than doubled, and the lab now includes an attached boardroom that can also function as a multi use area. It features 40 computer stations, eight 55-inch flat-panel displays and a 96-inch smart board.
Other highlights of the complex include the Major Innovation, Collaboration, Creativity and Entrepreneurship (ICE) Lab; a professional sales suite; a spacious first-floor atrium and a fourth-floor oculus with 360-degree views of the surrounding campus; and state-of-the-art collaborative learning spaces and study rooms throughout.
The complex "is a launching pad, sending students into internships, careers and a community of alumni," said student speaker Mya Baptiste at the Grand Opening.
Baptiste, a Centennial Scholar, member of the College of Business Student Advisory Council, JMU Honors Scholar, and president of JMU Women in Business and the Madison Venture Group, will graduate in May 2022 with a B.B.A. in finance. Then, she is on to New York City to begin work as an analyst in Citi Financial's Global Capital Markets group.
Citing the spiral staircase at the east end of Hartman's atrium as her personal favorite among the building's many attention-grabbing architectural features, Baptiste said she has already experienced myriad "notable moments" in the complex's special spaces–moments that will "continue to resonate throughout my life."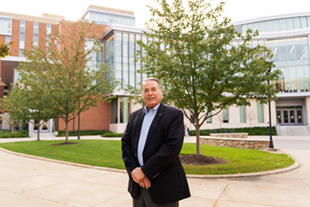 Following her to the podium was Jim Hartman ('70, '00P), whose family's $3.7 million donation to name the new building stands as the largest single cash gift in JMU's history. It was secured by close teamwork between University Advancement and retiring senior VP of Finance and Administration Charlie King.
Hartman, who received his BBA from JMU in 1970, said he regards his years at the university as having been critical to the success of his family's truck-dealership business because they "gave me a foundation."
He said the 50 years since his graduation–years in which he has witnessed the College of Business "grow in substance, stature and esteem"–have brought both change and an unwavering embrace of what matters most: professors who care about and push their students.
However, the definitive proof of the value of the JMU enterprise, Hartman said, resides with the university's alumni.
"Today we have graduates making their mark in business and corporations around the world," he said, noting that many of them are occupants of impressive C-suites.
"We also have successful entrepreneurs, and small and family business-owners … all of whom are making our economy and society grow," he added.
For Hartman, his wife, Carolyn ('00P), and their children Scott and Jennifer ('00), "it feels like a give-back situation," he said, "for all my JMU education did for me and our business."