College of Business
Retiring financial officer says complex surpasses expectations
---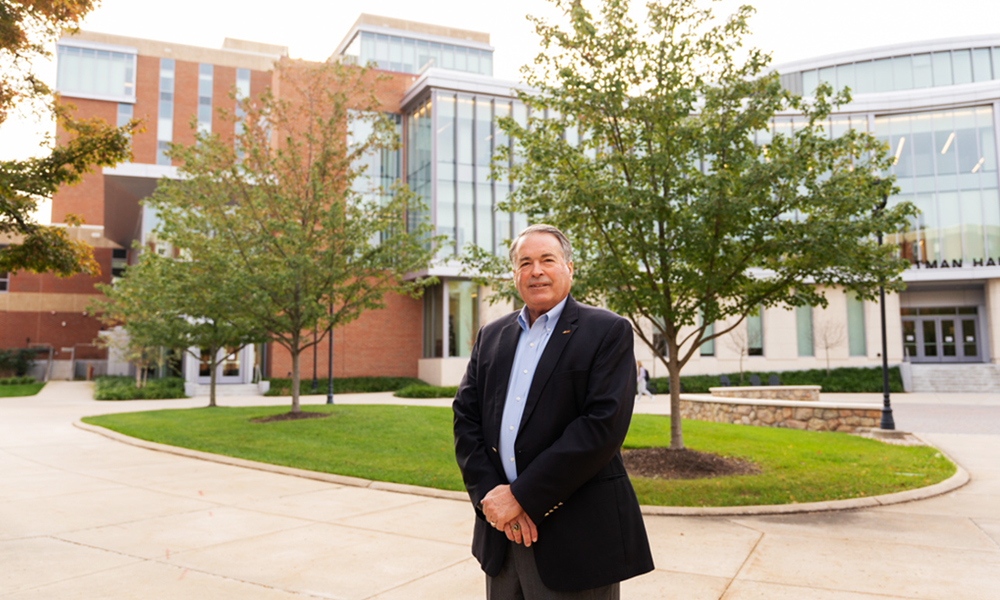 SUMMARY: Charlie King's behind-the-scenes work helped take the project from concept to completion.
---
For Charles W. King Jr., who steps aside this winter after more than 25 years at James Madison University, the opening of the College of Business Learning Complex is a fitting coda to a career that has also witnessed the completion of many other signature campus structures–including the Forbes Center for the Performing Arts, Bridgeforth Stadium and the Atlantic Union Bank Center.
Deft behind-the-scenes work by King, JMU's senior vice president for administration and finance, was "crucial in taking the complex from concept to completion," says Michael Busing, dean of the College of Business.
When King first approached the Virginia General Assembly for funding and approval, Busing says, he brought his bold vision of a partnership with University Advancement to inspire participation by individual donors.
"It spurred him to commit to a campaign to secure $15 million in private support," says Busing. "Then, during the final phase of the project, he assisted University Advancement in obtaining the naming gift from the Hartman family."
King arrived at JMU in 1996, after stints at Radford University and the University of North Carolina at Wilmington, when enrollment was barely half the current 23,000. The old convocation center was the lone outpost east of Interstate 81, with East Campus not yet built–or even imagined.
"It has all happened since I came here," King says. "I'm pretty proud of that."
Plans for the Learning Complex were first laid in 2016, when King and his staff were putting together JMU's biennial capital outlay request for the Virginia General Assembly.
Showker Hall was built in the late 1980s and early 1990s to consolidate what was then a highly fragmented College of Business footprint. By 2016, it was still one of the university's newer buildings. "So, for us to go to Richmond and say we wanted to expand it was a bit of a challenge," King says.
Yet expansion was clearly needed since Showker, a building designed for 2,400 students, now teemed with more than twice that many.
However, it became clear to King that "the only way we could secure funds for additional space was to show them we were willing to raise some private dollars," to supplement the Commonwealth of Virginia's appropriation.
King gathered with university leaders–including vice president for University Advancement Nick Langridge ('00, '07M, '14Ph.D.), then-provost Jerry Benson and CoB dean Busing, as well as Jarl Bliss ('84), a member of the College of Business Board of Advisors–to discuss how much private funding would be needed.
"We had done something similar when we built the Forbes Center," says King. "We agreed to put up $10 million, at a time when we hadn't ever put up money for a building before."
Several members of the group wanted to commit to raising $18-$20 million for the Learning Complex. Thanks to the success of the Forbes Center campaign, JMU had a track record for delivering, but King was worried about overreach.
Ultimately, $15 million was agreed upon as JMU's contribution, and the project received the hoped-for approval from the General Assembly.
Then, it fell to Langridge and his team to raise the needed funds.
"We knew it would take some time to secure those private gifts," says King, "but we didn't want to delay the construction of the building."
As part of the agreement with the state, the $15 million in private donations had to be spent before any public funds could be disbursed.
Fortunately, JMU's auxiliary reserves were of sufficient size that King could lend $15 million to the project–with the caveat that the money taken out of the treasury be paid back with interest.
King also partnered with University Advancement to reach out to Jim ('70, '00P) and Carolyn ('00P) Hartman. The Hartmans' $3.7 million gift–the single largest cash gift in the university's history–helped make possible the construction of the new 115,000 square foot building that bears their name.
"I have a lot of relationships in the community, and on occasion I'd mention to this person or that person that there would be an opportunity to name the building," King says. "Later on, I helped set up a meeting with Nick Langridge and the Hartmans to work out the details."
King describes the College of Business Learning Complex as "the flagship of college business schools in the Southeast, if not nationwide."
"We took our time, and involved a lot of people," he says. "We told them, 'we want to provide a building on which the users have given us input, so that when they get it, they've got what they want.' I think we've accomplished that."
King says he's especially pleased with the high degree of integration that exists between the new Hartman Hall and the updated and refurbished Showker Hall.
"You don't know when you're leaving one and entering the other," he says. "It was purposely done that way, to help communicate that what we have now is one big complex for all our business majors."
"The students should be extremely proud," says King.