//www.jmu.edu/_images/civic/big-jimmy-lead-full-width-image.jpg
The Civicist
Civic Engagement
The Civicist: October 2020
October 2020
---
SUMMARY: Newsletter of the James Madison Center for Civic Engagement & Dukes Vote
---

Our mission is to educate and inspire people to address public issues and cultivate a just and inclusive democracy.

Share your civic work and opportunities with us!
Meet Our Team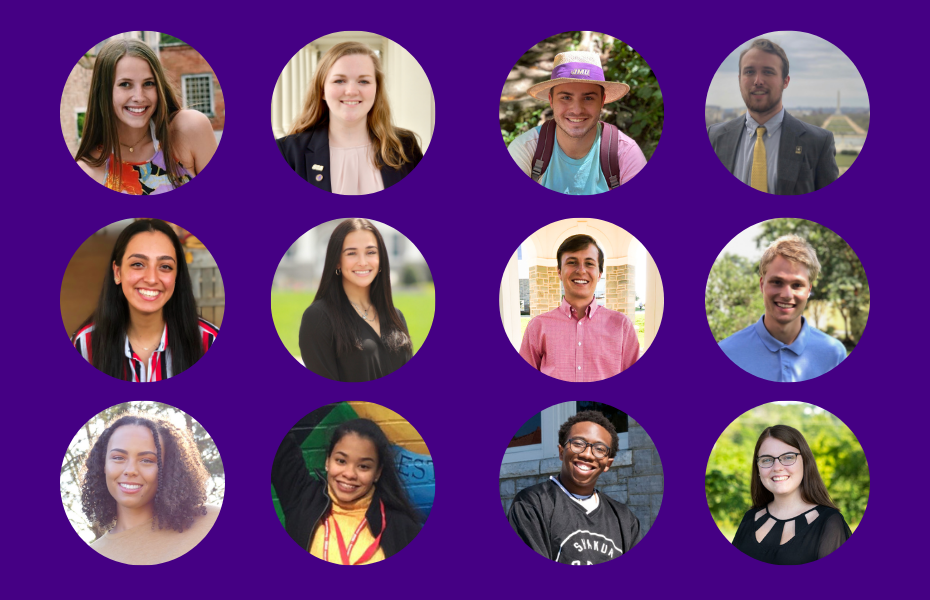 JMU Civic welcomes our undergraduate Democracy Fellows for the 2020-2021 academic year: Emily Baker (JMU '21, Political Science and English), Anna Connole (JMU '21, Political Science and Communications), Charles Connor (JMU '23, Political Science & History), Kyle Ford (JMU '21, Economics), Nadiya Khaydari (JMU '22, Political Science and Economics), Nikki Oppenheimer (JMU '22, Marketing),  Drew Persinger (JMU '21, Political Science), Ryan Ritter (JMU '23, History and International Affairs), Katrina Tilley (JMU '21, Public Policy & Administration and Media Arts & Design), Mary Tolentino (JMU '23, Health Sciences), Kyel Towler (JMU '21, Human Resource Development), and Katelyn Waltemyer (JMU '21, Media Arts & Design). Read more about our amazing fellows here. 
Sarah Gully (JMU '21 MS, Sports & Recreation Leadership) has returned as our Graduate Assistant. Angelina Clapp (JMU '20, Public Policy and Administration), who was previously an undergraduate Democracy Fellow, has joined us as the Democracy Program Fellow this year. 
Former Pittsburgh Steelers linebacker and nine-year NFL Veteran Arthur Moats (JMU '12, Political Science) has joined JMU Civic's External Advisory Council. He has continued to stay in touch with the JMU community including being one of the guests on our Athletics and Social Justice town hall in July. Read about all of our Advisory Council Members here.
Elections and Voting
Only a little over a month until the Election and early voting has already begun!

Dukes Vote needs you! Voting is one of the most important ways to participate in our democracy. Your voice and your vote matter in elections and beyond. Here's important information on how to register and vote in upcoming elections: 
Register to vote and check voter registration. In Virginia, visit https://vote.elections.virginia.gov/thirdparty/DukesVote. Out-of-state students, visit https://jmu.turbovote.org/.
As a student, you have a choice of where to vote. You may use either your JMU address or your "permanent address." Just be sure to register where you want to vote and vote where you are registered.
Vote early in-person at the local voter registration office where you are registered. For a list of offices in Virginia localities, click here.
Request an absentee ballot before the deadline from the local registrar where you are registered and return your ballot by mail. In Virginia, the deadline to request an absentee ballot by mail is October 23. 
If you are displaced due to the COVID pandemic or for any other reason, you may update your voter registration if it is before the registration deadline (10/13 in Virginia) to reflect your change in living address and then vote in person or by mail at that address. You may also vote early or request an absentee ballot for the address at which you were registered prior to displacement. 
More information about voting and frequently asked questions can be found in our Voting FAQs or contact us at civic@jmu.edu.
Attn JMU Faculty: We are offering virtual, nonpartisan voter registration and education class visits this semester with our trained volunteers. Please complete this form if you would like to schedule a 7-minute virtual visit at the beginning or end of your scheduled class periods.
Host a text "canvassing" event! Join JMU Civic & Dukes Vote as we text thousands of students and friends to help them register and vote safely this fall! You'll use Outvote, a relational organizing app, to text your contacts. We've made it easy with pre-set nonpartisan messages and links. Click here to download instructions.

2020 Census
There's only a few days left to complete the 2020 Census! Did you know that completing the census is your civic responsibility? It's in the Constitution! 
The census matters because it provides data necessary to: 
Redraw Congressional and state legislative districts, school districts, and voting precincts

Determine student loans and Pell Grants

Fund improvements to bus routes

Attract businesses to Harrisonburg 

Inform faculty and student research

For every Virginia resident who does not fill out the census, their community will lose $2,000 per year or $20,000 over a decade. 
Even if you were not in Harrisonburg because of temporary closures due to COVID-19 closures, complete the census using your housing address in Harrisonburg where you would have been on April 1, 2020. 
Your census response matters for our democracy and for our economy. Complete the form here. Our community is counting on you! 
New Resources
Dr. Rebecca Brannon, associate professor of history at JMU, reflects on the concerns of our founding fathers as she writes about how age and mental fitness play a role in the selection of presidential candidates. Read the full article from the Washington Post here.  
JMU associate professor Dr. Carole Nash shares her research on the complex histories of Indigenous communities throughout the Shenandoah Valley in a report. Learn more here.
JMU professor of women, gender, and sexuality studies and African, African American, and diaspora studies Dr. Besi Muhonja explores the critical ideas and ideals of Nobel Peace Laureate Wangari Muta Maathai in her new book Radical Utu.
Listen to Harrisonburg 360, a podcast project created by JMU students with JMU English assistant professor Dr. Allison Fagan to capture and record narratives of immigrants living in the Harrisonburg community.
In her new book, The Other Madisons, Dr. Bettye Kearse, author and descendent of a descendant of the enslaved cook Coreen and her owner, and half-brother, President James Madison, writes the forgotten story of her family while confronting the abuses of slavery. Learn more here.
Democracy Program Fellow Angelina Clapp (JMU '20, Political Science) spoke with JMU X-Labs podcast "Narratives" about how students can increase diversity and inclusion on campus, and the different voter engagement initiatives JMU Civic is planning for Fall.
Democracy Matters Podcast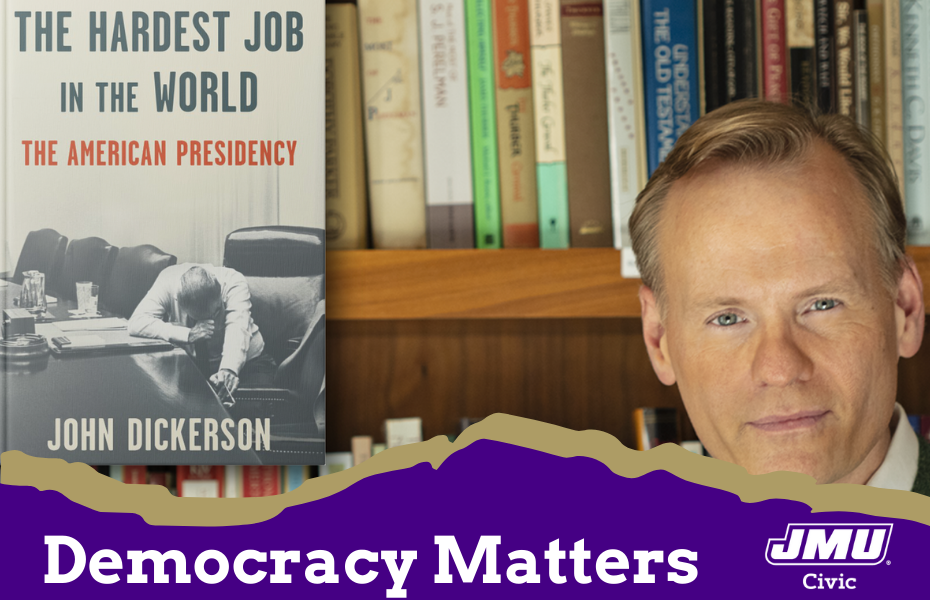 Listen and subscribe to JMU Civic's podcast Democracy Matters here or on iTunes, Google Podcasts, RadioPublic, Stitcher, and Spotify. Democracy Matters is a member of The Democracy Group. Recent guests include:
Libertarian Party presidential candidate Dr. Jo Jorgensen 
CBS News Correspondent John Dickerson on his new book, The Hardest Job in the World: The American Presidency
Deb Otis from Fair Vote on Ranked Choice Voting
The former speechwriter for President Obama David Litt on his new book, Democracy in one Book or Less: How it Works, Why it Doesn't, and Why Fixing it is Easier than You Think
Virginia House of Delegates Representative Schuyler VanValkenburg on civic education and political participation
Director Todd Drezner on his documentary, "The Campaign of Miner Bo," which documents Bo Copley's bid for the Republican nomination for U.S. Senate in 2018.
Out and About
JMU Civic joined and presented at the Civic Learning and Democratic Engagement Meeting, sponsored by the American Democracy Project and NASPA. Students: Anna Connole (JMU '21), Joshua Gray (UMBC), Lauren Hassen (Moraine Valley Community College), and Nina Bundy (Towson) all were panelists in the interactive working session: The Theory of Change and Moving Forward.  Read their call to action here.
JMU Residence Life Director of Learning Initiatives Jordan Todd, Ryan Ritter (JMU '23 History and International Affairs), and JMU Civic Associate Director Dr. Carah Ong Whaley joined as presenters in a discussion on ways to address racial inequities within higher education.
JMU Civic Democracy Fellow and Campus Vote Project Fellow Anna Connole (JMU '21, Political Science and Communication Studies) spoke about voter education and engagement and campus free expression on a webinar organized by the Bipartisan Policy Center on Constitution Day.
JMU Civic Executive Director, Dr. Abe Goldberg, served on a plenary panel called Reclaiming Our Civic Purpose at the Campus Compact 20 National Meeting, along with contributors of the recently published book Democracy, Civic Engagement, and Citizenship in Higher Education: Reclaiming our Civic Purpose.  Abe also served on a panel at the 2020 Civic Learning and Democratic Engagement (CLDE) virtual meeting called Shaping Dialogues to Generate Ideas and Support for Strengthening Campus Democratic Engagement.
Congratulations to JMU School of Media Arts & Design assistant professor Adrienne Hooker, WRTC faculty Cathy Copeland, and JMU Civic associate director Dr. Carah Ong Whaley for being awarded Project Pericles Engagement Fellowships (PVEFs), for their JMU Civic & JMU X-Labs course, Hacking for Democracy: #2020Elections.
JMU Civic Associate Director Dr. Carah Ong Whaley, Ethan Gardner (JMU '20, Public Policy) and Aaliyah McLean (JMU '20, Communications) presented in the Campus Compact Summer Virtual Webinar Series on our nonpartisan campus-wide student-led civic engagement initiatives. Find the recording along with our presentation slides here.
Upcoming Events & Opportunities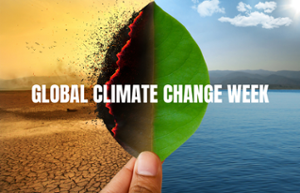 October 12-21 is Global Climate Change Week. Join Justice Studies as they host virtual film screenings and discussions about how to engage in more just, healthy, and sustainable relationships with our planet and each other. 
Join us on October 14 at 6:30 p.m. for a virtual town all with candidates for Harrisonburg City Council.
JMU's Center for Faculty Innovation is offering an online workshop, "Microaggressions in Everyday Life: What Are They and How Can I Intervene?," on October 26 from 3:00 p.m. - 4:30 p.m., and October 27 from 3:00 p.m. - 4:30 p.m.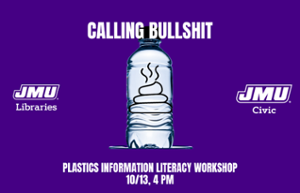 Alyssa Young (JMU Libraries), SMAD assistant professor Ryan Alessi and JMU Civic Associate Director Dr. Carah Ong Whaley will host a "Calling Bullshit" science information workshop on October 13 from 4:00 p.m. - 5:00 p.m. as part of JMU Justice Studies' Global Climate Change Week. Register in advance here. 
Tune in with us for live discussions during presidential debates on Discord on October 7 (Vice Presidential Debate), October 15, and October 22. Read the First Presidential Debate Primer by students in Hacking4Democracy Elections 2020 course. More info here.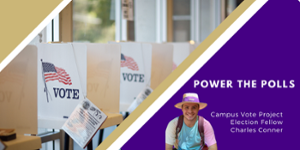 Power the Polls! Join Campus Vote Project Election Fellow Charles Conner, Campus Election Engagement Project and JMU Civic as we talk about the need for poll workers for the 2020 Elections, how to become an Election Officer, and the benefits it has for both you ($) and your community! We'll also discuss the importance of being a voter and there may even be a celebrity cameo!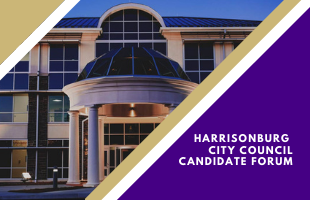 Join us for a Facebook Live discussion on October 14 with candidates for Harrisonburg City Council. Candidates on the ballot in 2020 include: Laura Dent, Charles Hendricks, George Hirschmann, Kathleen Kelley and Mayor Deanna Reed.
JMU Civic Work in the News
JMU President, Jonathan Alger, and Swarthmore College President, Valerie Smith, make the case for the role of higher education in building the awareness, capacity, skills, and agency of students by giving them opportunities to engage in collective efforts to redress long-standing injustices and solve pressing societal problems. Read the full article here encouraging colleges and universities to join the ALL IN Campus Democracy Challenge on Forbes. 
JMU Civic Associate Director Dr. Carah Ong Whaley spoke to the Virginia Mercury about barriers and challenges to the 2020 Census and to NBC12 about how student privacy law may undermine census count. As well as Inside Higher Ed about ways colleges can account for lower Census participation among students.
JMU Civic graduate assistant, Sarah Gully, shared her experience registering students to vote during the first week of classes with VA Dogwood. 
Virtual Town Hall with Dr. Jo Jorgensen
Libertarian Party presidential candidate Dr. Jo Jorgensen joined JMU Civic and Dukes Vote for a virtual town hall and discussion about a range of issues including the COVID-19 public health crisis, the economy, government spending, care for veterans, education, and more.
Virtual Town Hall with Green Party Presidential Ticket
Green Party presidential candidate Howie Hawkins and vice-presidential candidate Angela Walker joined JMU Civic, and Volunteer Democracy Fellow Charlie Jones to discuss public policy, barriers for third party candidates, and electoral reforms.
Virtual Town Hall with Ben Cline
Congressman Ben Cline (Virginia 6th District) joined JMU Civic and JMU College Republicans Chair, Wyatt Belvins, and Second Vice Chair, Juliana McGrath, to discuss issues concerning constituents ahead of the November elections including criminal justice and education.
Virtual Town Hall with Nick Betts
Nick Betts, Democratic candidate for Virginia's 6th Congressional district joined JMU Civic and JMU Democrats for a virtual town hall on the COVID-19 pandemic, the environment, education, and criminal justice reform.
Virtual Town Hall with Delegate Cia Price on Amendment One
Constitution Day
Did you know furniture at James Madison University, like most Virginia public institutions, is made by incarcerated individuals? For Constitution Day 2020, Angelina Clapp (JMU '20, Political Science), Kyel Towler (JMU '21, Communication Studies), and Ryan Ritter (JMU '22, History and International Affairs) discussed their new paper, "'Slaves of the State': 13th Amendment, mass incarceration and the prison industrial complex." 
Ending systemic racism & creating an inclusive society
Dr. Amy Lewis, JMU School of Music; Dr. Terry Beitzel, JMU Justice Studies and Director of The Mahatma Gandhi Center; Jordan Todd, JMU - Office of Residence Life; Norman Jones, Student Representative to JMU Board of Visitors; Aaliyah McLean, Academic Affairs Racial Equity Coordinator; Kendallee Walker, Chair of Diversity and Inclusion, Student Government Association [JMU]; Noa Bank Greene, President of The JMU Branch of NAACP; and Kyel Towler, JMU Black Student Alliance discussed the history of systemic racism and actions we can take on campus at JMU and in Harrisonburg to end racism and white supremacy and to create a more inclusive and just society. 
Rethinking Policing
On June 10, Harrisonburg Chief of Police Eric English; JMU Campus Police Chief Kevin Lanoue; Dr. Ben Blankenship, Assistant Professor, JMU Psychology; Daerenz Lyons, Vice President of The JMU Branch of NAACP; and Leeyah Jackson, Communications Specialist of JMU Civic & Dukes Vote discussed ways to rethink policing and rebuild community trust in the wake of police violence. 
Antiracism and Black Agency through Visual & Performing Arts
Dr. Joanne Gabbin, Executive Director of the Furious Flower Poetry Center; Dr. David Berry, Chair of Music at Eastern Mennonite University; Anastaciya Wheeler, Women of Color; Dr. Lauren K. Alleyne, Associate Director of the Furious Flower Poetry Center; Dr. Adérónké Adésolá Adésànyà, Associate Professor of Art History at JMU School of Art, Design and Art History; and Dr. Maureen Shanahan, Art History Area Coordinator and Professor of Art History at JMU School of Art, Design and Art History shared music, spoken word, and poetry, and discussed how visual and performing arts are used for anti-racism and black agency.
Athletics and Social Justice
JMU athletics department including James Madison University Director of Athletics Jeff Bourne, JMU alumni & linebacker for the Buffalo Bills, Pittsburgh Steelers, and Arizona Cardinals Arthur Moats, Faculty Athletic Representative & JMU School of Media Arts & Design Roger Soenksen, JMU Track & Field Head Coach Ta' Frias, JMU Women's Basketball Student-Athlete Nikki Oppenheimer, and JMU Football Student-Athlete Semaj Sorhaindo discussed how those in athletics can act against racism and for social justice. 
Antiracism and Social Justice Education Workshops
Throughout July, JMU Civic hosted anti-racism and social justice education workshops to incorporate antiracism and social justice pedagogy into courses across disciplines and in programming.  We thank all of those who facilitated and shared their expertise, including Dr. Amy Lewis, Dr. Kala Melchiori, Dr. Case Watkins, Dr. Jamie Williams, Nicole Wilson, Dr. Rebecca Howes-Mischel, Dr. Emma S. Thacker, Dr. Kristin Wylie, Dr. Melissa Wood Aleman, Jordan Todd, Dr. Ben T. Blankenship, and Dr. Ashley Taylor Jaffee. If you were not able to attend, please check our website for additional resources.