Growing greens
Virginia farmer serves salad lovers with subscription service
Featured Stories
---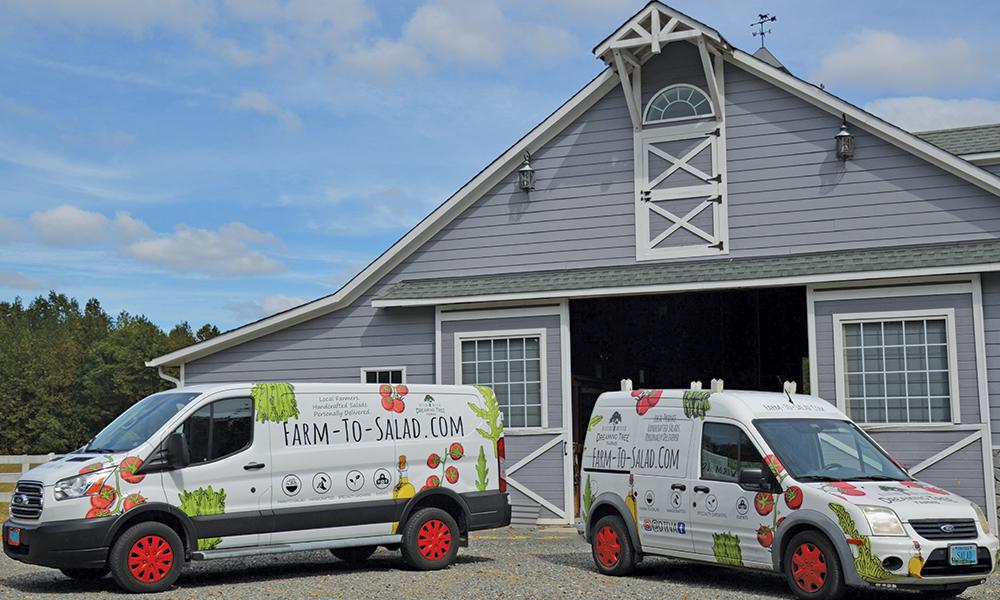 SUMMARY: Desiring a new direction in life, Chris Couch ('96) launched Farm-to-Salad, a locally grown and handcrafted salad delivery service, in 2018. JMU alumni in Central Virginia are among those who have signed on.
---
After two decades in the corporate world in Northern Virginia, Chris Couch ('96) wanted a change. He felt the need to return to his small-town roots and passion for horticulture. Born and raised in Rockingham County, he also wanted more room to roam. Couch relocated to King William County (outside of Richmond, Virginia) and bought 45 acres of land to put his green thumb to use at Dreaming Tree Farms.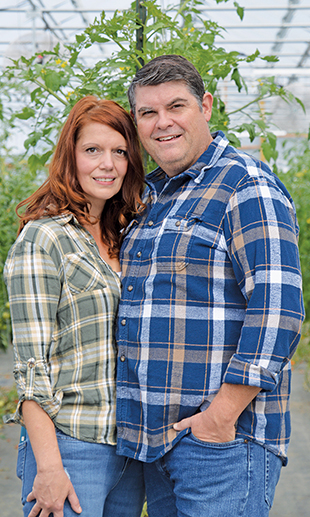 "I started to see the food system was being stressed," said Couch, a former vice president at Xerox and director at Accenture and Primatics Financial, both companies with large JMU contingents. "So much of our produce is grown on largescale, agricultural farms predominantly on the West Coast and shipped across the country. In my heart, I knew there was a better way. One thing led to another, and the idea of a salad subscription model was unique."
In 2018, Couch launched Farm-to-Salad, a locally grown and handcrafted salad delivery service. The venture is actually three businesses in one: the herbicide- and pesticide-free greenhouse at Dreaming Tree Farms, an on-site food manufacturing business and a delivery operation. In 2022, two more greenhouses were added, including a propagation house for germination and seedling development.

Each week, a team of drivers delivers more than 550 prepackaged salads to subscribers in the greater Richmond area. The salad of the week is announced every Sunday. "Our typical subscriber is someone who is open-minded to trying new things," Couch said. Farm-to-Salad also offers a traditional garden salad and can modify ingredients for customers with food allergies. The basil vinaigrette dressing is a fan favorite. 
The COVID-19 pandemic affirmed that Farm-to-Salad was the right business move. With the supply chain disrupted and consumers avoiding grocery stores, Richmond-area residents searched for local food options. Word-of-mouth and social media helped increase awareness of Couch's company. "We doubled in size in one week, and then we doubled again two weeks later," he said. "I told our staff to hold on. We're gonna ride this wave."
In Central Virginia, the JMU Family is strong. Not a week goes by that Couch doesn't nod, point or say, "Go Dukes!" to fellow alumni. "I have a large number of JMU subscribers, and I know that by their license plate, a decal on their car or a flag in their driveway. It's been amazing to see," he said.
"I hear all the time that the day we deliver our salads is the highlight of the week for a lot of people."
— Chris Couch ('96)
A Computer Information Systems major and senior vice president of Delta Sigma Pi, Couch graduated from JMU with a College of Business education that prepared him well for his professional life. "Without a doubt, the business program at JMU led to the success of the [corporate] jobs over 20 years, which led to my confidence to be able to step away from that," he said.
Couch's family also bleeds purple. His father, James Couch, is a retired professor of psychology; his mother, Linda Couch, is a retired professor of chemistry; and his sister, Emily (Couch) Kirby ('00), majored in Public Administration.
Being the Change is top of mind for Couch. Farm-to-Salad's decentralized model of food production reduces carbon emissions and is more resilient in the face of economic hardship and climate change.

"I want to be a positive impact to the local community," Couch said. "I hear all the time that the day we deliver our salads is the highlight of the week for a lot of people. It's something special — something as simple as the salad that we pour so much work into. It's very rewarding to hear that voice of encouragement from our customers."  

---
 If you live in Central Virginia and love salads, try a new salad every week by ordering from Farm-to-Salad:  ORDER NOW