JMU News
JMU professors receive Outstanding Faculty Awards
Lauren K. Alleyne, Erica Lewis recognized by the State Council of Higher Education for Virginia
---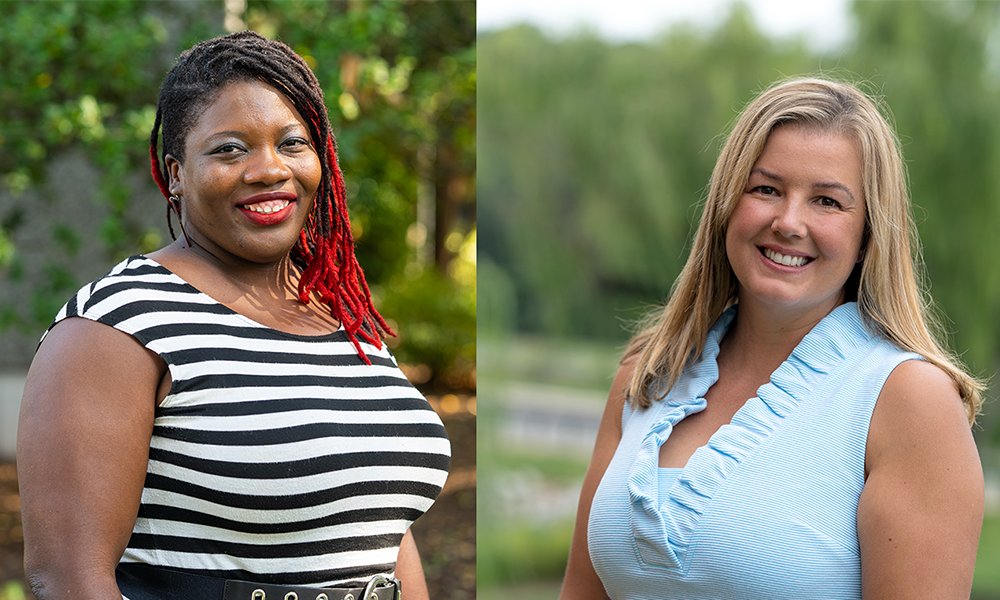 James Madison University is proud to celebrate the State Council of Higher Education for Virginia 2022 Outstanding Faculty Award recipients, including two members of the JMU faculty, Lauren K. Alleyne and Erica Lewis. 
The Outstanding Faculty awards recognize superior accomplishments in teaching, research and public service at Virginia's institutions of higher learning. Nominees are selected by the institutions, reviewed by a panel of peers and chosen by a committee of leaders from the public and private sectors. In all, 85 nominations were received this year. This group was narrowed to a field of 25 finalists and then to the 12 recipients. 
"Professors Alleyne and Lewis are vital contributors to our JMU community. We are grateful for their leadership and dedication and delighted to see their outstanding work recognized," said James Madison University President Jonathan Alger. 
Lauren K. Alleyne is a professor of English and the assistant director of the Furious Flower Poetry Center, and an award-winning poet. She is the author of two collections of poetry, Difficult Fruit (2014) and Honeyfish (2019), co-editor of Furious Flower: Seeding the Future of African American Poetry (2020), as well as numerous journal publications. She serves as Editor-in-Chief of the Center's online journal, The Fight & The Fiddle, and is a founding steering committee member of the Africana Studies Workshop at JMU in the English Department.
"Lauren is that rarest of person--a brilliant and original writer, a superb teacher, and a champion and advocate for poetry.  Her advocacy for Black poets, in particular, is outstanding.  JMU is privileged to have her on our faculty," said Robert Aguirre, dean of the College of Arts and Letters. 
Born and raised in Trinidad and Tobago, Alleyne received a bachelor's degree from St. Francis College, a master's degree in English and creative writing from Iowa State and a Master of Fine Arts and graduate certificate from Cornell.
Dr. Erica Lewis is an associate professor in the School of Nursing where she instructs students at all levels from undergraduate to doctoral. She also serves as a content designer and instructor in the JMU X-Labs. She has created a robust program of research while maintaining sustained professional community service and excellent teaching outcomes. Lewis' work with numerous interdisciplinary faculty teams often spans traditional boundaries, such as across institutions and with non-adjacent disciplines. 
Sharon Lovell, dean of the College of Health and Behavioral Studies, said, "I am thrilled. Her work is consistently excellent and aligned with the college's values of collaboration, community, innovation and scholarship. In the College of Health and Behavioral Studies our vision is to be leaders in collaborative education, scholarship, and practice to drive advancements in the real world, and Erica's achievements embody that vision. Her work illustrates the importance of the very real connection between the health care professions and other disciplines."
Dr. Lewis received her doctorate in nursing from the University of Virginia.
An in-person ceremony honoring the recipients will take place March 1, 2022. Each recipient will receive a $7,500 gift from Dominion Energy. 
The State Council of Higher Education for Virginia is the state's coordinating agency for higher education. SCHEV has administered the Outstanding Faculty Awards since the program's creation by the legislature in 1986. 
###
Contact: Ginny Cramer, cramervm@jmu.edu, 540-568-5325