News
Updated COVID-19 guidance for the university student community
---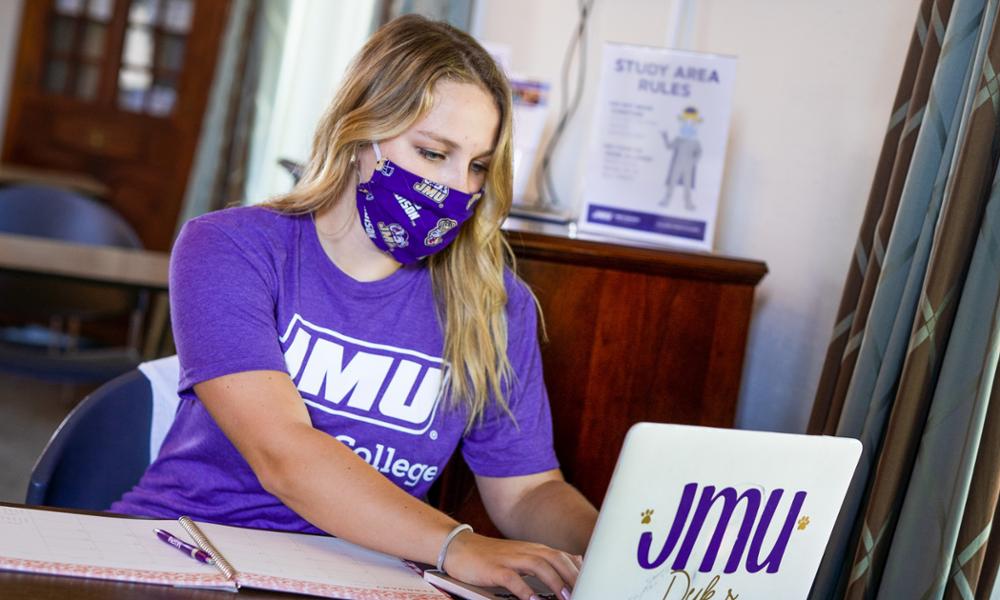 Dear Students,
We are all excited about the return to in-person learning and activities this fall and coming back together as a community. We are grateful to everyone for the steps you have taken to get us to this point. While we are witnessing significant progress in the ongoing COVID-19 pandemic and with vaccinations, there are still some very real challenges we must overcome together as we look toward the start of the new academic year.  
Last week Governor Northam issued Executive Directive Eighteen. As a Virginia public institution of higher education, JMU must comply with the directive. In addition, we have been tracking the recent surge in cases nationally and the continued emergence of COVID-19 strains. Our objective continues to be to maintain the health and safety of our students, faculty, staff and local community so we can successfully fulfill our educational mission.
We are days away from joining together again on campus, which is a milestone to be acknowledged and celebrated. As students, faculty, staff and visitors travel to campus from many different localities and states, all of which differ in vaccination rates and outbreaks from new COVID-19 variants, it is important to start safely.
In support of this goal and in response to the Governor's directive as well as recommendations from medical and public health experts reflecting constantly evolving data (including progression of the highly contagious Delta variant), we are instituting new expectations. All faculty and staff received a message regarding updated guidance as well.
Temporary Mask Requirement
| | |
| --- | --- |
| • | Beginning Aug. 16, all JMU employees and students, regardless of vaccination status, will be temporarily required to wear masks in indoor spaces on owned or leased university property when in close proximity to others. |
| • | Students are not required to wear masks when they are in their own residence hall rooms with their roommate(s).  If there are other students in the room, then all students should be wearing masks. |
Vaccines
| | |
| --- | --- |
| • | As a student, your vaccination record was due July 8. If you have not yet provided it, please submit proof of vaccination or the Student Assumption of Risk Waiver right away. Failure to do so will result in a hold placed on your account on Aug. 12 and a $50 fine on Sept. 9. This applies to all undergraduate and graduate students who will be on campus for any reason. |
| • | On-campus students will not be able to move into their residence halls if they have not submitted their vaccine record or Student Assumption of Risk Waiver.   |
| • | All students who have not submitted either of these documents will have their JACard access turned off on Aug. 24 at noon, which will remove their access to all university facilities and dining plans. Students should note that turning this access back on will not be immediate upon receipt of record, so it is essential that students submit this information no later than Aug. 12. |
| • | JMU employees who work on university owned or leased facilities and are not fully remote are expected to be vaccinated pursuant to Governor Northam's Executive Directive Eighteen. |
 Testing
| | |
| --- | --- |
| • | Students who are not vaccinated or who have not provided vaccine information must provide written verification of a negative COVID-19 rapid antigen test performed within 24 hours of arrival on campus, or a negative PCR test obtained within 48 hours of arriving on campus. For more information, please see Entry Testing FAQs on the Stop the Spread site. |
| • | Beginning Aug. 30, students who are not vaccinated and those who have not reported their vaccination status will be required to participate in weekly COVID-19 testing and disclose weekly the results of those tests. Those participating in weekly testing will receive additional details and sign-up information to their JMU email. |
Updated information about vaccination rates and testing details can be found on the JMU Stop the Spread web page.
Vaccination remains the best option to protect individuals and reduce the spread of COVID-19. Wearing masks and continued testing of those who are unvaccinated are the most important mitigation actions we can take to protect our students, our colleagues and our community from COVID-19. Widespread vaccination is critical to allowing JMU to resume the in-person gatherings we know our community deserves.
It is our hope that being vigilant at the beginning of the semester will yield positive results for our entire community. Recommendations from state and federal authorities, including VDH and the CDC, will continue to inform our requirements, as will the case counts and other public health information within the local area.
Please continue to give each other grace and respect as we navigate this ever-changing landscape to ensure the health and safety of your fellow students, colleagues, surrounding communities and those most vulnerable.
We look forward to seeing you on campus very soon. Let's have a great year together!
 
Jonathan Alger
President, James Madison University
Heather Coltman
Provost and Senior Vice President, Academic Affairs
Donna Harper
Vice President, Access and Enrollment Management
Charlie King
Senior Vice President, Administration and Finance
Nick Langridge
Vice President, University Advancement
Tim Miller
Vice President, Student Affairs