JMU Headlines
Updated COVID-19 guidance for the university community
---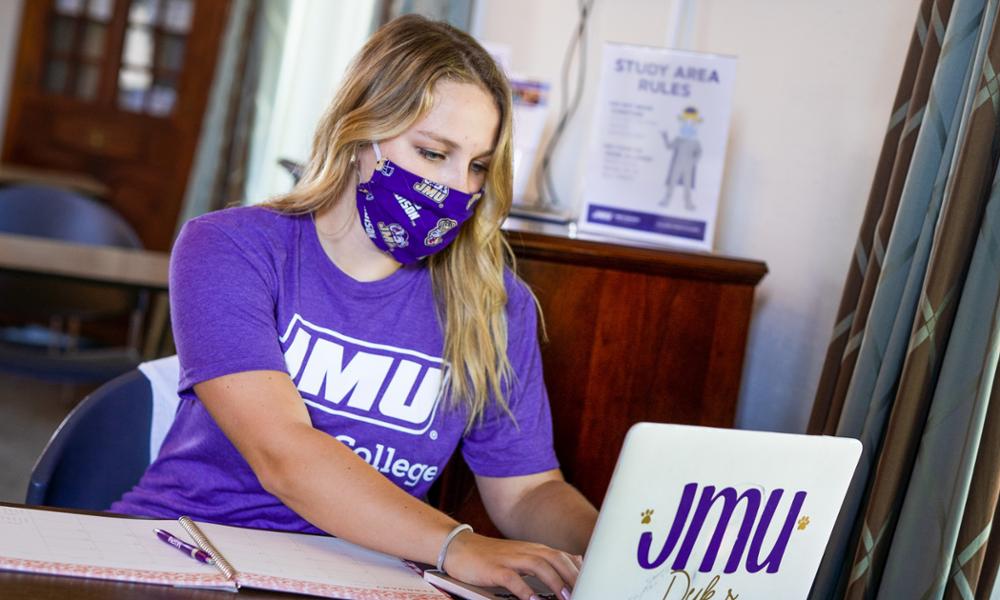 Dear JMU Faculty and Staff,
We have just endured one of the most challenging times in the history of JMU, and I, along with my leadership team, am grateful for all we have accomplished together. Making this past year a success despite the COVID-19 pandemic and all the obstacles it has presented reflects the strength and resilience of the community we've built at JMU. 
On Thursday Governor Northam issued Executive Directive Eighteen. As a Virginia public institution of higher education, JMU must comply with the directive. In addition, we have been tracking the recent surge in cases nationally and the continued emergence of COVID-19 strains. Our objective continues to be to maintain the health and safety of our students, faculty, staff, and local community so we can successfully fulfill our educational mission.
In support of this goal and in response to the Governor's directive as well as recommendations from medical and public health experts reflecting constantly evolving data (including progression of the highly contagious Delta variant), we are instituting new expectations. While these procedures reflecting the Governor's new mandates are more stringent than our plans from earlier this summer, they are the appropriate and needed response to the current conditions. They include:
Temporary Mask Requirement
Beginning August 16, all JMU employees, regardless of vaccination status, will be required to wear masks in indoor spaces on owned or leased university property when in close proximity to others.
Employees are not required to wear a face covering while working alone in a private office regardless of whether the door is open or closed.
This requirement will be reevaluated as circumstances warrant after students return to campus.
Vaccines
Except as noted below, JMU employees who work on university owned or leased facilities and are not fully remote are expected to receive one of the following COVID-19 vaccines:

A single dose of the Johnson & Johnson vaccine by August 23;
The first dose of the Pfizer or Moderna vaccines by August 23 and the second dose by September 20; or
Another World Health Organization (WHO)-approved vaccine (consistent with the dates above).

Unvaccinated employees may submit a medical exemption, religious exemption or undisclosed personal reason exemption, or they may attest that they work fully remotely. In such cases, employees may request an exemption or attest to their work location using an Employee Waiver and Exemption Form.
Vaccine Reporting
Vaccination status must be on file at the University Health Center by August 24 for those employees who have not yet reported their vaccination status, including those who are vaccinated, those who are new to campus, and those who are not vaccinated. Current JMU employees who do not have a record on file received an email dated August 3 requesting that their record be reported. See more information here. 
Testing
Beginning Sept. 6, unvaccinated employees and those who have not reported their vaccination status will be required to participate in weekly COVID-19 testing and disclose weekly the results of those tests. More information about testing protocols will be provided prior to Sept. 6.

Failure to adhere to the expectations outlined above may result in disciplinary action, up to and including unpaid leave.
Unvaccinated employees and those who have not reported their vaccination status will be notified if they do not adhere to the testing protocol or weekly results disclosure; their supervisors will be notified as well. 
As noted above, more information is forthcoming about the weekly testing. Updated information including a new vaccination dashboard can be found on the JMU Stop the Spread web page.
Vaccination remains the best option to protect individuals and reduce the spread of COVID-19. Wearing masks and continued testing of those who are unvaccinated are the most important mitigation actions we can take to protect our students, our colleagues and ourselves from COVID-19. Widespread vaccination is critical to allowing JMU to resume the in-person gatherings we know our community deserves.
While these guidelines may be temporary, it is our hope that being vigilant at the beginning of the semester will yield positive results for our entire community. Recommendations from state and federal authorities, including VDH and the CDC, will continue to inform our requirements, as will the case counts and other public health information within the local area. Our guidance will evolve based on all prevailing circumstances associated with the pandemic. Please continue to give each other grace and respect as we navigate this ever-changing landscape to ensure the health of our community.
Jonathan Alger
President, James Madison University
Heather Coltman
Provost and Senior Vice President, Academic Affairs
Donna Harper
Vice President, Access and Enrollment Management
Charlie King
Senior Vice President, Administration and Finance
Nick Langridge
Vice President, University Advancement
Tim Miller
Vice President, Student Affairs