Unleashed
Rebound drives Madison Trust investment to new heights
---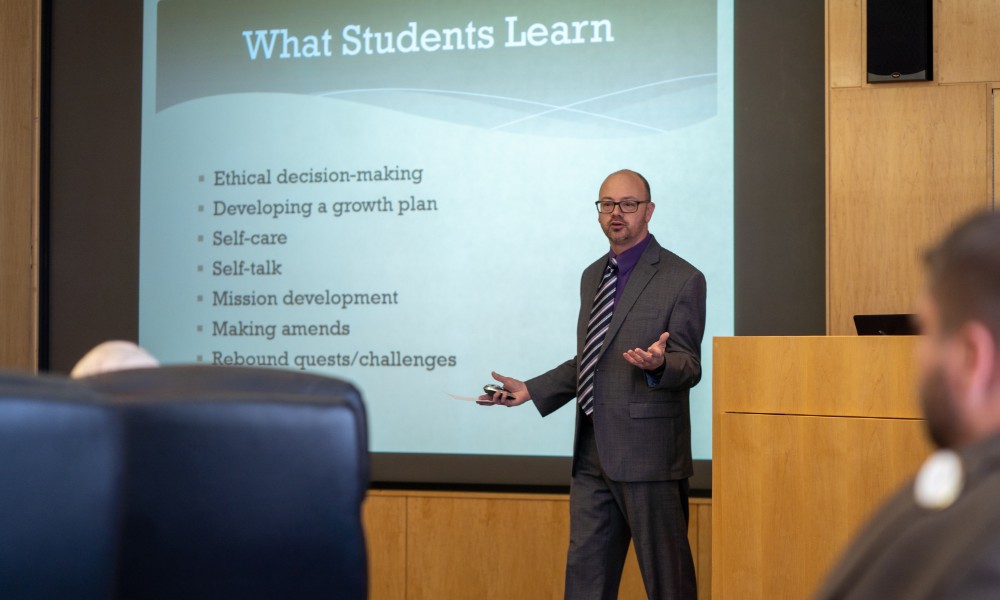 SUMMARY: The annual philanthropic competition inspired record giving in February. At this time, gifts and commitments from investor-judges stand at $135,175 for the 10 faculty-staff innovations pitched at the live event. (Pictured: Brad Jenkins, who co-created and presented Rebound with Josh Bacon at this year's Madison Trust.)
---
Rebound, a program designed to help JMU students overcome challenges and see setbacks as opportunities, tugged at the heart- and purse-strings of investor-judges this year, garnering $32,725 for the 2020-21 academic year at the Madison Trust event in February.
Rebound has captured the most funding for a single Madison Trust project. The initiative provides additional campus resources like mentors and small-group support to address student anxiety, depression and feelings of isolation. Even before the rise of COVID-19, student mental health issues had become a crisis across the nation.
The presentation included videos of students talking about the difficulties of recovering from disappointments and failures on their own, and feeling intense anxiety about measuring up until Rebound stepped in. Funding will help the program reach more students.
"When you partner with Rebound," Dean of Students Josh Bacon told investor-judges, "you … say to [students] that they are not alone. ... You teach them something valuable — that failure is not the end of their story. It's the beginning."
With giving totals still being tallied, Madison Trust 2020 could also set new overall funding records. At press time, gifts and commitments from investor-judges stood at $135,175 for the 10 faculty-staff innovations pitched at the live event.
"Our investor-judges stepped forward in a big way, and I want to say thank you," said John Meck, Madison Trust's executive director. "There are exciting funding conversations still going on, so we predict our totals will continue to rise. Giving is also welcome through crowdfunding." 
The funding record to date was set in 2014, when investor-judges contributed $155,000 to faculty innovations. 2020 is the sixth year for Madison Trust, which cumulatively has yielded $733,830 in funding for 57 JMU innovations. 
Madison Trust occurs annually and encourages investor-judges to come to the table to hear faculty and staff members pitch for scientific, technological and social innovations that address real-world problems at the university and beyond. 
"There is so much energy and enthusiasm at the live event as our investor-judges get up close and personal with our faculty and staff," Meck said. "Madison Trust peels back the veil on the scope and caliber of creativity, research, intellectual pursuits, innovation and problem-solving that go on every day here at JMU."
This year's other projects include:
Animal Monitoring Data Station: Developing field equipment for more robust, humane research on sensitive species
Beyond the Valley: Providing study-abroad opportunities for Valley Scholars and Centennial Scholars
Building the Prototype for Broadband Radio Wave Energy Harvester 
Increasing student internships with the Healthy Families program
Gus Bus iPads: Equipping JMU's award-winning mobile library to extend learning for schoolchildren
Mad for STEM Camp: Creating a pilot for statewide expansion to encourage underrepresented middle schoolers to pursue and persist in academic and professional STEM careers
Next Generation Energy Storage Devices: Providing beyond traditional batteries
The Paralympic Skill Lab: Changing attitudes and perceptions through contact
WILD: Cultivating undergraduate students for Women in Leadership Development 
Visit the Madison Trust website to find videos and funding status for 2020 projects.
For questions about Madison Trust, please contact Meck at meckjh@jmu.edu.