Nation and World
JMU a top producer of Fulbright Scholars
University receives distinction for second straight year
---
SUMMARY: For the second consecutive year, three scholars from JMU were awarded Fulbright grants.
---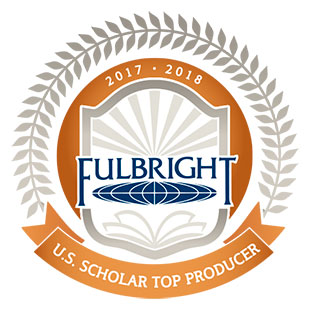 James Madison University has once again been identified as a top producer of Fulbright scholars by the U.S. Department of State's Bureau of Educational and Cultural Affairs for master's-level institutions.
For the second consecutive year, three scholars from JMU were awarded Fulbright grants for 2017-18. The Fulbright Program is the U.S. government's flagship international educational exchange program. Top-producing institutions are highlighted annually in The Chronicle of Higher Education.
This year's recipients are Michelle D. Cude, an associate professor of middle, secondary and mathematics education; Ramon Mata-Toledo, a professor of computer science; and Trevor Stokes, a professor of graduate psychology. Cude will study in Kenya; Mata-Toledo in Chile; and Stokes in the country of Georgia.
Since its inception in 1946, the Fulbright Program has provided more than 370,000 participants—chosen for their academic merit and leadership potential—with the opportunity to exchange ideas and contribute to finding solutions to shared international concerns. More than 1,100 U.S. college and university faculty and administrators, professionals, artists, journalists, scientists, lawyers and independent scholars are awarded Fulbright grants to teach and/or conduct research annually. The Fulbright U.S. Scholar Program operates in over 125 countries throughout the world. Lists of Fulbright Scholar recipients are available at: www.iie.org/cies.
In the United States, the Institute of International Education's Council for International Exchange of Scholars administers and coordinates the activities relevant to the Fulbright U.S. Scholar Program on behalf of the Department of State. The Fulbright Program also awards grants to U.S. students and teachers to conduct research and teach overseas. In addition, some 4,000 new foreign Fulbright students and scholars come to the United States annually to study for graduate degrees, conduct research and teach foreign languages.
The Fulbright Scholar Program is supported at James Madison University through the Center for Faculty Innovation, the Center for Global Engagement and the Office of Access and Inclusion. Interested Faculty should contact Assistant Director of the Center of Faculty Innovation Ed Brantmeier or go to the Fulbright Information page.
For more information about the Fulbright Program, visit http://eca.state.gov/fulbright.