News
Graduate psychology professor awarded Fulbright
---
SUMMARY: Trevor Stokes is the third College of Health and Behavioral Studies (CHBS) faculty member to be awarded a Fulbright Scholarship this year.
---
By: Daniel Vieth '15
Creative Services Student Writer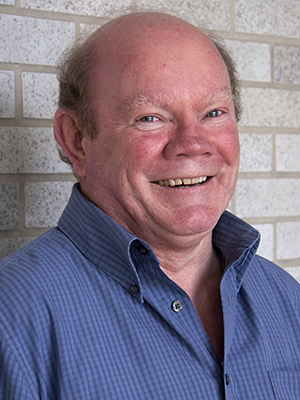 For the past eight summers, graduate psychology professor Trevor Stokes has traveled to Tbilisi, the capital of the country of Georgia (Sakartvelo). While there, Stokes has provided his expertise in child psychology and child services to community agencies. Continuing this work, Stokes has been awarded a Fulbright Scholarship grant funding three five-week-long trips to Ilia Chavchavadze State University in Tbilisi during January 2018, June 2018 and January 2019. Stokes is the third College of Health and Behavioral Studies (CHBS) faculty member to be awarded a Fulbright Scholarship this year.
Born and raised in Australia, Stokes moved to the U.S. to earn two graduate degrees from the University of Kansas. Over the past 35 years, Stokes has worked as a clinical psychologist, taught at four universities, and was recognized as one of the world's top 50 productive researchers in behavior analysis and therapy. Currently, Stokes is a licensed clinical psychologist and behavior analyst, with a specialty in developmental and disruptive behavior disorders of young children. He is also director of the Alvin C. Baird Attention and Learning Disabilities Center (Baird Center)
Stokes began his work in Georgia training psychologists, teachers, social workers and mental health workers at Children of Georgia, a non-governmental organization focused on addressing the lack of services to children with developmental disorders and autism in the country. "During my time in Tbilisi, I consulted with families and teachers in community clinics," said Stokes describing services he has provided in Georgia. 
Most recently, Stokes has begun contributing to university programs, which is the focus for his upcoming Fulbright trips. "Faculty from Ilia Chavchavadze State University approached me to discuss how I might assist in the development of their clinical psychology and applied behavior analysis graduate programs," explained Stokes. "My background as a professor involved in clinical training and as a clinician in Tbilisi clinics seemed a good match for the university interested in improving their clinical practicum training." Looking for ways to fund these trips to the university, Ed Brantmeier from the Center for Faculty Innovation suggested that Stokes apply for a Fulbright. "[A Fulbright] allows me to spread visits over multiple occasions rather than a full semester, so I can still continue my work at JMU without too long of an interruption," Stokes added. "The Fulbright program seemed a natural opportunity for me to partner with Ilia [Chavchavadze] State [University] in their academic pursuits."
While at Ilia State, Stokes will also be working directly with students, co-teaching courses on behavior analysis and ethics similar to the ones he teaches at JMU. "I will be providing classroom teaching and clinical practicum supervision of students who will be therapists working with child developmental and disruptive behavior disorders," said Stokes. "One important goal is to develop an applied behavior analysis accredited graduate program, the same as we have here at JMU." Lastly, Stokes plans to develop practicum opportunities for university students in local community agencies.
Stokes is looking forward to these trips to Ilia Chavchavadze State University and is thankful for the opportunity to promote child services in Georgia made possible by the Fulbright Scholarship award. "Working directly with a university is a capstone experience for me," Stokes added. "It is an honor to receive this award and the opportunity to make continuing contribution to the development of services for children and families by focusing on the enhancement of these academic programs."