News
Preparing freedom's guardians
---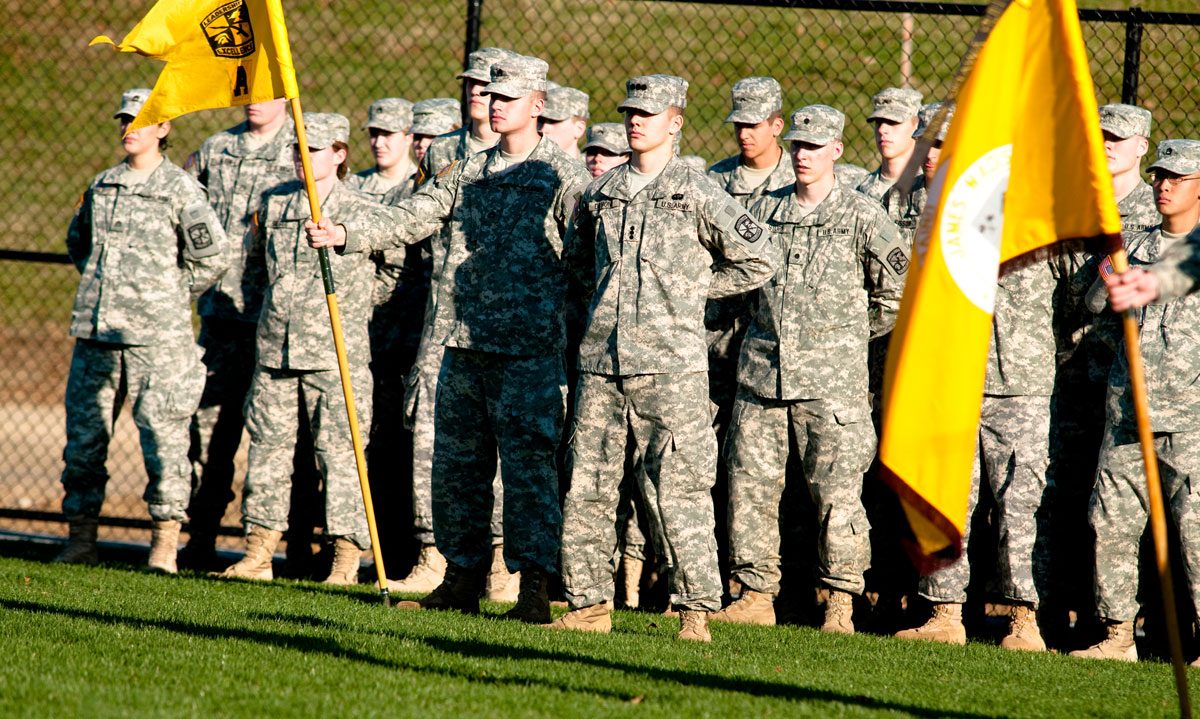 "For those who have passed
For those to come…
Reach for excellence"
Those words printed on a simply designed sign above the JMU Army ROTC Alumni corridor to the offices of James Madison University's Military Science Department sum up the Army ROTC way of life, according to Lt. Col. Robert Pettit and Maj. Craig Gibson.
"We have high standards here," said Pettit, head and professor of military science. "We demand excellence from our cadets and MSCI department staff."
And the JMU Army ROTC unit gets excellence from its cadets, both collectively and individually. The Duke Battalion is a four-time winner of the Douglas A. MacArthur Best Army ROTC Battalion Award, earning the honor in 2010, 2004, 1998 and 1992.
In its 38-year history – the battalion was established in 1974 in an agreement with the University of Virginia and became a host program in 1979 – the unit has developed the skills necessary for individual accomplishments at high levels. As a cadet, now 2nd Lt. Miriam Daoud was named Virginia's Nursing Student of the Year. Read more about Daoud here.
Cadet Daniel Kator graduated as the No. 1 cadet out of 500 in the 13th Regiment at the Leadership Development Assessment Course, held at Fort Lewis, Wash., in July 2012. Cadet Zachary Knowles was the first JMU sophomore cadet to graduate from the U.S. Army Special Forces Combat Diver Qualification Course, also in July 2012.
On Nov. 17, more JMU students are on track to make their mark as members of the Duke Battalion and future military officers. Pettit will administer the contracting oath to 11 new cadets at halftime of the JMU-Old Dominion University football game.
Designated as Military Appreciation Day, the Nov. 17 observance will feature representatives of the U.S. Army literally dropping into Bridgeforth Stadium. Members of the U.S. Army Special Operations Command Parachute Demonstration Team, the Black Daggers, will deliver the football for the 7 p.m. game, which will be broadcast on the NBC Sports Network.
Looking forward to Nov. 17, Pettit and Gibson see JMU's newest contracting cadets as indicative of young men and women choosing military leadership training. "U.S. Army Cadet Command is focused on the quality of the lieutenants that are commissioning," Gibson said. "The quality of the cadets – across the nation – is rising. We're seeing that the quality of students that are coming into ROTC are the cream of the crop out of high schools – top athletes, top academics, leaders in school clubs and organizations."
"This is my fourth fall here," Pettit said, "and this is the best group of prospects, potential cadets I've ever seen since I've been here. They want to serve the nation, they want to be Army officers."
A total of 165 cadets, including some who have not yet contracted, make up the JMU unit. Fifty-nine of the cadets are first-year students or MS1s.
"JMU plays a big role in our recruitment," Pettit said. "We have a wonderful relationship with the JMU Admissions department. We can't say enough about Roger Burke, who works hand-in-hand with Major Gibson, our recruiting operations officer. We start with a foundation of excellent students."
With that solid base, the faculty and upper-level cadets work to build the academic, physical and leadership abilities of each cadet. Pettit points to multiple reasons JMU is so successful in developing outstanding military officers. "It starts with the quality of student. It starts with a university that supports the military science department and Army ROTC. A professional staff, our cadre members, excellent academic professors and really our overall commitment to excellence. I just think every day we are doing the best that we can to educate and teach."
No matter what career JMU's outstanding cadets choose immediately after graduation and beyond, their leaders at the university believe they are well qualified to succeed. "In connection with JMU, we are helping to prepare them for more than just a job, it's a profession with a subculture of values and ethics," Gibson said. "You have to subscribe to that and that this is a way of life. It's more than a paycheck. When students understand this, it becomes about something bigger than themselves."
"Our mission is to educate and teach these cadets leadership skills and put them in positions to plan and lead other cadets and organizations," Pettit said. "At the end of the day, when it's time to walk across the stage and not only get their diploma but raise their right hand, take an oath to support and defend the Constitution and go lead America's most prized possessions – American soldiers – we take a lot of pride in ensuring that every one of those new officers is the quality that our nation deserves."
Related links:
James Madison University Duke Battalion
https://www.jmu.edu/rotc/
Operation Purple Pride
https://www.jmu.edu/bethechange/operation-purple-pride.shtml
# # #