Lindsay Packer's Phase Space Explores Color, Light and Shadow 
The Duke Hall Gallery of Fine Art at James Madison University welcomes New York-based artist Lindsay Packer for a lecture and reception of her exhibition Phase Space, an immersive, light-based installation that forms temporary geometric shadows through interactions among architecture, found objects and audience.
"In all my work, composition and color are determined by site, movement, chance and improvisation," says Packer, who plays with color and light, form and site in photography, film and video, installations, and improvisational performance.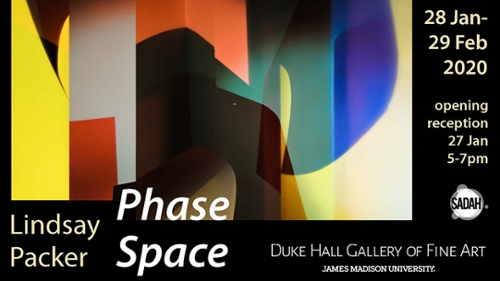 Packer chose the exhibition's title "Phase Space" (in physics, a way to plot position and movement) to underscore how this installation combines the many variables in play to create an array of visual experiences. As viewers interact with the saturated color and shadow shapes in the installation, they may become more aware of the shifting luminous colors and forms in their own daily experiences.
"Bringing Lindsay Packer to the Duke Hall Gallery of Fine Art gives us an opportunity to explore the way our senses form our experiences of the world," says Beth Hinderliter, director of DHGFA. "She invites the visitor to become a participant in the work."
 Packer was a 2019 Artist-in-Residence at ISSUE Project Room (Brooklyn, N.Y.) and a 2019 NYSCA/New York Foundation for the Arts Fellow in Architecture/Environmental Structures/Design. She was a Fulbright Fellow to India in Installation Art and a two-time Artist-in-Residence at the Josef and Anni Albers Foundation. Packer received a B.F.A. from the Rhode Island School of Design and an M.F.A. from the School of the Art Institute of Chicago. She lives and works in Brooklyn, N.Y.  http://www.lindsaypacker.com/
EVENTS
Monday, Jan. 27
Artist Lecture & Opening Reception: 5-7 p.m.
Gallery open for First Fridays on Feb. 7