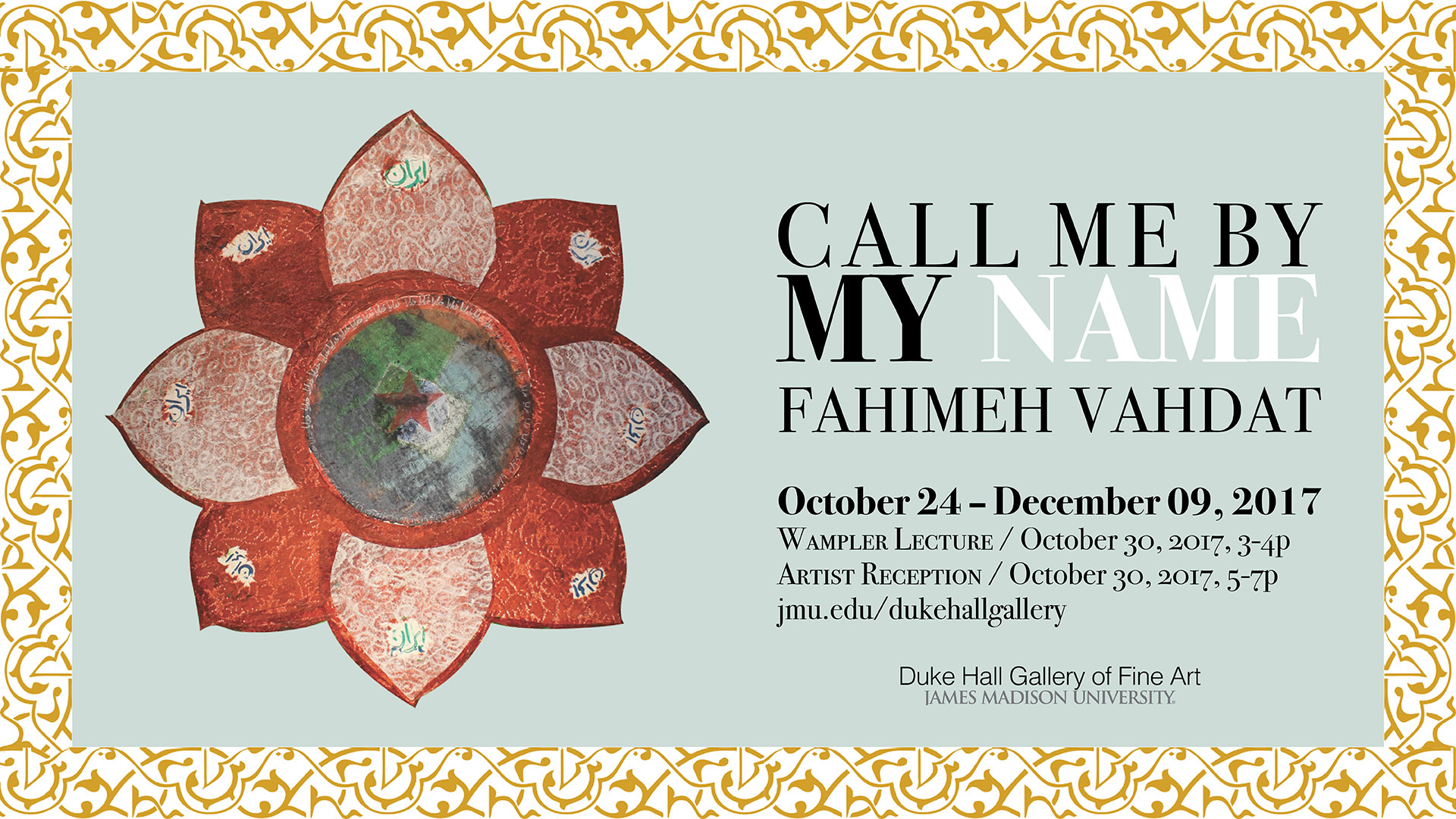 Fahimeh Vahdat: Call Me By My Name
October 24 – December 09, 2017
Duke Hall Gallery of Fine Art at James Madison University welcomes Iranian-American visual artist Fahimeh Vahdat to campus for a lecture and the reception of her exhibition titled Call Me By My Name, which will be on display from October 24 through December 09, 2017.

Vahdat fled her home country of Iran as the revolution erupted (1978-1979), emigrating to England and then to the United States in 1980. Her work, which includes painting, drawings, prints, sculptures and performance art, highlights the universal refugee experience, human rights abuses (particularly against women and children in Iran and the Middle East), as well as issues of stereotypes, race, rituals, and beauty.

Call Me By My Name brings together a mixed media installation, Sacred Crossings (1995-present), and large-scale drawings that encompass the series, What Will Befall Her? (2003-2007). These groups of works both focus on injustices and violence, and encourage audiences to reflect on personal, national and global issues.

Vahdat's artwork engages her history of being an artist living in exile and studies this state of in-betweenness. Vahdat offers ideas that mend and induce an important sense of connectedness between the relationship of the East and the West. A variety of discussions with Middle Eastern Studies scholars, students and community members will take place throughout the exhibition. Programming will focus on the rich and diverse cultures, politics, and histories of the Middle East and North Africa (MENA) region. For updates, visit jmu.edu/dukehallgallery.

Duke Hall Gallery of Fine Art aims to present the highest level of fine art experiences, to create an active space for robust discourse of vital issues facing our society, and to be a visionary leader of fine arts for all.
Special thanks to SADAH Faculty Allyson Taylor.
Caution is urged as this exhibition contains some material that may be considered inappropriate for children.

ARTIST STATEMENT
In my work, I seek to create a more fluid boundary between art and life in hope of  influencing cultural and personal transformation.  Investigating the facts, I question the atrocities inflicted on human beings through ignorance and the misuse of power.  Still, I insist at all times on hopeful outcomes and the buoyancy of the human spirit under even the worst conditions.  
I believe art is a catalyst for change.  I view contemporary art as an influential agent on culture and society.  I consider my role as an activist artist a privilege and responsibility, allowing me to bring awareness of ongoing atrocities in our country and around the world to a wider audience.  I see my work as a voice that allows me to translate people's intimately personal expereinces into a universally accessible conversation.
As a US citizen and Iranian-born Baha'i artist living in exile since the aftermath of 1979 Islamic Revolution, I have chosen to focus on human rights abuses, particularly violations against women and children, in the Middle East.  While I use a variety of materials and processes for each project, the focus of my work remains consistent. My work takes the format of painting, drawing, prints, and performance, as well as interactive installations.  Projects often consist of multiple works, in a range of media, focused on a specific theme and concept.  I often use painting and printmaking media to achieve non-traditional effects.
I dedicate my art to the people of Iran and Syria for their resiliency and unmatched courage in their ongoing struggle for freedom and fundamental human rights, but also to the people of America for their continuous resistance against injustices of all kinds.
— Fahimeh Vahdat, 2017
EVENTS
Fahimeh Vahdat: Call Me By My Name
October 24 – December 09, 2017

October 30, 2017: Wampler Lecture, Fahimeh Vahdat
Duke Hall Gallery Court, 3-4p
October 30, 2017: Artist Reception, Fahimeh Vahdat: Call Me By My Name
Duke Hall Gallery of Fine Art, 5-7p
November 03, 2017: First Fridays Downtown
Duke Hall Gallery of Fine Art, 5-8p
November 21-25, 2017: Gallery CLOSED for Holiday Break
November 30, 2017: Screening, Persepolis
Massanutten Regional Library, 6-8p  /  press release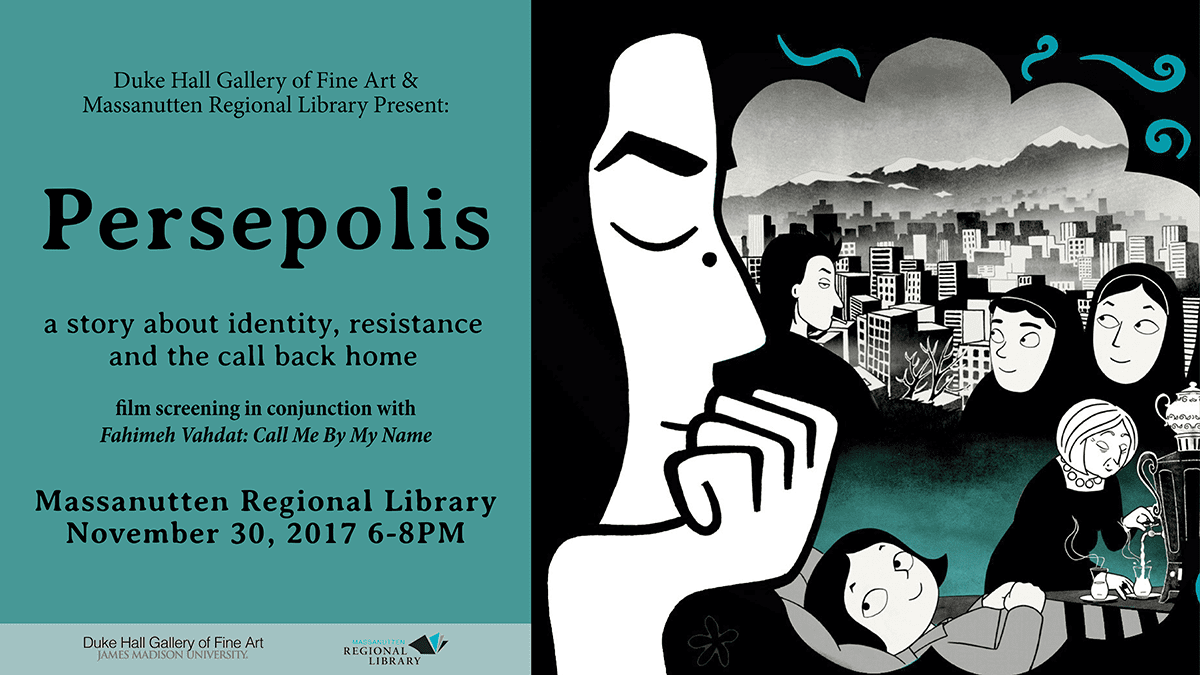 James Madison University's Duke Hall Gallery of Fine Art & Massanutten Regional Library Present a screening of the film, Persepolis.
The screening will take place at the Massanutten Regional Library, 174 South Main Street, Harrisonburg, VA 22801

Persepolis is a graphic autobiography by the Franco-Iranian artist Marjane Satrapi. The film is a coming-of-age story about her experience growing up in Iran during the Islamic Revolution in the 1970's. Her parents are secular leftists who initially welcome the revolution, but the overthrow of the Shah and the rise in Islamic fundamentalism leads to a despotic and restrictive political state. Marjane moves to Austria to study where she learns more about herself and has imaginary conversations with Karl Marx and God. She shares with us her uncomfortable and alienating experiences with authenticity and humor, and provides a personal understanding of Iranian history and identity.
A brief introduction to the film will be provided by Dr. Bernd Kaussler, Associate Professor in JMU's Department of Political Science.
December 01, 2017: First Fridays Downtown
Special Artist Gallery Talk @ 6p
Duke Hall Gallery of Fine Art, 5-8p