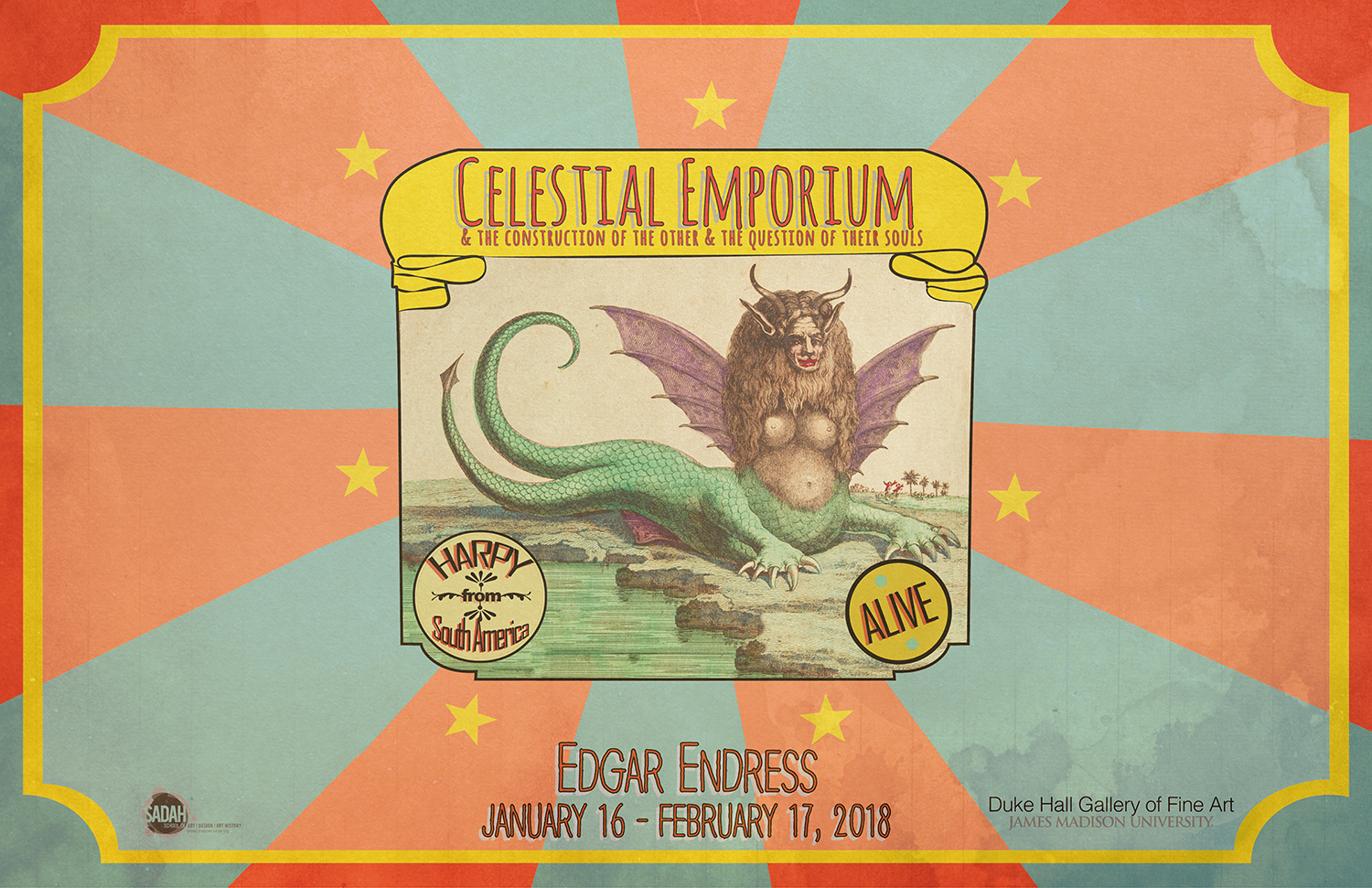 Edgar Endress: A Celestial Emporium
January 16 – February 17, 2018
Reception: January 22, 2018, 5-7p
Lecture: January 24, 2018, 12-1p, Duke Hall Room 2036
PRESS RELEASE & EXHIBITION CHECKLIST
This is a CVPA Cultural Connections Artist-in-Residence Exhibition. Support provided by the College of Visual and Performing Arts, the School of Art, Design and Art History, and the Office of Access & Inclusion.

Special thanks to SADAH faculty Corinne Diop and Greg Stewart.
Duke Hall Gallery of Fine Art at James Madison University welcomes Chilean-born visual artist Edgar Endress to campus for a lecture and the reception of his exhibition titled A Celestial Emporium, which will be on display at Duke Hall Gallery from January 16 — February 17, 2018.

Endress is a professor of new media and graduate program director at George Mason University's School of Art. He creates content- and context-specific work, ranging from large installations to audio and video presentations, that bridges the gap between art and social engagement. Featuring mixed media, video works and a performative piece, A Celestial Emporium focuses on social issues across the Americas, and more specifically, the Caribbean, Central and South America.

Endress is a founding member of Floating Lab Collective, a group of DC-based artists who orchestrate large projects to create a platform for rethinking the creative process, and is a 2017-2018 College of Visual and Performing Arts Cultural Connections Artist-in-Residence. He received his M.F.A. in video art from Syracuse University, and has been awarded numerous grants and fellowships, including from the Virginia Museum of Fine Arts and the Creative Capital Fund.

A growing list of programs related to the exhibition will become available over the next two months. Programming efforts will focus on bringing the Latin community of Harrisonburg more exposure, while discussing important issues of immigration, labor and human rights.
SPANISH / ESPAÑOL
Edgar Endress: A Celestial Emporium
16 de enero - 17 de febrero de 2018
Recepción del artista: lunes, 22 de enero de 2018, 5-7p
Conferencia del artista: miércoles, 24 de enero de 2018, 12-1p, Sala Duke Hall 2036
Apoyo para el CVPA 2017-2018 Cultural Connections Artist-in-Residence ha sido generosamente proporcionado por el Colegio de Artes Visuales y Escénicas de JMU, la Escuela de Arte, Diseño e Historia del Arte y la Oficina de Acceso e Inclusión.
La Galería de Bellas Artes Duke Hall de la Universidad James Madison le da la bienvenida al artista visual nacido en Chile Edgar Endress para una presentación y recepción de su exposición titulada A Celestial Emporium, que será expuesta en la Galería Duke Hall del 16 de enero al 17 de febrero de 2018.
Endress es profesor de nuevos medios y director del programa de postgrado de la Escuela de Arte de la Universidad George Mason. Él crea contenido, y obras de contexto específico, desde grandes instalaciones hasta presentaciones de audio y video que cubren la brecha entre el arte y el compromiso social. A Celestial Emporium presenta varios medios, trabajos visuales, y una pieza interpretativa con un enfoque social que recorre las Américas y, específicamente, el Caribe, América Central y América del Sur.
Endress es miembro fundador del Floating Lab Collective, un grupo de artistas basados en Washington DC quienes diseñan grandes proyectos para crear una plataforma para repensar el proceso creativo, y Artista en Residencia de Conexiones Culturales de la Escuela de Artes Visuales y Escénicas (2017-2018). Recibió su M.F.A. en Artes Visuales de la Universidad de Syracuse y ha sido otorgado numerosas becas como la del Museo de Bellas Artes de Virginia y el Fondo de Capital Creativo.
La Galería de Bellas Artes Duke Hall tiene como objetivo presentar el más alto nivel de programación en las bellas artes, crear un espacio activo para el discurso de los problemas vitales que enfrenta nuestra sociedad y ser un líder visionario en las bellas artes para la comunidad.
En los próximos dos meses habrá información adicional sobre eventos relacionados con la exposición. Los esfuerzos de programación se enfocarán en brindar mayor atención a la comunidad latina de Harrisonburg, mientras se debaten temas importantes de inmigración, derechos laborales y humanos.                                   
INFORMACIÓN SOBRE LA GALERÍA
Duke Hall - Sala 1022, 820 South Main Street, Harrisonburg, VA 22807
(540) 568-6918
HORAS
martes a sábado, 11a-5p
El primer viernes del mes hasta las 8p
ESTACIONAMIENTO
Mason Street Deck, JMU, durante los eventos de la galería
BIOGRAPHY
Edgar Endress teaches new media and social practice at George Mason University. Born in Chile, Endress has exhibited extensively throughout the world, most recently at the Barcelona Museum of Contemporary Art (MACBA) in 2015 and in the Land Art Biennial in Mongolia in 2016, The Getty Pacific Standard Time in 2017. In association with Provisions Library, he initiated the Floating Lab Collective, a team of interdisciplinary artists who deploy innovative art projects in collaboration with urban communities. His work focuses on syncretism in the Andes, displacement in the Caribbean, and mobile art-making practices. He received his MFA in Video Art from Syracuse University and has been awarded numerous grants and fellowships, including from the Virginia Museum of Fine Arts and the Creative Capital Fund.
ARTIST STATEMENT
My research and art practice has been centered on five major areas that I have been developing in parallel. My art process is centered in a strong conceptual research frame where material and forms appear as consequences of the mechanism that best serves to deliver the concept, with a strong entanglement with the socio-cultural context where the project take place. My research and art practice has been centered on five major areas that I have been developing in parallel and they influence each other.
Syncretism and "mestizo" baroque in the Andes region: My work began with the body of work that was originally based on the various power structures and influences exercised over the Latino-American social fabric, particularly in response to the dictatorial process of the 70's and 80's. As a consequence my research centered on the colonial and post-colonial tensions that religion and militarism historically imposed on the region. The power structure and the forms of resistance in South America have long manifested themselves in the imaginary, being particularly visible in the Andes region. Through research, my practice has integrated the "mestizo" Baroque that is predominantly displayed in churches and convents. Mestizo Baroque is a platform to question notions of representation and forms of dominance and resistance through the mechanism of art making. In my work, I also integrate aspects of contemporary critical discussion about the art practice in South America that re-vindicated traditional manifestations that includes popular culture, carnival, and indigenous. In that context my work re-absorbs popular expressions and materials like embroidery, traditional craftwork, or materials regarded as lower quality. From that perspective I developed of a production platform, ASCHOY (Asociacion Chojcha de la Hoyada), which is a collaborative group based in La Paz, Bolivia. From my interest in popular culture, I expanded into social practice. Work in textile and vernacular painting, carving and generating a dialogue with native groups in the Chaco, Paraguay, and the south of Chile started to become central to my practice.
Displacement in the Caribbean: This research focus began by documenting objects discarded by migrants entering the islands, with the collaboration of Lori Lee, an anthropological archaeologist. This body of work examines immigration to the U.S. Virgin Islands in various forms and through different organizing principles. Multiple projects about displacement in the Caribbean have been developed as part of the broader" Bon Dieu Bon" (Good God Good) project. The concept of Baggage centers on the backpack of a Haitian immigrant and its contents. The research for this project brought me to Haiti where I established a strong bond with the art community. As a consequence, I am developing several projects there.  "Transfer: is a second body of work related to the Caribbean. Migration is, and always has been, a way of life in the Caribbean. Migrations have been critical for shaping the mental landscapes of the local populations in the past and present. This multifaceted project explores varying degrees of transhumance, including temporary tourists, short-term and long-term migrations, and permanent migrations both legal and illegal. Part of this project has been to research and recompose the imaginary of the islands by exploring the extensive but scattered documentation at the National Archive. These materials are then brought back to the Virgin Islanders and presented on the islands to mitigate colonialism.
Participatory art, collective actions, and community-based projects: In 2007, I created the "Floating Lab Collective". The core of the collective is a group of metropolitan DC-based artists with a strong emphasis in academic research and social participation. Floating Lab Collective was designed to integrate diverse groups of people in different aspect of the process: students, scholars, community, people with different types of expertise to participate in the research process and working collectively on a complex, creative environment of performances, engagement, and media art production and fabrication, without the restraint of the institutional space. The main idea is to expand the space of art into public space and to enlarge the discourse about contemporary art and the interrelation of art and life. Since its foundation FLC has been a partner/collaborator with Provisions library, a research center for art and social change.  The projects created by Floating Lab collective investigate relationships between ethics and aesthetics and develop a social platform outside the normative institution frames. Following its inception, FLC has expanded to incorporate artists, community members, and experts in other regions—nationally and internationally, to focus on social practice in local contexts.
Media art and interactivity: I began my art practice as a media maker. Video art and film production are at my foundation as an artist. As a new media artist I continually integrate new technologies of production. New Media as a cannibalistic medium quickly adapts into the investigation of forms and experiments in interactivity and expanded media. I have elaborated a series of video installation and interactive pieces. I have participated with a contemporary music ensemble and, in general, my media art practice relates to various areas of research incorporating new media and new technologies. I developed a New Media Experimental Lab at George Mason University to create a platform of research and fabrication. It is a place to activate sustainable and creative research with a social frame of the use and integration of old and new technologies.  
My interest in developing a larger understanding of material culture and the life of objects as mnemonic markers, translated into a series of ongoing projects that relates to objects, economics, and materials. This research explores our social response to memory and the objects that we discard or we resell as mechanisms of exchange and value. Flea markets, thrift stores, and secondhand stores where the possession, dispossession, and repossession of the object and its transit through different experi¬ences are the central components of this part of my research. In an object biography, an object can transform from an object to be disposed of into a personal trea¬sure or a status signifier. The projects developed here range from repurposing discarded furniture or recomposing tchotchkes into larger pieces reflecting on ecological issues and creating new narratives with found books.