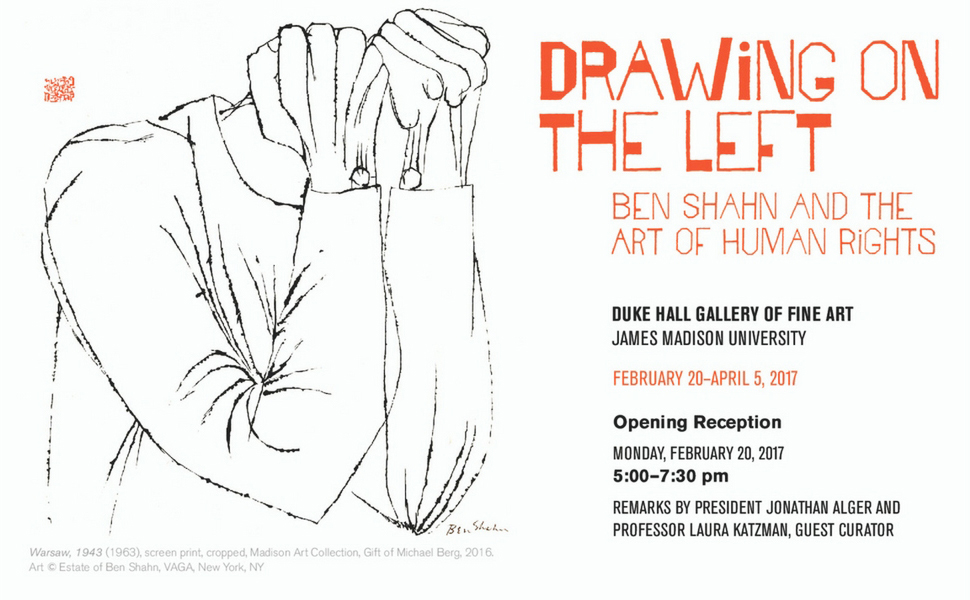 Drawing on the Left: Ben Shahn and the Art of Human Rights
February 20 - April 05, 2017
Curated by Laura Katzman
Born into a Lithuanian-Jewish family, Ben Shahn (1898-1969) stands among the most prominent of the socially engaged artists of his generation. As a progressive activist, he devoted his life to fighting injustice and promoting the rights of marginalized and persecuted people.
This exhibition features paintings, prints, drawings, and photographs from the New Deal through the civil rights era that focus on issues of poverty, unemployment, war, labor unions, the nuclear arms race, civil liberties, and racial, ethnic, and class discrimination. In short, Shahn stimulated the social conscience of a wide-ranging audience with art that is still powerfully relevant today.
EVENTS
February 28, 2017: Envisioning Change: Activism in Art
Duke Hall Gallery Court, 6:30-8:30p
March 21, 2017: Civil Rights, Human Rights, & Social Justice
Duke Hall Gallery Court, 5-7:30p
March 28, 2018: Film Screening: Free Angela Davis
Duke Hall Gallery Court, 5-7:30
April 3, 2018: Art in the Atomic Age
Duke Hall Gallery Court, 5-7:30p