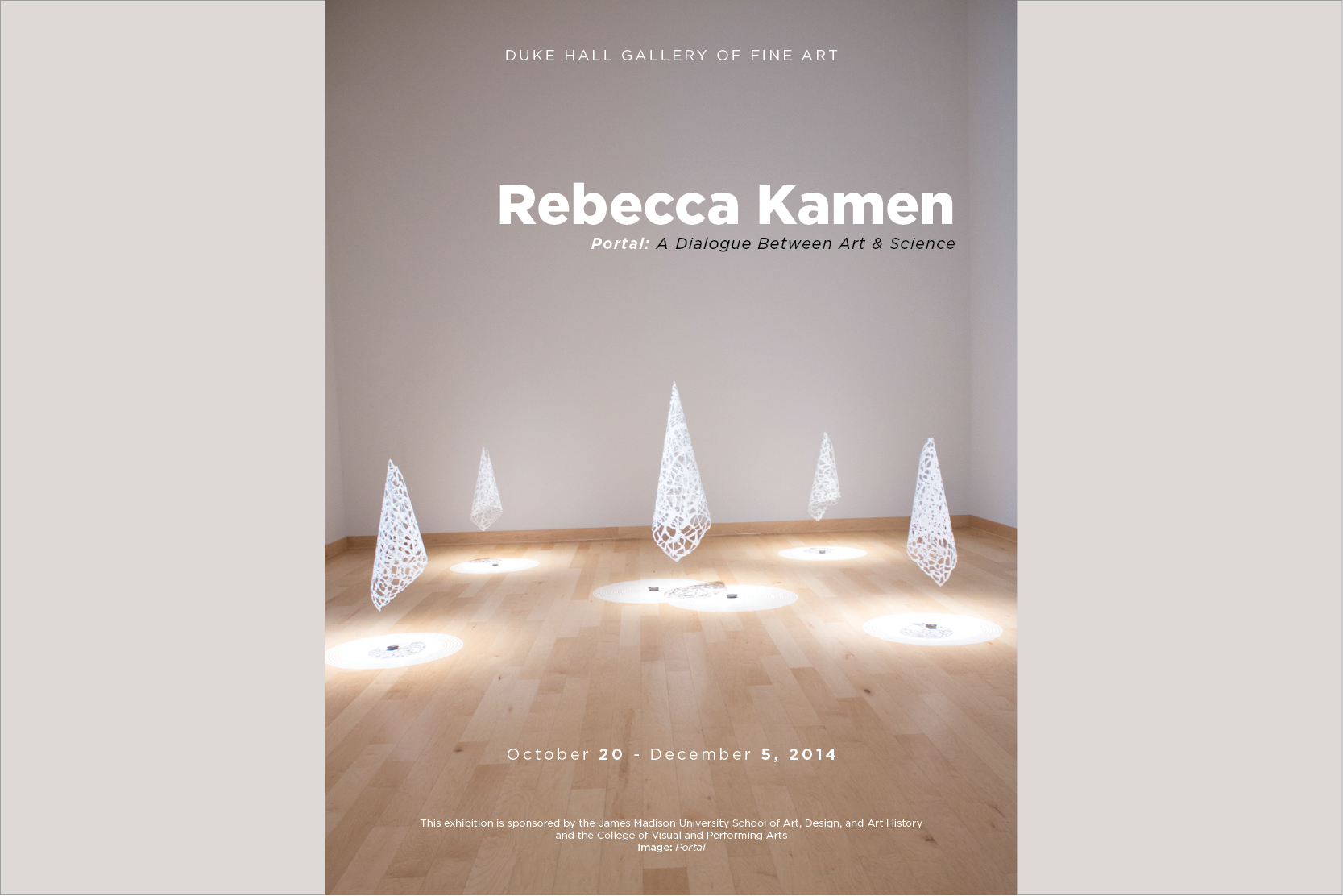 Portal: A Dialogue Between Art and Science
Rebecca Kamen
October 20 - December 05, 2014
Rebecca Kamen is an artist whose work is influenced by her research into the fields of history, cosmology, and philosophy. She seeks to find a union between art and science. Her work stretches across practices in its combination of sculpture, painting, and sounds.
She is a recipient of a Virginia Museum of Fine Arts Professional Fellowship, a Pollack Krasner Foundation Fellowship, two Strauss Fellowships, and a Travel Grant from the Chemical Heritage Foundation. Kamen has exhibited and lectured around the world in places such as New York City, Chile, Korea, Egypt and Spain. Kamen was recently an artist in residence in the neuroscience program at National Institutes of Health, where she transformed neuroscience research into sculptural forms.
Kamen is a Nifty Fifty (times 4) speaker for the 2014-2015 season. The Nifty Fifty are over 200 of the most dynamic scientists and engineers in the United States. They were selected for their unique ability to inspire the next generation of students to pursue careers in the STEM fields. They were chosen from among thousands of candidates nominated by over 500 leading professional science and engineering societies, universities, research institutions, government agencies, STEM education outreach organizations and leading high tech and life science companies.
ARTIST STATEMENT
"The most beautiful thing we can experience is the mysterious. It is the source of all true art and science." - Albert Einstein
As a young girl, I fell in love with discovery. With awe and wonder, I spent my childhood investigating the world of elements with a simple chemistry set, and used that set to create elaborate science-fair projects. Insatiable curiosity and a deep love of learning created bridges between seemingly unrelated disciplines. As a result, I have devoted my life to an intuitive examination of properties that overlap from discipline to discipline. I remember the thrill of when my first cardboard telescope magically connected me with the cosmos, and can still summon my feelings and fascination as I continue to explore its matter and meaning. These fond memories are the beginning of a journey dedicated to the pursuit of "knowing", that continues to inform and inspire my life and work as an artist. 
Retrospective in nature, the work in this exhibition reveals discoveries about the natural world, expressed through art. The Garden Series, the earliest sculptures in the show, have been inspired by lecture trips to China and my interest in Asian gardens. Because gardens have always served both functionally and metaphorically as an intersection of art and science with nature, there are sites of transformation. Transformation lies at the heart of the exhibition, and continues to serve as a catalyst in the development of the work. My interest in the relationship of art and science developed in the mid 1980's while collaborating on a project exploring Eastern and Western contributions to science and technology, with Chinese sculptor Zhao Shu Tong. Further investigation of the intersections of art and science informed the creation of Matter, a series of complex wire sculptures. The work was created for an exhibition in 2005 at the American Center for Physics celebrating the 100th anniversary of Einstein's discovery of special relativity. In the exhibition essay, curator Sarah Tanguy describes the work:
With science as her inspiration, Kamen avidly probes the world around her to find a means to describe her research. Rich in associations, her work draws on intuition and the language of abstraction to convey individual ideas and emotions. And though not literally kinetic, her wired-based sculptures succeed in suggesting motion and change, while instilling wonder in the viewer.
An invitation to be an artist in residence at the American Philosophical Society (APS) Library in 2007-2008 furthered my inquiry of science through an artistic lens. Founded by Benjamin Franklin in 1743, the library's scientific rare book collection served as a catalyst in the development of artwork. Viewing scientific special collections provided a creative opportunity to inspire profound form. Many of the books viewed record natural phenomena in the actual hand of the author. Manuscript as Muse, a series of sculptures developed from this experience. The sculpture process of layering graphite and acrylic on mylar, also visually portrays the significance of pages in a book. Each layer like a book page, when viewed together created a complex visual story, giving meaning to form.
As an artist, the activity of travel, exploring the cultural and geographical array offered by new and unique places continues to influence both my professional and personal life. The Meta Series, recalls past memories of journeys to countries with ancient cultures including China, Cambodia, Burma, Egypt, India, and Easter Island. As I researched and learned about the art and underlying inspirations and belief systems of these countries, I discovered similar themes and applications in terms of symbols and approaches found in other cultures. My travels have allowed me to delve deeper into a culture's visual history and permitted me a revelatory awareness of place and purpose, reflected in the work.
Meta, like the definition it implies, explores the idea of alteration, transposition, and transcending. Each of the sculptures in this series incorporates the concept of mapping of time and occurrence. It also reflects my longstanding fascination with the relationship of scientific and sacred motifs and writings. Many of the works have been inspired by unrelated phenomena as diverse as Incan Quipus and String Theory, creating unique, hybrid sculptural forms.
Elemental Garden transforms chemistry's Periodic Table, a chart of letters and numbers, into a garden of sculptural elements based on geometry and atomic number. Laid out in a Fibonacci Spiral, the sculptures symbolize the oribital patterns of elements in the order of a collapsing star. 
The Fluid Series, also part of the exhibition, explores nature as a mapping system of energy. Informed and inspired by micro and macro views of the Universe, as well as other scientific visualization models such as fluid mechanics, these acrylic on mylar sculptures interpret and make visible, the fluid energy of matter, creating a bridge between art and science.
Research at the Center for Astrophysics at Harvard University and in the Neuroscience division of National Institutes of Health has provided exciting insights into the relationship between inner and outer space and has been the catalyst for the Portal Installation. Inspired by gravitational wave physics and notion of Gedankenexperiment (thought experiment), the installation interprets the tracery patterns of the orbits of black holes, and celebrates the 100th anniversary of Einstein's discovery of general relativity.
The Portal installation, like many of the art / science projects has been collaborative in nature. Dialogues with scientists at the Center for Astrophysics, and with Scott Hughes, astrophysicist and professor of physics at Massachusetts Institute of Technology have been extremely informative, and inspired the concept for the installation.
Sound artist Susan Alexjander has created a haunting soundscape utilizing a variety of sounds originating from outer space, including sonic frequencies representing a binary pair of orbiting black holes, enhancing the experience of this installation for the viewer. 
The James Madison University exhibition and residency provides an exciting opportunity to continue to foster an ongoing, multidisciplinary dialogue, establishing new avenues and innovative ways of seeing unique relationships between art and science.
— Rebecca Kamen
EVENTS
October 20, 2014: Artist Lecture: Rebecca Kamen
Duke Hall Gallery Court, 5-6p 
Reception to follow